A place for everything, and everything in its place.
A Totally-Not-Boring Blog About Storage
Blog
>
Storage Advice
> Bicycle Storage Solutions: The Most Effective Ways to Store your Bicycle
Bicycle Storage Solutions: The Most Effective Ways to Store your Bicycle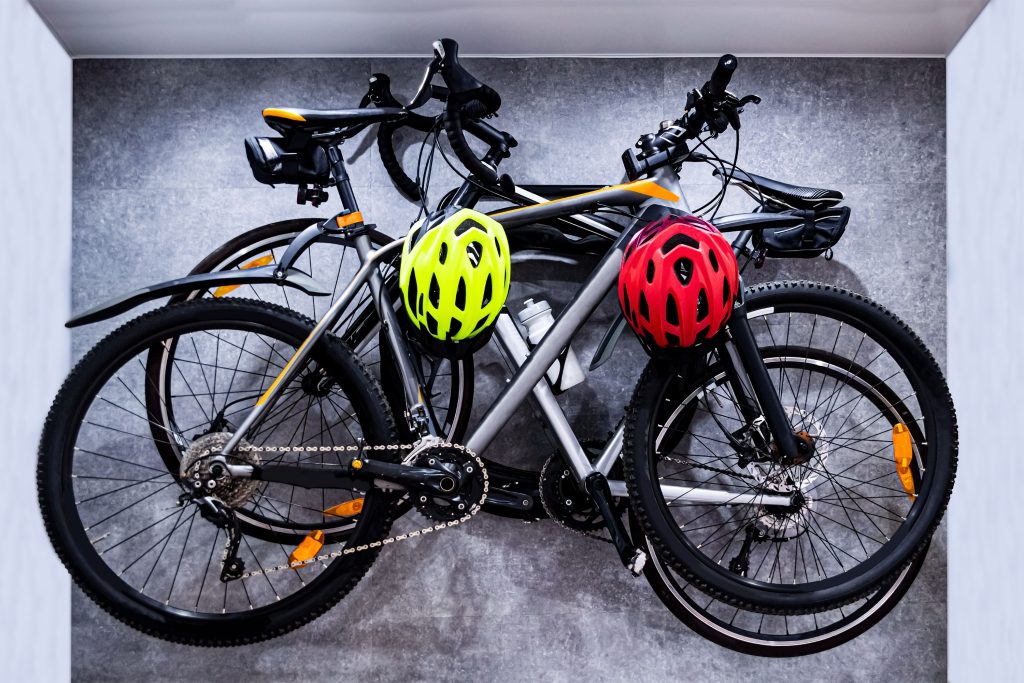 There are so many things to love about bikes; they are environmentally friendly, they are efficient, and most importantly, they are fun. Something that isn't so great about bikes, is figuring out how to store them in a effective way that saves space, is easy to load and unload, and isn't a major eyesore.
Even if you have a decent-sized garage or storage room, bikes are extremely awkward, odd-shaped, and bulky items that take up way more room than they should. If you live in an apartment, where storage space is at a premium, bikes storage can be challenging. If you live in a smaller space you will have to get creative about the kind of storage solutions you implement to make sure you are making the most of the space you have available. If you decide that there simily isn't enough room to store your bikes at home, renting a self-storage unit in Etobicoke is a great way to make sure your bikes are safe and secure while also freeing up valuable storage space in your home.
We will go through various bike storage solutions to help you maximize the space you have, and provide easy access to your favorite vehicle. These clever bike storage solutions will inspire you to store your bike in a streamlined, aesthetically pleasing way, whether you are working with a small downtown apartment, a spacious two-car garage, or your own self-storage unit.
Bike Storage on the floor
Floor racks provide the most basic kind of bike storage. There's nothing to install, which means they're really easy to move around to new spaces. They keep the bike upright and stationary much better than a kickstand and they are easy to use for kids. They also provide the easiest and quickest access of all the bike storage options.
There are some disadvantages with floor racks though. They take up valuable floor space, which is what many people are trying to avoid. Some floor racks aren't compatible with smaller bikes wheels or with bikes that use disk brakes. They are also not the most stable storage option out there.
Floor racks are a great bicycle storage solution for families with young children and people who use their bikes on a daily basis. If you have a storage area with plenty of room and where storage space isn't an issue, floor racks are a good option for you.  
A high quality floor rack from Amazon: RAD Cycle Products Mighty Rack Two Bike Floor Stand
Outdoor bike storage
If you are an avid bike rider and have a number of bikes you'd like to shield from the elements, weatherproof outdoor bike storage is essential. A space-saving bike storage tent made of tear-resistant and UV-resistant tarpaulin is exactly what you need. This storage solution doesn't provide the greatest amount of protection or security but because it can be quickly installed and dismantled without tools, you should definitely keep this in mind for temporarily storing your bicycles outside.
A solid bike tent for outdoor storage: The YardStash III: Space Saving Outdoor Bike Storage
If you are looking for long-term outdoor bicycle storage, bike sheds are one of the best options. Because of their size, bike sheds are best suited for people with large yards or unused parking spaces, and they do tend to be more expensive than other bike storage options. Bike sheds come in a range of sizes, from sheds that are a snug fit for two bikes, up to massive sheds that can fit up to 10 bikes. The security of these sheds usually comes down to the type of padlock that you put on them.
One of the major concerns with outdoor storage is that the bikes can be damaged by the elements. Chains are usually the first things to corrode. Steel cables are prone to oxidation when the bike is left outside and will rust after some time outside. All other parts also degrade over time. The duration of damage relies on how much humidity or direct sunlight that comes into contact with the bike. A high-end bike could take up to as much as 3 to 4 months before any noticeable damage is seen. Continuous thawing and freezing can also make the bicycle parts to crack or come loose.
Vertical wall bike storage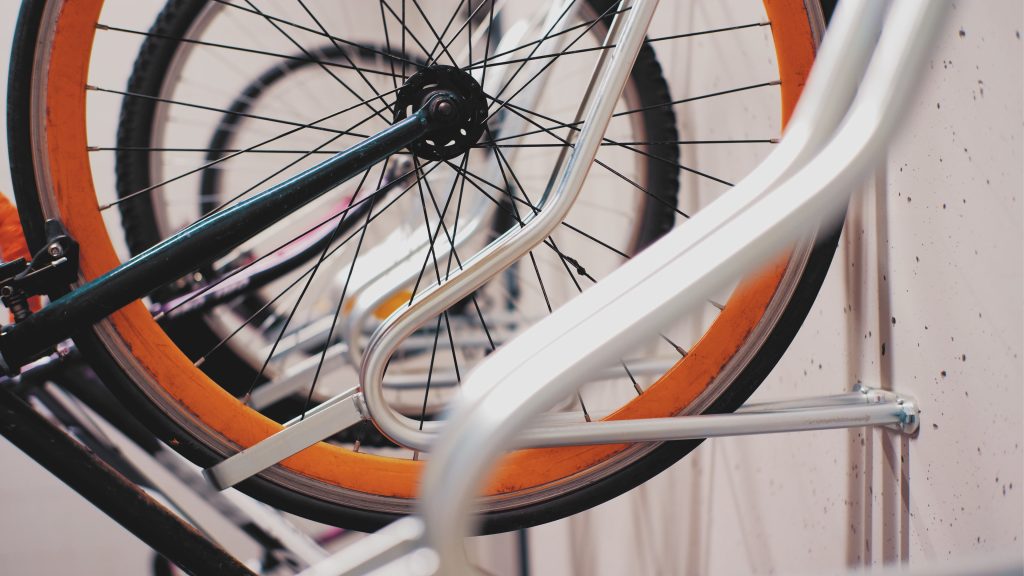 If you have the storage space, indoor bike storage is the ideal option. Storing a bike inside your garage or storage unit will provide the greatest amount of security and will make sure the bike is safe from any weather-related damage.
On-wall vertical bike storage allows you to store the most bikes while taking up the least amount of wall space. Bikes are hung vertically, so you need to have enough floor-to-ceiling space for the length of the bikes. You also need to have enough space for those bikes to stick off of the wall and into whatever room you're storing them in. If you have a tight two-car garage and are trying to park both your cars inside, this style of wall mounted bike rack is not for you.
It's good to use a bike rack or hook to keep your tires off the ground, but it's not completely necessary. If you are to use a hook to hang the bicycle by the rim, over a long period of time, gravity might warp the wheel rim. In this case, it would be better to hold it by the frame instead. If you do leave the bicycle on the ground, you may encounter flat-spots if the tires are not inflated regularly throughout the storage period. Air will slowly leak out over time, so check periodically to make sure that they're still inflated. Another good way to store your bicycle is by flipping it upside down so the weight is not on the tires and the rims, but on the handlebars and seat instead.
Bike hooks are an extremely useful tool for indoor bike storage: Bike Hooks Storage/Garage Hook Bike Hanger Bike Rack
Horizontal wall bike storage
Horizontal bike racks allow you to store your bike parallel to the floor by hanging them along a wall. This is a far more common bicycle storage solution than storing your bikes vertically.
Advantages of horizontal bike storage:
There are several advantages of this type of bike storage. The bikes don't intrude very far into the room, so they take up very little room space. You don't have to do much maneuvering of the bike to get it onto the wall mount. Although, this is only the case if you only have one bike on the wall, the more bikes you put on the wall, the more difficult maneuvering becomes. While many wall mounts need to be drilled into the wall, others will just lean against the wall, making them ideal for renters and apartments with unsuitable walls.
Disadvantages of horizontal bike storage:
There are also some disadvantages with horizontal racks. While they don't take up room space, they do take up a huge amount of wall space. Also, most horizontal wall mounts are limited to carrying two bikes and while the first will go on easily, the second one will need to be lifted above it, which could be tricky, especially for kids.
Despite the drawbacks, horizontal bike racks are one of the best solutions for one or two adult bikes in small areas with a significant amount of empty wall space.
Store a bike on the ceiling
Most people do not make proper use of their overhead space. By using a bicycle hoist that works on a pulley system, you can easily and safely hoist your bike upwards to the ceiling when you aren't using it to save all your floor and wall space for other things.
The bike hoist is exactly what it sounds like, it's a pulley system that connects to your bike, and you can suspend your two-wheeler right from the ceiling. While this does save you valuable floor space it is something that only works you have a garage or high ceilings in your home.
A bicycle hoist on Amazon: Floaterhoist BA1 Horizontal Bike Hoist
Free standing bicycle storage solutions
The major advantage of free standing bike racks is that they don't use walls for support. So if you don't have wall space, your walls are not strong enough to support a rack, or you just don't want to mark or damage your walls, these are a great choice.
Like floor racks, they are easy to install and are just as easy to move to new spaces. However, just like horizontal wall racks, the upper bike may be difficult to hang, and they're tricky for the kids to use alone.
Free standing bike racks are best used for one or two bikes, when you don't have any suitable wall space but have plenty of space inside the room, or if you don't want to, or can't, attach anything to your walls.
The most common free standing rack is the floor to ceiling column. These may not work with super high ceilings, butut because they're fixed between the floor and the ceiling they're usually very stable.
Two good options for free standing bike racks:
Things to keep in mind when storing your bikes
Once you've picked out your bike storage method, there are still some things you should keep in mind. The conditions in which you're storing your bike are important to consider, as well as some maintenance measures to keep your bike in good working order.
Avoid moisture– Many bikes and bike components are made out of metal, and where there's metal, there's the potential for rust.
Check your tires often– You should keep the tires inflated so they keep a round shape, it'll help prevent dry rot. Even if you aren't riding your bike often, you should still check the tires periodically and adjust the PSI accordingly to help prolong tire life. 5 to 10 psi for a mountain bike and 20 to 30 psi for a road bike when not in use.
Set the dropper up– If your bike has a dropper post, keep it extended when tucking it away between rides. That will help keep the dropper post functioning properly.
Don't worry about orientation– You may have heard that mountain bikes should be stored upright so that the suspension oil can keep seals lubricated. However, that is not a steadfast rule and most bikes can be stored upright or upside down without issue.
Keep it clean- Always rinse your bike after winter rides, and/or if your bike was on a bike rack on your car in areas where salt and brine are used during the winter. Keeping your bike clean will prolong the life of your components.
Take it to a professional- When you take your bike out of storage for several months take it into the cycle shop for a quick inspection and tune-up.
Using a storage unit for bicycle storage
For security and space, a self-storage unit is the way to store your bikes. If you are not on the bike too often, then renting a storage unit might be the best way to go. A storage unit can provide a safe, clean, and dry space to store your bike to avoid any risks of damage or theft. Just make sure to choose a dependable self-storage facility with 24 hour video camera surveillance and gate code access, like Storwell Self Storage.
Storing your bike at a self-storage facility also means you don't have to sacrifice any space in your home. If you have only have one bike to store, and you're willing to stand it up vertically, then the smallest standard storage unit size will more than suffice, letting you save you money in the long run. Inside the unit, you can still use portable items like a stand and a cover to store and protect your bicycle while you're not using it, and moreover, you'll still have ample space available for your toolset, air pump, and even a few other sports accessories.
Three Locations in The Greater Toronto Area
Three Locations in The Greater Toronto Area
For more details, select the location nearest to you in Toronto:
For more details, select the location nearest to you in Toronto: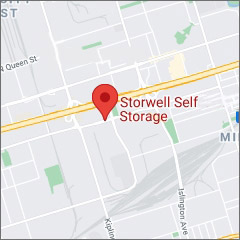 300 Evans Ave.
(416) 259-5555
Get a Quote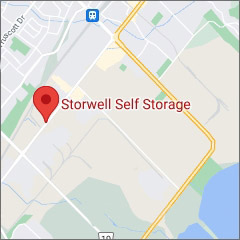 2525 Royal Windsor Dr.
(905) 823-5555
Get a Quote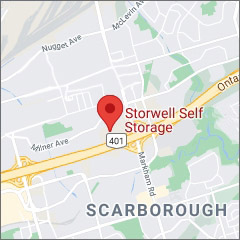 85 Executive Ct.
(416) 534-5555
Get a Quote