A place for everything, and everything in its place.
A Totally-Not-Boring Blog About Storage
How to Store Holiday Decorations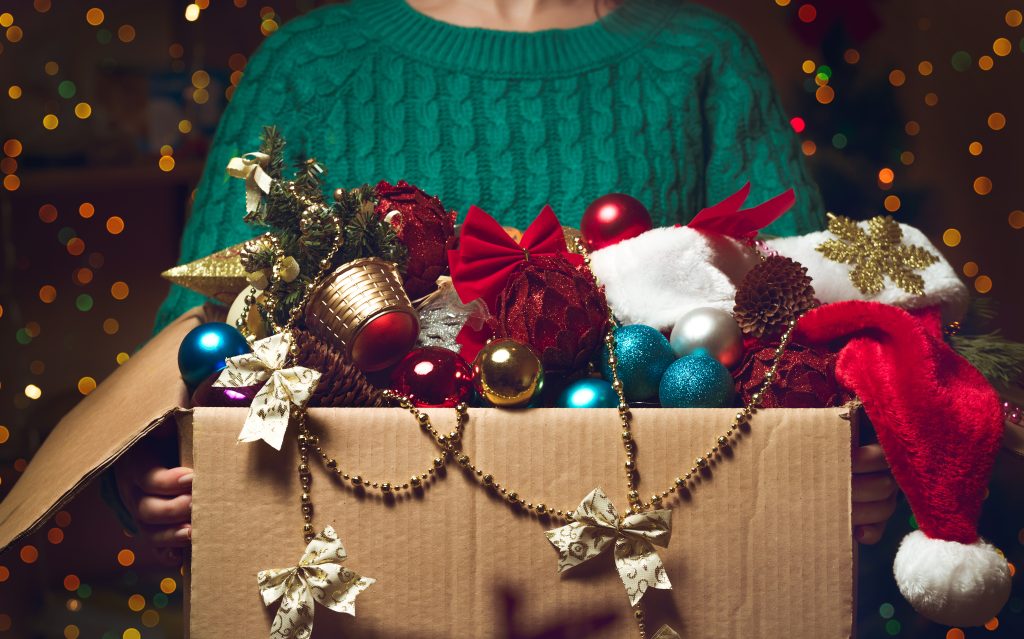 After the kids have just finished tearing into their presents, and all the family dinners and get-togethers are over, the last thing you want to think about is taking down your decorations and putting them back into storage. As much as we all wish we could keep our decorations up all year round, now that the holidays are over, the first task on your to-do list is storing your winter home décor.
As beautiful as they may be, storing those Christmas, Hanukkah and Kwanzaa decorations can be a challenge, especially when dealing with delicate ornaments and priceless family heirlooms. When you start putting items away, you may want to do it quickly just to be done with it as soon as possible; but that could lead to frustrations next year when you get everything back out.
Rather than shoving everything in boxes and worrying about it later, try these tips for storing holiday decorations that will make the packing process easier and save you headaches along the way. Best of all, you'll keep your decorations in prime condition for next year. If you want to save some space in your home, consider renting out a self-storage unit in Etobicoke to help with your holiday decoration storage.
Take pictures of your decorations
Did you ever begin your Christmas decorating and then suddenly realize that you can't remember which decorations you used on the mantel or which centerpiece you used on the dining room table. Before you take down those decorations for storage, take pictures for future reference. This also helps you visualize your space if you want to change up the position of your decoration next year.
Use uniform storage containers
When storing your decorations in a small self-storage unit, you should use clear see-through bins so you can easily see what's inside. Storage bins of the same size and shape are easier to stack, saving you space and money, so keep that in mind when selecting what kind of bins you want to use for your decoration storage. While purchasing the same size and shape is optimal, these bins can be costly and you may need to spread out the cost of these bins over a few years. If you can't get all of the bins at first, make a plan to purchase a few bins per year until you have all of your items organized to your satisfaction. Until then, use cardboard boxes that are approximately the same size as your clear bins to make stacking easier.
Make labels and store by season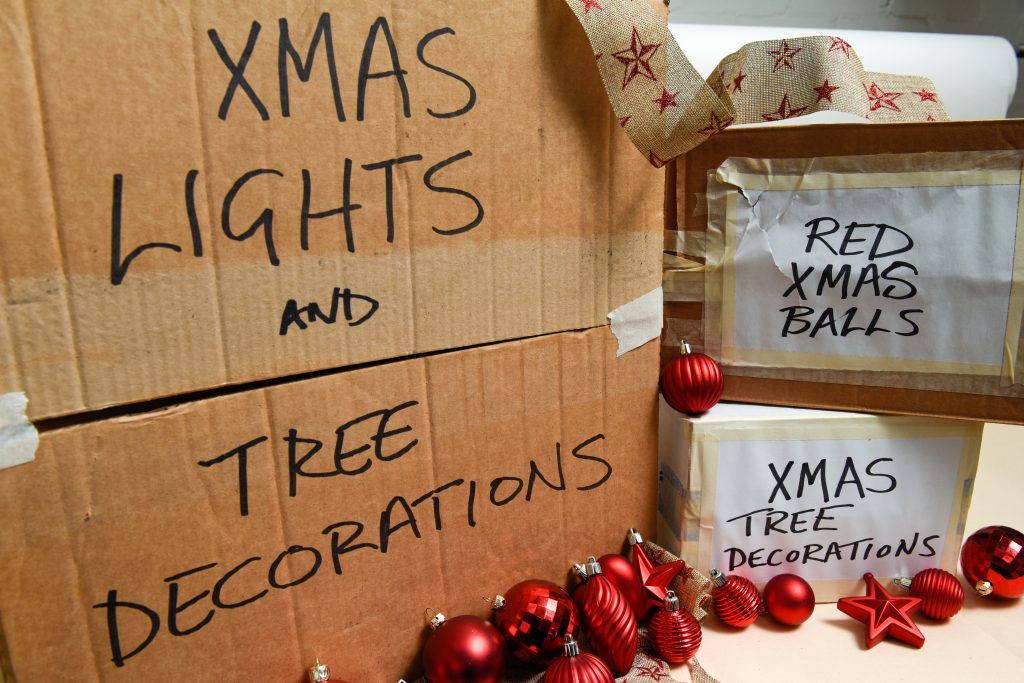 You want to keep order and organization when packing up your holiday decorations. This could mean making labels for each box you put away, and storing in a methodical way such as by season, festivity, or type of decoration. Choose a method that works for you, and be consistent so that you won't have any trouble finding items when you need them.
Separate out fragile and breakable items
Within each of your groupings you're going to want to separate the fragile products that will need a little bit of extra care for proper packing. Still keep like items grouped together, for example if you have a winter village display, keep all of those pieces in the same spot.
Remember that something doesn't have to be glass or ceramic to be considered breakable. Many Christmas decorations have tiny, intricate pieces that required special care when organizing and packing. In general, if you're worried it could get broken in storage; you should go ahead and separate it out into a breakables pile. At the very least, these fragile piles will consist of: glass items, ceramic items, beaded items, most ornaments, and string lights with glass bulbs. If you're not sure if something is fragile, err on the side of caution and organize it into a breakables pile.
Hang and bag your wreaths
To avoid accidentally crushing your wreaths, it's best not to store them in a bin or box. Instead, hang them up in your closet on a hanger. Cover it in a trash bag or dry cleaning bag to keep protect it from the elements and potential pests.
Use clear resealable bags for ornaments
If you want to keep all your ornaments in the same container, but sorted by colour, use clear gallon bags from your kitchen making them easier to access next year. Another good storage solution for ornaments is to use leftover plastic cups from holiday parties to keep your ornaments safe while in storage. Each cup can be glued to a piece of cardboard and provides a protective shell to delicate decorations. You can even stack multiple layers on top of each other in a plastic bin.
Wrap and separate your ornaments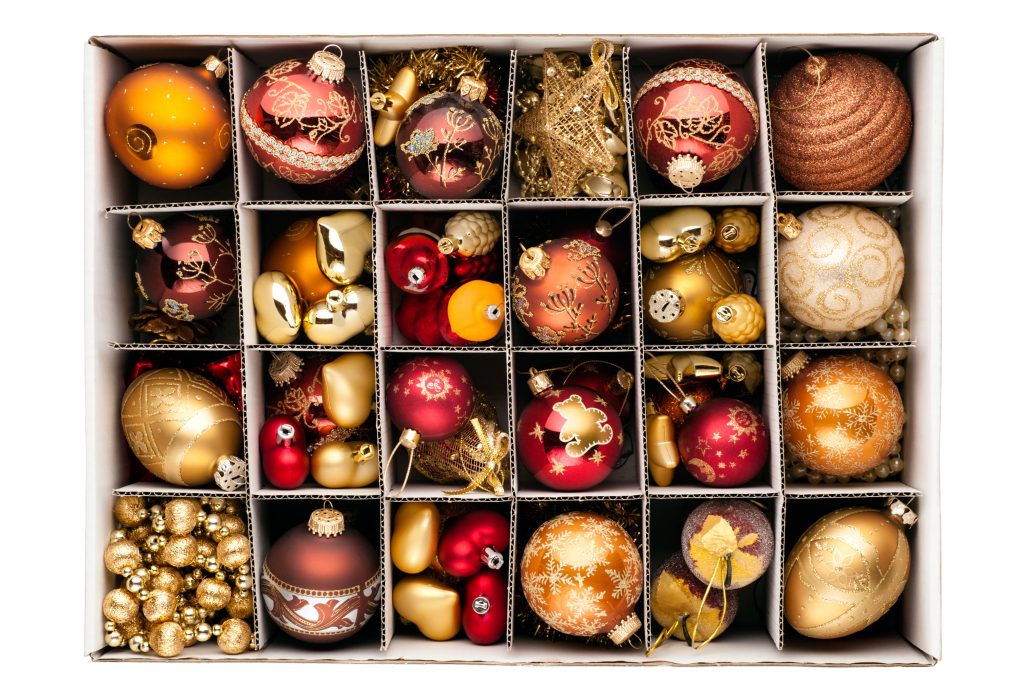 Few things are more frustrating than opening up a box of shattered ornaments. You can use some DIY storage containers to store even the most fragile items without buying special bags. For Christmas tree ornaments, you can repurpose an old egg carton to keep them all well-organized and secure. Protect delicate items with bubble wrap, and store in shoeboxes or other small containers.
Keep candles away from heat
Your extra Hanukkah and Kwanzaa candles can last for years if you store them properly. You can store your tapered candles in toilet paper or paper towel rolls stuffed with tissue. Remember, warm temperatures can melt the wax of your candles, so it's best to keep them in a climate-controlled space. You can also wrap candles in old socks or cellophane to prevent scratching and color transfer. Do not use plastic wrap or wax paper as they can stick to your candles. After you finish wrapping, store them in a box or crate, even in your ornament storage boxes.
Wrap string lights around cardboard
Festive string lights look great once they're draped along doorways, eaves and tree branches, but taking them out of the box with knots and broken bulbs is a holiday headache you can easily avoid. Instead of piling lights on top of your other decorations, wrap them around a small cardboard rectangle (with one-inch notches cut along the two longest sides) or an extra coat hanger. Stack them vertically in a box or hang them up in the back of your closet for easy, hassle-free access next year.
Keep beads in a water bottle
Like string lights, bead garlands can get twisted around each other and become impossible to pull apart. You can store them in empty plastic water bottles, which will keep them neatly separated, and put an old bottle to good long-term use. Alternatively, an old Mason jar will work just as well.
Protect your seasonal linens
Wash or dry clean your winter linens before stowing them away. Like clothing stains, oil and food stains on your tablecloths get harder to clean the longer they sit, and even attract moths and beetles. After inspecting your linens, fold them neatly and keep in plastic bins or vacuum-sealed bags to keep them free of dust.
Shrink-wrap your artificial tree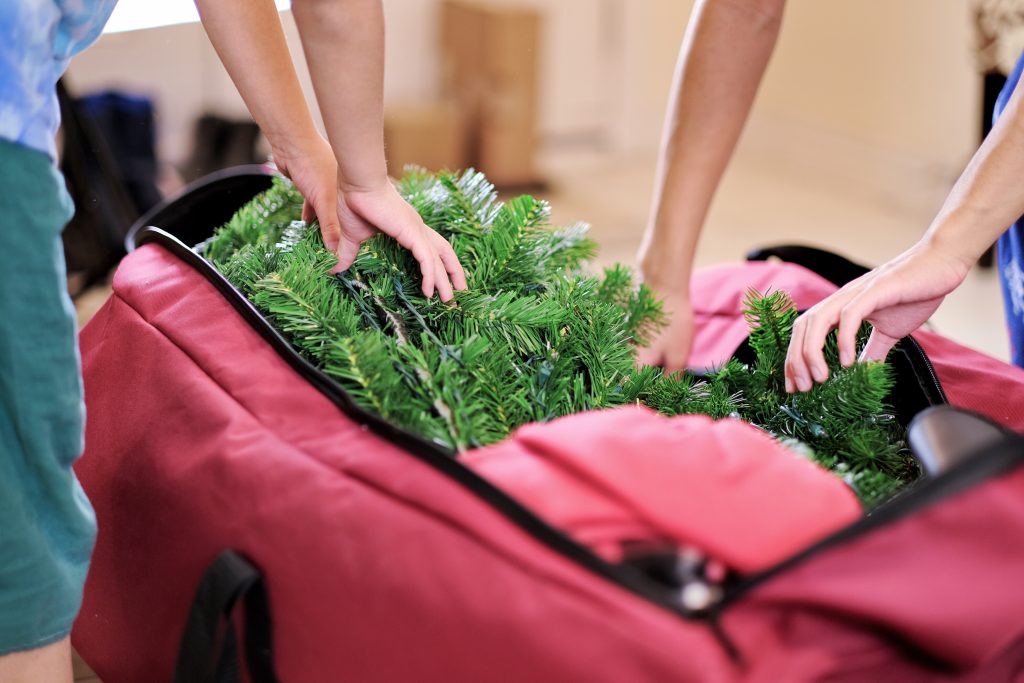 You can take apart your artificial tree and put it back in the box, but that's a lot of work you can easily skip. With a roll of cheap cling wrap, you can bundle up your tree to save on space and make it dust-proof. When the next holiday season hits, all you'll need to do is cut through the plastic and fluff up the branches.
Wrapping paper storage
If you can't devote a small permanent area to crafts and gift preparations, put all your wrapping paper into an under-the-bed or hanging storage system. If you don't have any room under the bed, you can hang an organizer in a guest room closet. Space-saving options for closets protect folded wrapping paper sheets, tissue paper, greeting cards, gift tags, and bags.
Put boxes away in order of how they are unpacked
Put boxes with decorations you would use to decorate last like holiday dishes, ornaments, and Christmas village on the bottom of stacks of decoration boxes and those you need at first like tree skirt, tree, Christmas village snow, and tablecloth near the top. This will help with unpacking the decorations and allow you to decorate as you unpack.
Keep you decorations in self-storage unit
No one wants to have their items damaged in storage. It's all a matter of using the proper precautions, and doing the utmost to ensure your items are safely tucked away in storage. Your holiday and winter home decorations can take up valuable space, even if you have a way of organizing it. When you live in a small space, such as an apartment or tiny house, your home will feel cluttered even faster. Storwell Self Storage is a great option for holiday decoration storage; our facilities have state-of-the-art security features to ensure that our customers' items are properly taken care of. Some of the security features include 24-hour video camera surveillance, pass code gate access, and individually alarmed units.
Three Locations in The Greater Toronto Area
Three Locations in The Greater Toronto Area
For more details, select the location nearest to you in Toronto:
For more details, select the location nearest to you in Toronto: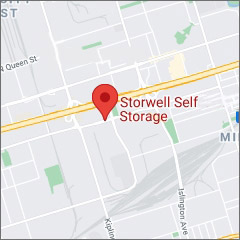 300 Evans Ave.
(416) 259-5555
Get a Quote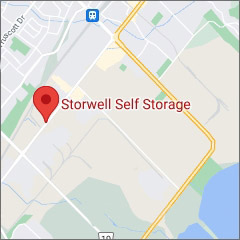 2525 Royal Windsor Dr.
(905) 823-5555
Get a Quote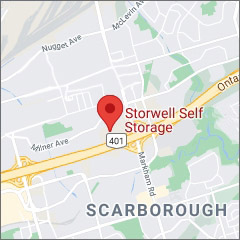 85 Executive Ct.
(416) 534-5555
Get a Quote