A place for everything, and everything in its place.
A Totally-Not-Boring Blog About Storage
Storing Your Motorcycle During Winter
Toronto's long and cold winters make finding good motorcycle winter storage a necessity. Anyone who has tried to store their motorcycle out in the cold for the winter probably wishes they hadn't. Depending on where you live, what kind of protection your bike needs, and how much you're willing to spend, there are a variety of ways you can store your motorcycle. Below is a list of indoor and outdoor vehicle storage options to consider for your motorcycle. If you live in the GTA, you know that the winters can be very tough on your motorcycle. For that reason, the best way to keep your vehicle in good condition during the harsh winter months is to store your motorcycle in a Storwell self-storage unit in Etobicoke, Mississauga, or Scarborough.
Home motorcycle storage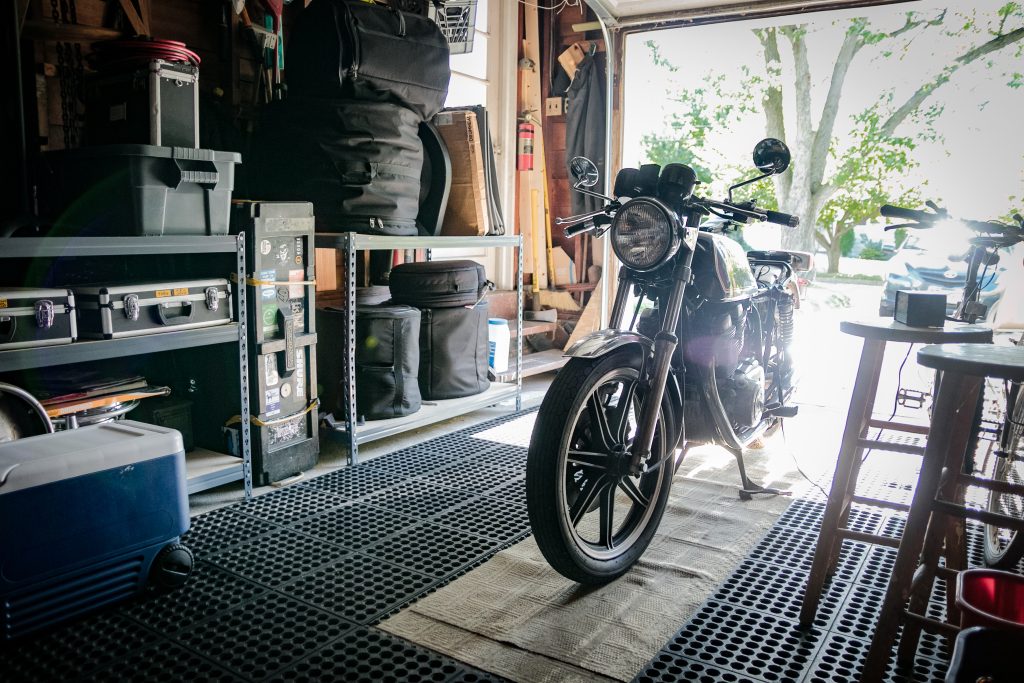 Keeping your motorcycle close to home throughout the winter is the best option, because nobody will take better care of your motorcycle than you will. Plus, if you want to get out for a mid-winter ride, it's much easier if the bike is stored at your house. If you like to work on your bike over the winter, it's better if you're keeping it on-site. Ideally, you would want to store your motorcycle in a heated area with a walk-in door, so you can easily roll your bike right in there for the winter.
If you can get your bike into a heated storage area, try to do so. If you don't have access to heated storage, then at least try to store your motorcycle indoors in a shed, a trailer, or garage. If you have the capability to run a propane or electric heater out there, it will make it easier for you to tinker on the bike in the cold. Most importantly, you want a place that's dry, as moisture is the enemy of motorcycles.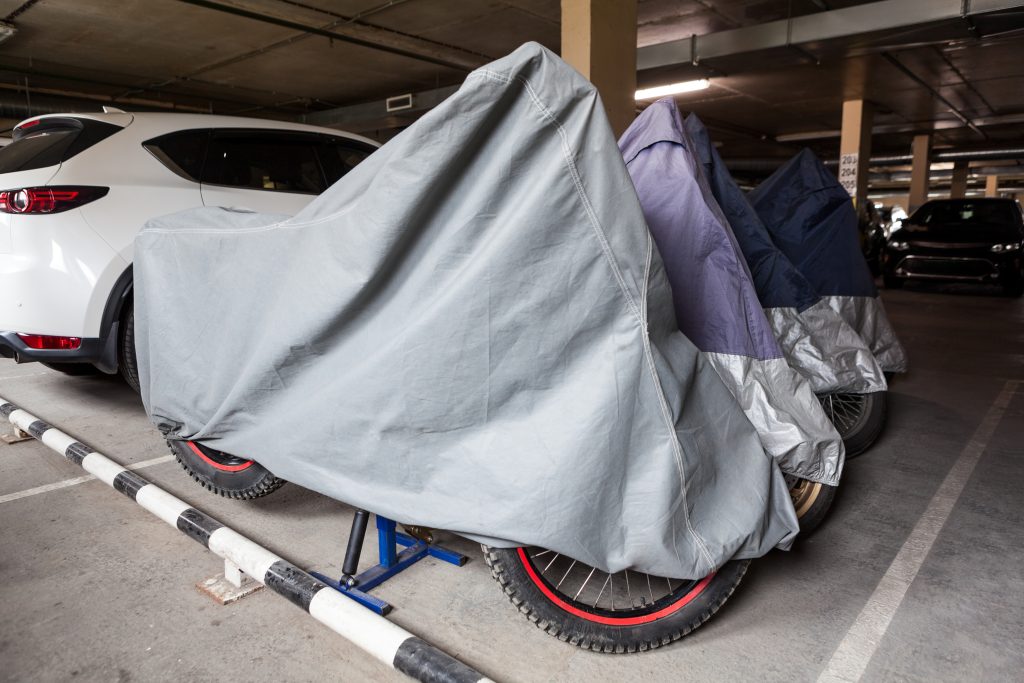 If you have limited space and have no other options, you can store the motorcycle outside. If you really must do this, use a bike cover to keep the wind, rain and snow off your bike, and try to keep it as sheltered as possible. You can also buy rustproofing products to keep the corrosion at bay.
Motorcycle Shed: When space in your garage is limited, keeping your motorcycles covered without putting them in self-storage is possible with collapsible motorcycle shelters. These shelters are perfect for keeping your bike at home and accessible when you want it. You can set up the motorcycle shed right next to your garage or in your backyard making it very accessible. However, high-quality sheds can be quite costly and requires maintenance to ensure rain, snow, and debris stay away from the bike
Enclosed vehicle trailer: Storing a motorcycle inside a towing trailer in your driveway can be a good option because it saves on space inside your garage. Additionally, regardless of the climate, using a trailer will help keep your motorcycle protected from wind, rain, and snow and have it ready to ride whenever you need it. Using a vehicle trailer for motorcycle storage makes traveling with your motorcycle much easier, but they can be very expensive and are still highly exposed to theft.
Home garage: The most convenient motorcycle storage option is in your own garage. By keeping your motorcycle in your garage, you limit the chances of weather-related damage, are able to keep your motorcycle warm during cold days, and can easily take your motorcycle out whenever the weather is nice. Storing a motorcycle in your garage is the most cost effective motorcycle storage option at home but it takes up valuable garage space.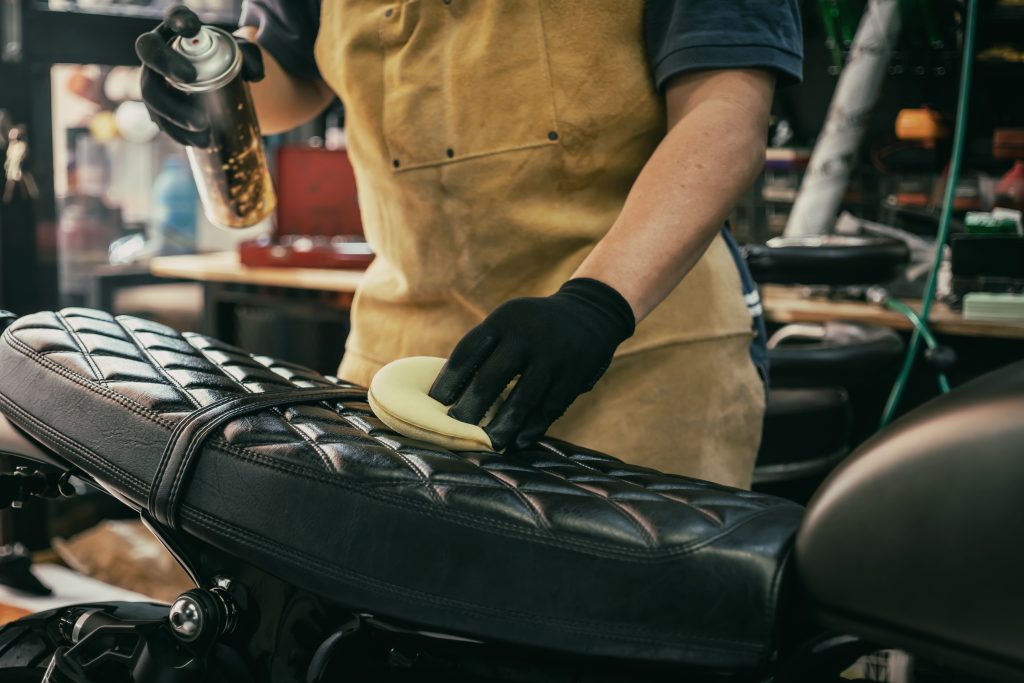 Storing your motorcycle at a self-storage facility
If you can't store a motorcycle at home, storing your bike at a self-storage facility is another great option. Keeping your motorcycle in indoor vehicle storage may be one of the best ways to protect your bike. Self-storage facilities like Storwell have strong security features like 24-hour video surveillance and pass code gate access as well as power ventilated units to ensure that your vehicle is safe against rust and moisture damage.
What size storage unit is best for motorcycle storage?
The first thing you need to think about when storing a motorcycle in a storage unit is the size of unit required to sufficiently hold your bike. Renting a 5×10 unit is perfect for storing a single motorcycle. In fact, it's actually possible to store two motorcycles in a 5×10 if the motorcycles are both on the smaller side. If you plan on using a 5×10 to store your motorcycle, it'll give you a little extra room to work on it and the ability to store extra gear and equipment. The extra room will also make taking your motorcycle in and out much easier, which is important if you plan on frequently taking your bike out.
Outdoor motorcycle Storage
If you don't want to give up space in your garage, and you don't want to rent a self-storage unit, your driveway is always a solution. Storing a motorcycle in your driveway is simple, comes without additional fees, and gives you the ability to use it without hassle. While keeping your motorcycle in your driveway is very convenient, it leaves your bike exposed to the elements, pests, and potential theft. Another issue is that single-car driveways don't offer enough space for multiple vehicles.
Many self storage facilities offer secure outdoor vehicle storage that can accommodate all types of motorcycles. Though not as ideal as at-home storage or indoor self-storage, this option is affordable and makes it easy for you to pick up and drop off your motorcycle. Outdoor storage at self-storage facilities is typically more affordable than indoor vehicle storage, while still getting good security features like video surveillance and electronic gate access. However, outdoor storage means your motorcycle is exposed to the elements. This is usually only a good option for short-term motorcycle storage.
Things to consider when preparing your motorcycle for storage
Before storing your motorcycle, give it a thorough wash and completely dry it by removing all moisture off the surfaces. Be sure to remove any dirt, grime, and water spots because they can corrode the finish. Around wintertime, there's often a lot of salt on the roads. Make sure to clean this stuff off before you store your bike. Wax the bike's painted parts; it'll prevent the paint from oxidizing over the winter.
There are a few options you have when it comes to your motorcycle's gas. First, you can completely empty the gas tank and fuel system to ensure the gas inside doesn't gunk up the system. If you don't want to empty the gas tank, you'll need to add a fuel stabilizer and let the motorcycle run for a few minutes to ensure the stabilizer runs through the whole system. This will prevent the gas from corroding and clogging up the fuel system.
Give your motorcycle an oil change before putting it in storage. This may seem pointless to do if the motorcycle isn't in use, but oil can actually break down and cause problems within a motorcycle engine if it's not being used. Leaving already used oil inside the engine will have a greater chance of the oil breaking down while fresh oil will leave less of a mess for you.
Top off any other fluids your motorcycle may have, such as coolant. You don't want to leave any open spaces in fluid compartments such as these because that leaves a chance for moisture and condensation to build up. Moisture can cause both rust and make the fluid it mixes with less potent.
If you are storing your bike inside a heated storage unit, it is not necessary to remove the battery, but it is recommended that you clean and lubricate the terminals and leads to prevent corrosion.  If you are storing your motorcycle in storage unit that is not climate-controlled, your best option would be to disconnect the battery and take it home with you in controlled temperatures. A battery that is still connected to a motorcycle for a long period of time may be susceptible to parasitic drain and eventually lose its charge. Cold temperatures speed up this process. If you don't have a place to store the battery, you can still disconnect it and leave it in the storage unit. You also have the option of using a battery tender which will automatically charge the battery when it senses the battery is losing power.
When a motorcycle sits dormant for more than a few months, the weight of the motorcycle pushes down on the tires, which causes flat spots. Motorcycle tires will eventually lose air pressure and continue to get flat. The best way to combat this is either by taking the tires off completely or putting your bike up on a lift so the tires are elevated. This will ensure the tires are still safe to use when you go to get your motorcycle out of storage.
Whether you are storing your motorcycle at home or in a self-storage unit, proper preparation is key to make sure your vehicle remains in good working order during the winter months and is ready to ride once spring arrives. After your bike has been in storage for several months make sure to take it in for a tune-up to make sure everything is working properly before taking in out for a ride.
FAQs
What is the best unit size for storing a motorcycle?
The recommended unit size for motorcycle storage depends on the type of motorcycle you want to store and if you want to store additional items in your unit like spare parts, helmets, and tools. For most motorcycles, a 5×10 storage unit is perfect. However, for larger bikes like a Harley Davidson you may need a large storage unit like a 10×10 or 10×15.
When will I be able to access my motorcycle?
Storwell Self Storage provides you with access to your storage unit 24/7 so you are able to access your motorcycle at any time.
Do I have to empty the gas tank before I put my motorcycle in storage?
You can store your motorcycle with gas in the tank but only for a limited time as gas destabilizes if it sits for too long, which can damage your vehicle. If you don't want to empty the gas tank, you'll need to add a fuel stabilizer and let the motorcycle run for a few minutes to ensure the stabilizer runs through the whole system. This will prevent the gas from corroding and clogging up the fuel system.
Should I cover my motorcycle when it is in storage?
It is recommended to cover your motorcycle even when it is in an indoor self-storage unit to protect from dust and debris from settling on your vehicle. Dust isn't a huge problem but over long periods, it can build up and cause clogs.
Can I store anything in a storage unit?
There are certain restrictions on what you can store in your storage unit. Some of the things that you cannot store inside of your storage unit are living things, perishable food items, illegal or stolen goods, explosives, firearms, and harmful chemicals. If you are unsure if you can or cannot store a particular item inside your storage unit, speak to a member of our friendly staff for confirmation.
How much does it cost to storage a motorcycle in a self-storage unit?
There are a lot of factors that determine the cost of a self-storage unit such as location, seasonality, and size. Storwell Self Storage provides some of the most affordable self-storage units. For unit prices and ongoing discounts and promotions call in to one of our knowledgeable and experienced self-storage experts.
Three Locations in The Greater Toronto Area
Three Locations in The Greater Toronto Area
For more details, select the location nearest to you in Toronto:
For more details, select the location nearest to you in Toronto: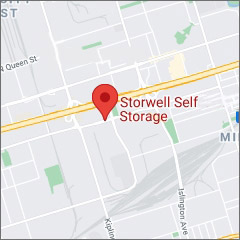 300 Evans Ave.
(416) 259-5555
Get a Quote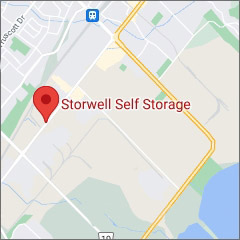 2525 Royal Windsor Dr.
(905) 823-5555
Get a Quote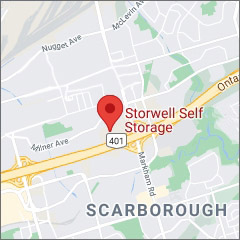 85 Executive Ct.
(416) 534-5555
Get a Quote