A place for everything, and everything in its place.
A Totally-Not-Boring Blog About Storage
Tips and Tricks for Storing Shoes
On average, Canadians take 4,819 steps a day, which comes out to just over 1.7 million steps per year. We spend a tremendous amount of time on our feet, which is why it's so important to make sure your shoes are being properly taken care of. Shoes and boots are your hardest working accessories, and they aren't cheap to replace either. Knowing how to store shoes properly will help you keep your shoes in good condition and wearable for years, thus saving you money. There are various methods for storing shoes, but some factors are necessary regardless. Most importantly, you need to keep them shapely, clean, and dry. Whether you need shoe storage for the short term or long term, these shoe storage tips will get you started. If you live in the GTA and feel like your shoes are taking over your apartment or house, consider renting a self-storage unit in Etobicoke, Scarborough, or Mississauga to ensure that your shoes are safe and secure while also freeing up space in your home.
Sort and thoroughly clean your shoes before storing
To prepare shoes for long-term storage you need to start by sorting shoes into similar groupings (tennis shoes, dress shoes, workout shoes, etc). Before storing shoes, clean them thoroughly and apply leather conditioner to leather soles and uppers and remove all laces. Stuff shoes with just enough material to smooth the toe box and heel but not enough to stretch these areas. Wrap the filled shoes with a length of muslin or acid-free paper before placing the shoes in their storage containers. To help maintain the shape of your nicer shoes, insert a shoe tree into them or stuff them with acid-free tissue paper. Cedar shoe trees absorb any moisture that may be present in your shoe while deodorizing and deterring pests at the same time.
You should also make sure to check all your shoes for any damage so that you can carry out any minor repairs. Fixing minor issues before placing them in storage will prevent the problem from worsening during transit and storage. If you can't fix the damage yourself, you should take it to a shoe repair outlet and see if the cost of repair is worthwhile. If not, dispose of the shoes.
Choose the right storage containers for your shoes
It's important to choose the right storage container that works best for your unique situation. The cardboard box that your shoes were originally packaged in is the cheapest option for a shoe storage container. The boxes stack nicely and uniformly, and labeling makes it easy to find the shoes you are looking for. However, the cardboard can be flimsy and might create conditions that can make your shoes dry and brittle. Rodents and pests can easily infiltrate cardboard boxes, and may even be attracted to them.
Stackable plastic boxes are a good alternative to using the original shoe box. These boxes are clear, stackable and very sturdy. The clear box allows you to see which pair of shoes is in each box. The tight locking lids on plastic storage boxes can trap moisture inside the box. To avoid this, dry your shoes thoroughly before putting them in plastic boxes and put silica gel packets inside your shoes to stop moisture buildup.
There is a wide variety of inexpensive shoe organizers you can purchase that fit your specific needs for size and space. Shoes are easily accessible when they are in an organizer in your bedroom, closet, or other storage space. Over the door and hanging organizers don't need any floor space to be used at all. Specialized shoe storage options range from wire racks to boxes to custom cabinets, but the optimal storage solution depends on how long the shoes will go without being worn. For shoes you wear often, open storage that lets damp leather or fabric breathe will keep shoes fresh. For long-term storage, these solutions don't provide enough support for shoes.
Shoe trees and peg boards that let you keep your shoes off the floor are excellent for keeping closets organized. But because anything that fits inside the shoe and distorts its silhouette can stretch leather and fabric uppers over time, these convenient items aren't meant for long-term storage. Save shoe trees for running shoes, flats and other casual footwear you use frequently. To preserve your shoes' shape, switch the way you hang shoes or the way you put them in pockets.
Put shoes on wooden shoe horns for long-term shoe storage
How to store shoes for the long term varies from storing shoes you wear more regularly. Shoes that will be off your feet for a week or more need structure, and wooden shoehorns and stretchers are the best option for helping shoes keep their shape. However, you must use the correct size to avoid stretching the shoe. Adjustable versions let you customize the fit before storage. Before inserting wooden or plastic shoe frames, allow shoes to rest for at least a day after wearing so any residual moisture can evaporate. Otherwise, the insert could trap dampness within the shoe and lead to deterioration.
Use acid-free tissue to stuff the shoes
Acid-free paper is absorbent and maintains a shoe's proper moisture level while protecting the shoes from deteriorating. When using paper to stuff shoes for moderate or long-term storage, opt for acid-free tissue instead of newsprint. While paper may not have enough strength to fill boots and thick leather or felted shoes, unbleached muslin fabric is an excellent alternative. Like paper, muslin wicks away residual moisture, and it also protects metal buckles and delicate sequins from scratches.
Organize your shoes based on your specific needs
Anticipate your shoe needs and organize your shoe collection by frequency of use and the current season. Keep the shoes that you use daily in an easily accessible spot like a shoe rack by the front door. Store shoes that you wear only for special occasions on a shelf in the closet or in a self-storage unit. Consider the functions of the shoes you frequently use compared to the location they are stored in. Place house shoes close to your bed, put gardening or mowing shoes by the back door or in the mud room, and date night shoes in an easily accessible shoe organizer in your bedroom. Organize your shoes by the season. If it's winter time, keep your summer shoes in storage, and in the summer, store your winter boots.
Choose an optimal storage location
Storing shoes on a shelf in the closet or a shoe rack works great for the shoes that you frequently wear, but consider putting the shoes you only wear a few times a year into a self-storage unit if you don't have room anywhere else. Climate-controlled self-storage provides the optimal conditions for storing shoes long term. However, this is not completely necessary for storing your shoes effectively in self-storage. Power ventilation that controls the humidity in a storage unit is sufficient for storing shoes long-term.
Keep your shoes off the ground
This tip goes for shoes you store at home and shoes your store in a self-storage unit. We have all come home and flipped our shoes off and just left them there on the ground, only to realize later on that your shoe pile has gotten out of control. The number one tip for how to store shoes would be to keep them off the floor. Make sure they have a designated area in your closet or bedroom where they can be properly organized and managed. That way you can always find the proper footwear and prevent turning your closet into an unruly mess. The same goes for storing shoes in a self-storage unit. Getting shoes off the ground and into designated containers or shoe organizers will not only keep for shoes neat and easily accessible but it will protect them from any water damage if there is a leak in your unit.
Things to watch out for when storing shoes long-term
Rodents will chew through cardboard shoe boxes and shoes to get nest material. Watch out for signs of rodent- like droppings and chew marks on shoe boxes in your closet or storage unit. Store shoes in lidded plastic containers to prevent rodents and bugs from being able to access your shoes. Mildew can wreck a nice pair of shoes and spread like wildfire. Put silica gel packets inside your shoes before putting them into storage. Acid-free paper and shoe trees also help absorb excess moisture. Intense heat can dry out and warp your shoes, making them brittle, misshapen, and unwearable. Heat can also melt glues that hold parts of shoes together.
Considerations for different types of shoes
Here are some things to keep in mind when storing specific shoe types.
Leather shoes: Leather is one of the most common materials used in many dress shoes and boots. Clean and condition leather shoes before storing and help them maintain their shape by using a shoe tree or stuffing them with acid-free tissue.
High heels: You can use your closet's crown molding as a makeshift ledge for hanging your heels.
Sneakers: Clean and remove the laces from sneakers before putting them into long term storage. If you have used your sneakers to run or workout in, they may need to be deodorized before storing.
Flip flops: Since flip flops are so light, you can fit multiple pairs in one box while storing. Flip flop hangers can be hung in the closet or on a door to store multiple pairs.
Work boots: Store boots upright and fill them with plastic bottles or boot molds to help them maintain their shape.
Kids shoes: Unused toy bins, chests, and ottomans make great locations for storing little shoes.
Summer shoes: Summer shoes are lightweight and often contain fragile materials. Espadrilles and cork soles tolerate humidity changes poorly, so add a package of silica gel to their storage container to remove dampness. Store brightly colored shoes out of direct sunlight that could bleach them.
Storing your shoes at Storwell Self Storage
If you want your shoes to stay in excellent condition while in storage, it's best to visit your unit every so often and make sure there are no problems with your footwear The earlier you discover an issue, the earlier you'll be able to take action to prevent additional problems from occurring. You also need to choose a storage facility that will protect your shoes in the best way possible. Storwell Self Storage is a great choice for shoe storage; our individually alarmed units are power ventilated controlling for moisture and temperature damage. Storwell's facilities have 24-hour video surveillance and on-site management that ensures whatever you store in your unit is safe and secure at all times.
Three Locations in The Greater Toronto Area
Three Locations in The Greater Toronto Area
For more details, select the location nearest to you in Toronto:
For more details, select the location nearest to you in Toronto: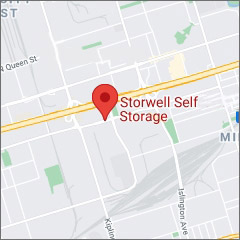 300 Evans Ave.
(416) 259-5555
Get a Quote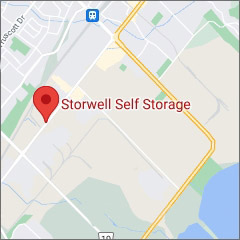 2525 Royal Windsor Dr.
(905) 823-5555
Get a Quote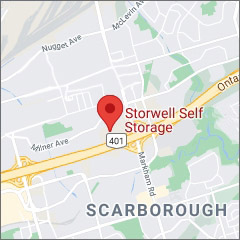 85 Executive Ct.
(416) 534-5555
Get a Quote