A place for everything, and everything in its place.
A Totally-Not-Boring Blog About Storage
The Best Way to Store Electronics in your Self-Storage Unit
Electronics dominate most people's lives, whether we are talking about cell phones, tablets, computers, laptops, CDs, DVD players, Blu-ray players, radios, televisions, or video game consoles. The constant release of new models and new technology means we are always upgrading and discarding our electronic devices.
If a big chunk of your storage space is dedicated to storing electronics, you might consider storing them inside of self-storage unit to free up some space in your home. Self-storage is also an excellent option for professional photographers, videographers, and technicians that need a secure place to store their gear and equipment.
Whether you are storing electronics at home or renting a self storage unit in Mississauga, Scarborough, or Etobicoke at a Storwell storage facility, it's important that you know how to store them the proper way to make sure that they last. Store them poorly and they can get ruined by humidity, dust and heat. Store them the right way, and you can enjoy your electronics for years to come.
Storing electronics in a self-storage unit
Storing your electronics in a self-storage facility is actually a safer option than storing them at home because at home there is more potential for accidents. There's also a lot more variability in the temperature, and if you're storing electronics in your attic or your garage, you have no control over the temperature at all. There is a risk of things like leaks and other environmental issues that can be hazardous to your equipment.
You should also take into account that there is definitely better security at storage facilities than in the average home. This is especially important if you travel a lot, work, or are away from home for long periods of time. After considering some of these issues, it's safe to say that you're better off putting your electronics in a storage unit.
Storing electronics long-term can be tricky because they are fragile and can deteriorate over time if not stored properly. Poor storage practices can cause your electronics to have a shorter lifespan, harm their quality, and can eventually reduce their efficacy. Here are some things to consider when storing your electronics to make sure they stand the test of time.
Take inventory and organize
Before you start hauling your electronics and gadgets to your storage facility, the first thing you need to do is sort them out. Separate each device based on size, length of storage, type, and build quality. This will make it easier for packing and storing later on while preventing physical damage. For example, heavier devices such as TVs might crush or break smaller items like cell phones when placed in the same box. Once you have fully sorted your devices, take an inventory to make it easier for you to track stored items later. The packing process can be challenging so it's best to start by decluttering. Go through your desk drawers, media console, and storage cabinets to gather all your electronics and tech devices, including cords and accessories.
Don't throw unwanted electronic equipment in the trash. Instead, find new homes for the electronics by selling them on online marketplaces or donating them to charitable organizations. Some retailers, including Apple and Best Buy, offer free recycling for certain electronics or your city may provide e-waste recycling programs.
Check the manual
Review the manual provided by the manufacturing company to see if they have best practices for storing your electronic device or item. If you don't have it lying around, there's a good chance you can find it online on their website or through an internet search. If your item is still covered under warranty, it's a good idea to take heed of the company's advice on how to properly store the item so you don't void the warranty.
Take pictures
Before you remove the cords from old computers, VHS/DVD players, or other devices, take a picture of all the cords and components in place before unplugging anything. This way, when you go to reassemble your device later, you can refer to the image for easy assembly. Once you have your electronic device documented, remove any disks or CDs from your players or computers before disconnecting them. Discs can get damaged while getting moved within the device. Power your device down after making sure it is clear, and then disconnect any connectors, cords, or components. Keep the appropriate cords bundled with your device.
Give items a thorough cleaning
As with any item you're preparing for storage, you should give the item a thorough clean before you store away. In the case of electronics, consider airing out your items with a compressed air duster, which can be found at any office supply store. These dusters blow a thin stream of air into hard-to-clean places to clear out dust and debris that can accumulate in electronic ports and fans. Dust can attract moisture and damage your equipment. Don't forget that moisture conducts electricity and can cause short circuits in your electronics. Moisture also encourages corrosion, which damages electronic components.
If possible, use the box it came in
The box that your electronic device came in, and the packing material used to keep it secure and undamaged, is the best storing method. These packaging materials were designed to protect the item during shipping, probably over vast distances, and will hold up well under most storage conditions.
Put labels on everything that's not in its original box
While original packaging is a good start for storing your electronic device, make sure you keep that packaging inside another, larger box to keep your device in good shape. Label that larger box with a list of its contents. This is a good tip to follow for all of the stuff in your storage unit, not just your electronics. A labeled and organized storage unit is easier to navigate and keep organized. Labeling your boxes will help you easily locate the items you're looking for without hassle.
Organize cords and connectors
Match up any cords, connectors, or additional components with the electronic device that it belongs to. We all have that drawer full of extra cords and cables. Go through that drawer and check that each cord still works and pair them back with the item that's getting stored. Neatly wrap the items for storage by untangling the cords and wrapping them around either the matching adapter or device that it belongs to. This ensures that you won't have to go hunting for it when your need arises.
Keep your screens protected
If you no longer have the original boxes that the electronic device came in, make sure to wrap screens with anti-static foam, cotton cloth, canvas, or cardboard to keep the screens in good working order while they are being stored. You can also add some additional filler into the box for added protection, including bubble wrap. Monitors and screens are prone to cracking and breaking when faced with impact damage. They are also susceptible to scratches from direct contact with rough surfaces and damage from moisture and condensation.
Use blankets and padding
If you don't have access to bubble wrap and other packaging supplies, using blankets for larger devices, such as flat screen TVs and other fragile electronics will work just as well. Use tape that will adhere to fabric that is also waterproof. Use care when wrapping your devices and be sure to place any devices with a screen, especially flat screen TVs and larger computer monitors, standing upright rather than face down or stacked between other stored items.
Back-up your data
Even if you are taking all of the right steps, you never know what is going to happen to your data in the event of an emergency. If you have your devices backed up, at least the digital parts of your life aren't destroyed. Prior to storage, back up all electronic devices to a server or external hard-drive to save data. You'll want to have this data readily available should you need to quickly reference it or should an unfortunate occurrence happen to your items in storage. A minor misstep could leave you without a device and without all of the information that device contains. In the case of computers, this could mean treasured family photos, videos, and music. Take the extra time now to back-up your data to avoid regret later.
Remove all batteries from your devices
Leaving the batteries inside your devices when putting them away for long-term storage can cause a lot of damage. If you don't remove batteries from each device, any leakage will seep out and wreak havoc on your hardware. If you are storing cell phones and laptops with removable batteries, be sure to remove them and store them near your device in your unit.
Always insure your expensive electronic items
Electronic items like cell phones, computers, and printers are usually quite expensive. Many storage facilities are equipped with strong security, but there are certain things that can't be accounted for. Things like fires, floods, or other extreme conditions could damage your possessions. For these rare instances you should look into getting added insurance for your electronic items. Most self-storage facilities provide some level of storage insurance; make sure to read your policy closely to make sure that your electronic items are covered.
Storing electronics at Storwell Self Storage
Electronics might be some of the most expensive items that you will store in your self-storage unit. This is why choosing a self-storage facility with the proper safety precautions is of the upmost importance when deciding where to store your electronics. Storwell Self Storage is a great option for electronics storage; our facilities have a wide range of self-storage unit sizes and state-of-the-art security features to ensure that our customers' items are properly taken care of. Some of the security features include 24-hour video camera surveillance, pass code gate access, and individually alarmed units.
Three Locations in The Greater Toronto Area
Three Locations in The Greater Toronto Area
For more details, select the location nearest to you in Toronto:
For more details, select the location nearest to you in Toronto: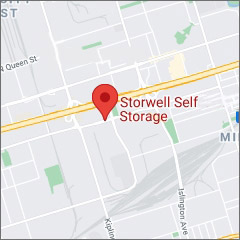 300 Evans Ave.
(416) 259-5555
Get a Quote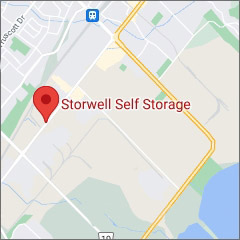 2525 Royal Windsor Dr.
(905) 823-5555
Get a Quote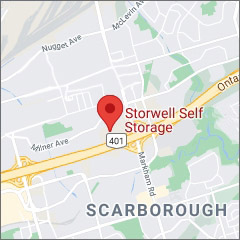 85 Executive Ct.
(416) 534-5555
Get a Quote