A place for everything, and everything in its place.
A Totally-Not-Boring Blog About Storage
Are you planning on moving to Scarborough? 13 things you need to know about Toronto's forgotten gem
On a balmy summer day in 1793, John Graves Simcoe, the first Lieutenant Governor of Upper Canada, and his wife Elizabeth decided to take a stroll along the coastline of Lake Ontario. Elizabeth took special note of the large cliffs that rose high above the coastline, the tallest of the nine peaks reaching over 300 feet.
The bluffs along the shoreline reminded Elizabeth of the limestone cliffs in the English town of Scarborough. She was so captivated by the natural wonder, that that evening she wrote this entry in her journal, "The shore is extremely bold, and has the appearance of chalk cliffs, but I believe they are only white sand. They appeared so well that we talked of building a summer residence there and calling it Scarborough." This is how the town of Scarborough got its name. Ever since then, the Scarborough Bluffs have been an integral part of Scarborough's identity. The Bluffs are a major tourist attraction, with thousands of people coming to see the fantastic views each year.
While the Scarborough Bluffs are the most notable natural attraction in Scarborough, the area is known for its abundance of wonderful parks and green spaces. Unlike Downtown Toronto, which is almost completely urbanized, there are large portions of Scarborough that remain untouched by urban development, mainly along the coast of Lake Ontario and the Rouge River heading north towards the Toronto Zoo. This unprecedented access to nature sets Scarborough apart from the other parts of Toronto.
Speaking of the other parts of Toronto, there is often some confusion about whether or not Scarborough is actually a part of the City of Toronto or its own entity. This confusion is warranted, as the cities and towns that make up the Metropolitan Toronto Area have constantly been changing designations and affiliations for years. Scarborough officially changed its status from borough to city in 1983. On January 1, 1998, Scarborough was amalgamated into the City of Toronto along with the other municipalities of East York, Etobicoke, North York, York, and the original City of Toronto itself. So while Scarborough is technically a part of Toronto, it has always maintained a unique character that makes it distinct from Downtown Toronto and the other municipalities.
One of the main aspects of Scarborough's unique character is its incredibly diverse population. Scarborough saw a massive influx of immigrants following World War II. In the decades following the war, Scarborough continued to be a safe haven for people looking to start a new life in Canada. In 2016, 56.6% of Scarborough residents were foreign-born and people that identified as a visible minority made up 73.4% of the population. This is a much higher percentage than Toronto as a whole. The immigrant population has created vibrant multicultural locales in various areas of Scarborough. One of the more notable among these is the heavy concentration of Chinese businesses and restaurants in the Agincourt neighbourhood. Scarborough also has the largest concentration of Sri Lankan Tamils outside Sri Lanka.
1. Scarborough has shed its "Scarberia" image to become one of the premier living destinations in the GTA
Scarborough has acquired several nicknames over the years. A popular one is "Scarberia," a portmanteau of Scarborough and Siberia, a reference to its seemingly distant eastern location from Downtown Toronto and apparent lack of notable attractions. The word originated sometime in the 1960s and has remained a point of contention ever since. There is a common misconception that Scarborough is nothing more than vast suburban wasteland. This could not be further from the truth. Scarborough is an extremely exciting and vibrant city, with a diverse population, amazing food options, and picturesque surroundings. People are just now beginning to discover how great Scarborough is and what it has to offer.
On top of being a wonderful place to live, Scarborough is also home to several notable people who have gone on to do tremendous things in their lives. The musician The Weeknd famously grew up in West Hill and he often mentions Scarborough and Toronto landmarks in his lyrics. Other notable people that have come out of Scarborough include John Candy, Mike Myers, the Barenaked Ladies, Jonathan Bunce, Kardinal Offishall, k-os, Garry Dee, Lilly Singh, and Olympic sprinter Andre de Grasse.
2. The best neighbourhoods in Scarborough
Scarborough is a very large city with many different and distinct neighbourhoods. Each neighbourhood has its own unique quirks and characteristics. Because Scarborough is so expansive, different regions have different geographical touchstones. The most sought after properties tend to be located near notable parks, ravines, and other green spaces. And obviously, properties that are closer to Lake Ontario and the Scarborough Bluffs are extremely popular, even though Scarborough does not have an abundance of beaches or boardwalk attractions.
Top neighbourhoods in Scarborough
Historically, people have gravitated to the neighbourhoods on the south side of Scarborough because of the proximity to the water and easy access to transportation options that could take them to Downtown Toronto. However, in the last two decades, as the city has developed, many areas north of Eglington Avenue have garnered attention from home buyers. The emergence of the Scarborough Town Centre as a major social hub has also lead to a lot of north Scarborough neighbourhoods blossoming.
Birch Cliff- Birch Cliff is a well-established, family-oriented neighbourhood set amidst the idyllic backdrop of the Scarborough Bluffs and Lake Ontario. Drawing attention away from the lake is Kingston Road, a major thoroughfare that makes its way through the centre of this neighbourhood.
The average cost of a two-bedroom detached house in Birch Cliff is $1.1 million
West Hill- Located just west of Highland Creek, West Hill is known for its natural beauty derived from Morningside Park and Colonel Danforth Park, which form the boundaries of this neighbourhood. Due to its picturesque surroundings and proximity to the water, West Hill is one of the most in-demand neighbourhoods in Scarborough.
The average cost of a two-bedroom detached house in West Hill is $788 thousand
Malvern- Located right by the Toronto Zoo and Highway 401, Malvern's affordable real estate has traditionally attracted many new Canadians to the neighbourhood. There are over sixty different cultures represented here including people of Afro-Canadian, British, Chinese, and East Indian backgrounds.
The average rent for a one-bedroom apartment in Malvern is $ $1,650 per month
Agincourt- Located towards the north end of Scarborough, Agincourt has one of the largest Asian communities in Toronto. This ethnic mix is visible in the signage of the many shopping malls that proliferate in the neighbourhood.
The average cost of a two-bedroom detached house in Agincourt is $766 thousand
Low profile neighbourhoods/up and coming neighbourhoods
Scarborough is in the midst of a major development boom. New housing and condo developments are starting up all over Scarborough, changing the city from a largely suburban environment to a more of an urban centre. The introduction of the Eglinton Crosstown LRT has lead to massive developments happening along Eglinton Avenue in the heart of Scarborough. As always, the Scarborough Town Centre is the hub of social life in the area, so housing near the shopping centre is always in high demand. Here are a few up and coming neighbourhoods to keep your eye on.
Milliken- Located on the northern border of Scarborough, Milliken is a relatively new neighbourhood only being urbanized in the late 1980s. The neighbourhood has many outstanding features including a modern public library and neighbourhood centre, the beautifully designed Milliken Park, and the Milliken Park Recreational Trail which winds its way through this neighbourhood.
The average cost of a two-bedroom detached house in Milliken is $675 thousand
L'Amoreaux- The greater L'Amoreaux neighbourhood is made up of the planned subdivision communities of Bridlewood, Wishing Well, and Bamburgh, each containing their own school, shopping, and parks.
The average cost of a two-bedroom detached house in L'Amoreaux is $659 thousand
Ionview- Situated right next to Scarborough's industrial district "the Golden Mile," Ionview is an emerging neighbourhood with amazing access to transportation options. The value of property in this neighbourhood is set to skyrocket following the completion of the Crosstown LRT.
The average rent for a one-bedroom apartment in Ionview is $1,513 per month
Suburban neighbourhoods
Scarborough is quickly developing into a major urban centre, however; there are still many parts of the city that have maintained a small town suburban feel. Scarborough's suburban neighbourhoods are accompanied by beautiful parks, quiet residential streets, and affordable houses built on generous lots.
Bendale- Bendale is a culturally diverse, middle-income neighbourhood that is conveniently located near TTC and Go Transit lines. Neighbourhood landmarks include Thompson Memorial Park, the Scarborough Civic Centre and Scarborough General Hospital.
The average cost of a two-bedroom detached house in Bendale is $700 thousand
Guildwood– Located right by the Scarborough Bluffs, Guildwood Village is one of Toronto's most beautiful and inclusive neighbourhoods. The major landmark in this neighbourhood is the historic Guild Inn, located at 201 Guildwood Parkway.
The average cost of a two-bedroom detached house in Guildwood is $824 thousand
Morningside– Also known as Seven Oaks, this suburban neighbourhood is located right next to the University of Toronto Scarborough Campus. Morningside has amazing access to nature with the Highland Creek Ravine passing right through the centre of the neighbourhood.
The average cost of a two-bedroom detached house in Morningside is $626 thousand
3. Scarborough is one of the safest areas of Toronto but is often misrepresented
While Scarborough has received a reputation for having high crime rates, these rumors are unfounded. According to the Toronto Police website, the violent crime rate in the rest of Toronto is three per cent higher than it is in Scarborough. Many city councillors have spoken out about how the representation of Scarborough as a dangerous place is unfair and untrue. Whenever a crime happens in any part of Scarborough, it is automatically labeled a "crime in Scarborough," while crimes that happen in other parts of Toronto are reported according to the intersection they occur in. This bias in reporting has perpetuated the myth that Scarborough is a dangerous place to live, when in reality, Scarborough is one of the safest places in the GTA.
4. The cost of living in Scarborough- a much more affordable alternative to Toronto
When compared to smaller cities in southern Ontario, Scarborough is still quite an expensive place to live, however; when compared to Downtown Toronto, Scarborough is significantly more affordable. If you are looking for a cheaper alternative to Toronto, while still being able to easily commute to the city centre, Scarborough is the perfect place for you.
Scarborough is a former borough of the former Metropolitan Toronto, and as such, its economy is an integral component of the economy of Toronto. Compared to the City of Toronto as a whole, industry in Scarborough is similar in all labour force categories, except for manufacturing, which is higher in Scarborough. Notable companies that have their headquarters in Scarborough include Toyota Canada, Owens Corning (Toronto), Elizabeth Grant International, Enterprise Holdings, Inc., Thomson Carswell, Bell Media, Mastermind Toys, President's Choice Financial, Aviva, Tellus, and many others. Amazon has also opened a new fulfillment centre in north Scarborough in 2020. Points of interest in the area include Scarborough Town Centre, Albert Campbell Square, and the Canadian government buildings and office towers. The area has become one of Toronto's new secondary business districts outside of Downtown Toronto.
5. What to expect from Scarborough weather
Scarborough's climate is not as extreme as other cities in Canada because of its southerly location within the country and the proximity to Lake Ontario. It has been classified as a humid continental climate, with warm, humid summers and generally cold winters. Mean temperature and precipitation tends to be slightly lower than the downtown core or south Etobicoke for instance. Conditions vary based on proximity to the lake, with fog more common in the south and areas close to the lake noticeably cooler on hot summer days.
Typically, the hottest month in Scarborough is July, with the average high of 26°C. The coldest months of the year are January and February, when the average low drops to -8°C. While Scarborough gets relatively little snowfall at just around 38 snowy days per year, it does get a fair share of rain with 150 rainy days per year.
6. Making your way around Scarborough
While Scarborough has excellent access to public transportation via the Toronto Transit Commission, many people still consider Scarborough a motorist-centric city.
Scarborough is at the eastern end of Line 2 Bloor–Danforth of the Toronto subway system. There are three subway stations in Scarborough: Victoria Park, Warden, and Kennedy. Beginning at Kennedy station, Line 3 Scarborough, also known as the Scarborough RT, runs north and east toward Scarborough City Centre.
An extension of Line 2 started in June 2021 and is expected to be complete around 2030. The line will be extended 7.8 kilometers and will include three new stations from the existing Kennedy station to McCowan Road and Sheppard Avenue. Line 3 is planned to be decommissioned in 2023. Line 5 Eglinton is a light rail line under construction, which will run right through the centre of Scarborough, greatly improving the public transit options in the northern half of the city.
Scarborough's infrastructure is very motorist-friendly. The arterial roads of Scarborough were laid out on a grid system of north–south and east–west. The only roads that diverge from this pattern are Kingston Road and Danforth Road, which were laid out prior to the surveying of the township, and both run diagonally in a southwest–northeast direction across the south end of Scarborough.
Kingston Road was formerly Ontario Highway 2, and was the main highway through Scarborough until the building of the Highway 401, which runs east–west across the middle of Scarborough, with six to eight lanes in each direction.
7. Scarborough's amazing access to amenities and healthcare
Living in Scarborough, you have access to great hospitals that provide a wide array of health services such as: Birchmount Hospital, Centenary Hospital and Scarborough General Hospital. All of these hospitals are under the Scarborough Health Network Corporation. Birchmount Hospital is located at 3030 Birchmount Rd, Centenary Hospital is located at 2867 Ellesmere Rd, and Scarborough General Hospital is located at 3050 Lawrence Ave E. The Scarborough Health Network has North America's largest nephrology program and regional community-based cardiovascular rehabilitation service. The Centre is also a community-affiliated teaching site for the University of Toronto, and a partner with a number of other universities and colleges, helping to train the next generation of health care professionals.
8. Scarborough's bustling multicultural food scene
Scarborough has an extremely diverse community made up of people from all over the world. This diversity is reflected in the city's eclectic dining options. From roti to Hakka food and old-school burger joints, the options are endless. And while Scarborough has its fair share of fine dining restaurants, the city's food scene really shines in its small take-out spots, which are hard to find if you aren't a local. Here are some of the best places to eat in Scarborough.
Best places to eat in Scarborough
Fisherman Lobster Clubhouse- Located on Kennedy and Finch, this spacious cash-only operation with lobster tanks is serving up heaping portions of Chinese seafood every day.
Mona's Roti- This is a quaint, warm, family-run Trinidadian roti bakery on Sheppard Avenue East that also serves jerk chicken, curries, and West Indian drinks.
Pho Metro- Pho Metro opened in Scarborough between Lawrence Ave East and Warden Avenue in 2010. This location is famous for its Banh Hoi (fine rice vermicelli or steamed rolls made of rice-flour), Banh Xeo (Vietnamese sizzling pancake), and Bun Bo Hue (Hue style beef vermicelli Soup).
Babu- Babu is a strip mall takeout spot serving up some of the city's best Sri Lankan and Indian food for cheap, with lineups stretching around the block.
Oo-Kinza Fish House- Located in Bamburgh Circle Plaza, Oo-Kinza is a tiny market for premium seafood and limited seating for feasts of Japanese sea urchin, oysters, and donburi.
Frederick Restaurant- Serving authentic Hakka cuisine in an intimate setting, some of the specialities include crab corn soup and chicken pakoras.
East Court & Mike's BBQ- A tiny takeout counter specializing in what's known in Cantonese as "siu may": the art of Chinese barbecue.
Aunt Elsie's Caribbean Kitchen- Located in a small strip mall on Eglinton and Brimley, this hidden gem is a source for some of the most unique and authentic island take out, as well as imported ingredients and products.
Johnny's Hamburgers- A Scarborough staple, this old-school hamburger counter offers hearty charcoal-broiled patties with an extensive list of toppings for takeout.
Shawarma Empire- This unassuming spot on the corner of Lawrence and Pharmacy has some of the best Shawarma in Toronto.
Scarborough nightlife
As more and more young people are drawn to Scarborough because of the compelling multicultural community and affordable housing prices, the more attractions open up to meet the demand. This has created a unique and vibrant nightlife in the city.
DY Bar- Located at Finch and Kennedy, this is a bar with a laid back lounge vibe that offers Karaoke. If you're looking for a fun night out with friends and family this is the perfect spot.
Dirty Martini- DJs spin the latest hits at this north Scarborough nightclub with dinner service and drinks in a sleek setting.
Dolphin Gaming – Located on Eglinton and Warden, Dolphin Gaming offers everything Bingo and Tap n' Play. You can come watch the big game, enjoy a drink and some food and win big jackpots.
Harmony Club – Located on Millner Avenue, the Harmony Club is one of the most active and popular social dance clubs in Southern Ontario, famously known for their Friday night dances.
Fun Things to do in Scarborough
There are plenty of fun and exciting things to do in Scarborough. With its amazing parks and ravines, it's easy to get outside and stay active in Scarborough. Along with an amazing access to nature, Scarborough also has a deep artistic tradition with several notable artists emerging from the city in recent years, artists such as Natasha Ramoutar, Adrian De Leon, Leanne Simpson and Chelsea La Vecchia. Nuit Blanche Scarborough is an annual art festival that features creative instillations from a wide variety of artists with many local Scarborough artists participating.
Some of the other notable attractions in Scarborough include the Scarborough Museum, the Civic Centre, the annual Ribfest, and Scarborough Village Theatre, which is the performing arts centre of Scarborough.
The Toronto Zoo
The Toronto Zoo is one of the most visited attractions in Scarborough. The zoo has a wide variety of animals from all over the globe, presented in realistic approximations of their natural habitats. The Toronto Zoo encompassing 287 hectares (710 acres) and is the largest zoo in Canada. It is divided into seven zoogeographic regions: Indo-Malaya, Africa, Americas, Tundra Trek, Australasia, Eurasia, and the Canadian Domain. Some animals are displayed indoors in pavilions and outdoors in what would be their naturalistic environments, with viewing at many levels. It also has areas such as the Kids Zoo, Waterside Theatre, and Splash Island. It is currently home to over 5,000 animals (including invertebrates and fish) representing over 500 species.
The zoo opened on August 15, 1974, as the Metropolitan Toronto Zoo. The word "Metropolitan" was dropped from its name when the individual municipalities that make up the Municipality of Metropolitan Toronto was amalgamated into the current city in 1998. The zoo is located near the Rouge River on the western border of Rouge Park in the city's east end district of Scarborough. The trails criss-crossing the zoo and branching into the ravine provide a particularly fun and entertaining workout for hikers.
10. Scarborough is Toronto's greenest borough with excellent access to the great outdoors
While much of Scarborough has been urbanized, there are still several pockets of greenery throughout. The large amount of parkland in Scarborough has given it the distinction of being the greenest part of Toronto. One of the major advantages to living in Scarborough is having access to nature while also being able to quickly commute to a major metropolitan centre in Downtown Toronto. Scarborough is home to a wide variety of wild animals and birds. Canada geese, groundhogs, blue jays, gold finches, cardinals, brown rabbits, raccoons, squirrels, and foxes have all been spotted not only in the parks and ravine systems, but also in the suburban streets around Eglinton and Victoria Park.
The Scarborough Bluffs
The Scarborough Bluffs are the most notable natural attraction in Scarborough and for good reason. Whether you're a birdwatcher, beach-hopper, or a hiker, the 11 parks that encompass the Scarborough Bluffs have something for you. Stretching out for nearly 15 kilometers of the Lake Ontario shoreline and only 30 minutes from downtown, there's everything from swimming to beach volleyball, gardens and sculpture to butterfly watching.
Bluffers Park- the only designated swimming park in the Bluffs, it has family-friendly amenities like outdoor showers, picnic areas, changing facilities, a washroom and drinking fountains.
Cathedral Bluffs Park– is one of the highest points in Scarborough Bluffs, so it's the spot for epic vistas. At an elevation of 90 m (295 ft), this park offers a sensational view of the eroded sandstone bluffs.
Guild Park and Gardens- is a sprawling, manicured 36-hectare (89-acre) park that is the final resting spot for fragments of dozens of Toronto's now-demolished buildings. There's also a significant collection of outdoor sculptures, lending its Old World charm. On the grounds are the Guild Inn Estate, a mansion-turned-banquet-hall, and of course, stunning lake views.
Best parks in Scarborough
Milliken Park
Thompson Memorial Park
Morningside Park
Rouge National Urban Park
Highland Creek Park
Outdoor adventure spots
Guild Park and Gardens
Rosetta McClain Gardens
Several great golf courses in Scarborough
Kidstown Water Park
Toronto Pan Am Sports Complex
11. The Scarborough Town Centre: the hub of shopping in eastern Toronto
Scarborough is known for its amazing shopping options, the most popular destination being the Scarborough Town Centre. Scarborough Town Centre is the fourth largest shopping mall in Canada with over 250 different stores and food vendors. Since its construction in 1973, the Scarborough Town Centre has gone through several remodels and updates, most recently in 2010 where many of the stores were redeveloped with a more modern design.
Other notable shopping malls in Scarborough include Bridlewood Mall, Parkway Mall, Agincourt Mall, and the Malvern Town Centre.
12. Scarborough has an incredibly strong education system that's one of the best in the GTA
There are many schools and learning centres in Scarborough, including several options for post-secondary education. The University of Toronto has a Scarborough campus with a world-renowned reputation, but there's also Centennial College.
Four public school boards operate primary and secondary institutions in Scarborough, Conseil Scolaire Catholique MonAvenir (CSCM), Conseil Scolaire Viamonde (CSV), the Toronto Catholic District School Board (TCDSB), and the Toronto District School Board (TDSB). CSV and TDSB operate as secular public school boards and CSCM and TDSB operate as public separate school boards.
The highest rated elementary schools in Scarborough:
Kennedy Public School
C. D. Farquharson Junior Public School
Alvin Curling Public School
Iroquois Junior Public School
Anson Park Public School
The highest rated secondary schools in Scarborough:
St. Rose of Lima Separate School
St. Helen Separate School
Tecumseh Public School
St. Mark Separate School
Forest Avenue Public School
13. Some things to consider when moving to Scarborough
If you are moving from outside of Canada, make sure you have a valid travel document, a valid visa, and confirmation of Permanent Residence for you and each family member traveling with you. Make sure to bring any health documents with you that can help your future doctor give you and your family the best care, including immunization records, lists of medical conditions and major surgeries, and lists of medications frequently taken. While this may seem obvious, make sure to arrive with an appropriate wardrobe. Scarborough is old of the warmer cities in Canada but the winters can still be tough, especially if you are moving from a tropical climate. So, make sure to buy yourself a good winter coat.
If you are moving to Scarborough from within Canada, here are some things you should do before your move. Start cleaning your home and slowly packing items room by room early so that you don't get overwhelmed as your move out date approaches. Take an inventory of everything you own. This will help you decide what you want to keep and what you want to get rid of. It will also help you keep track of your items during the move and identify if you lose anything. Transfer your memberships, mail, and fill out change of address form. Buy packing supplies, blankets, boxes, tape, moving straps, dollies, and cleaning products. Make transportation arrangements; check if your new place has a designated moving in period.
Hiring a moving company might be your best course of action if you are moving long distance. For example, if your are moving from Vancouver British Columbia to Scarborough, it might be best to hire a professional moving company or portable storage company to transport your belongings cross-country to ensure the move goes smoothly. Compare at least three different companies so that you know you are getting the best deal. Make sure the estimate is comprehensive and realistic considering what you need to move. Some movers may quote a cheap price and charge extra on the moving date.
Rent a self-storage unit for any additional items you might have and to help alleviate some of the pressure on move-in day. On the day of the move, make sure to start early. Moving day can be very stressful so make sure you leave yourself a lot of extra time in case you need it.
13. Still not sure if Scarborough is a good place to live?
Check out what Living in Toronto has to say about Scarborough:
Three Locations in The Greater Toronto Area
Three Locations in The Greater Toronto Area
For more details, select the location nearest to you in Toronto:
For more details, select the location nearest to you in Toronto: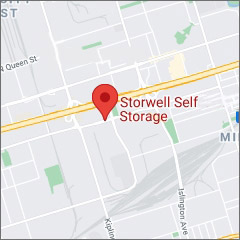 300 Evans Ave.
(416) 259-5555
Get a Quote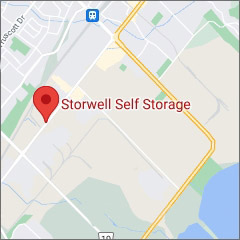 2525 Royal Windsor Dr.
(905) 823-5555
Get a Quote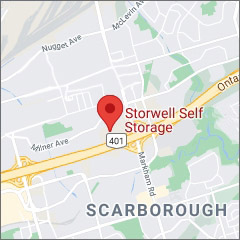 85 Executive Ct.
(416) 534-5555
Get a Quote