A place for everything, and everything in its place.
A Totally-Not-Boring Blog About Storage
The Best Restaurants in the Liberty Village Neighbourhood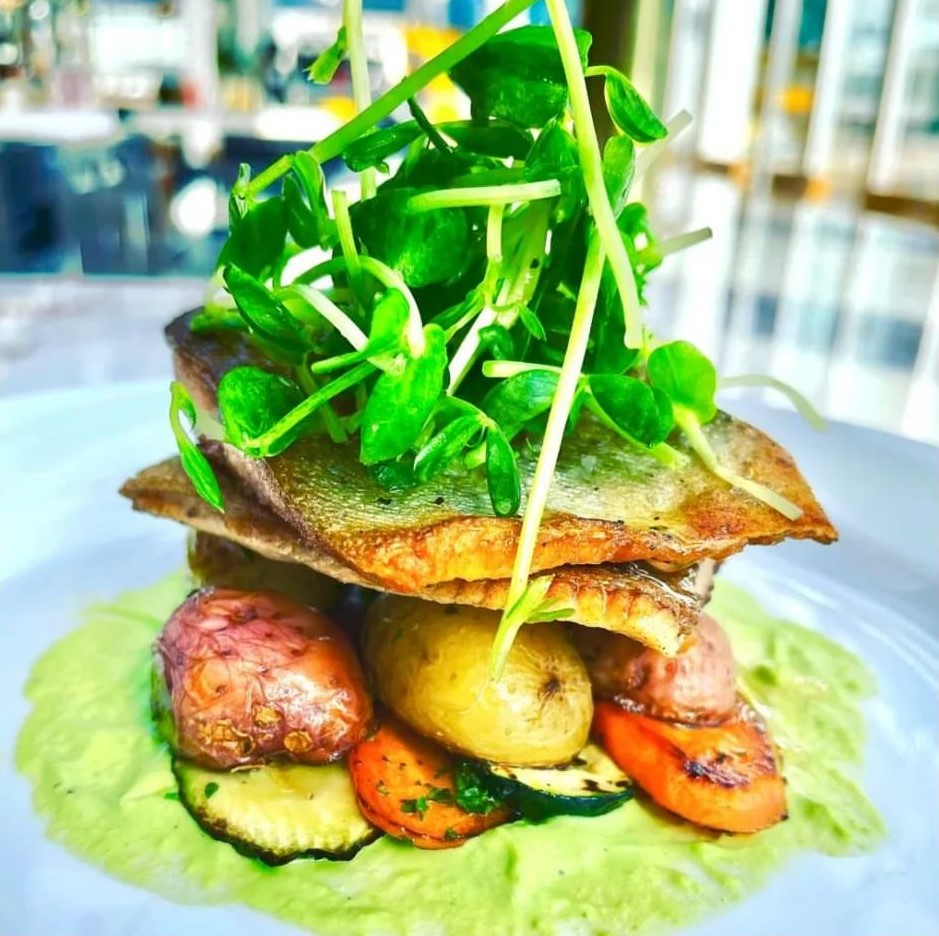 Located just west of Toronto's downtown core, Liberty Village is a trendy and dynamic neighbourhood that has become one of the most popular areas in the city. The neighbourhood's industrial roots, modern vibe, and amazing dining experiences have created a unique atmosphere that attracts food lovers from across the GTA. From fine dining to casual eats, there's no shortage of amazing restaurants to try in Liberty Village. If you are storing your belongings at our storage facility in Etobicoke near Liberty Village and you are looking for a great place to get dinner, here are some of the best restaurants that the neighbourhood has to offer.
Aloette Go
171 E Liberty St Unit 127A, Toronto, ON M6K 3E7
(416) 792-8680
Hours: Monday to Sunday: 11 am- 10 pm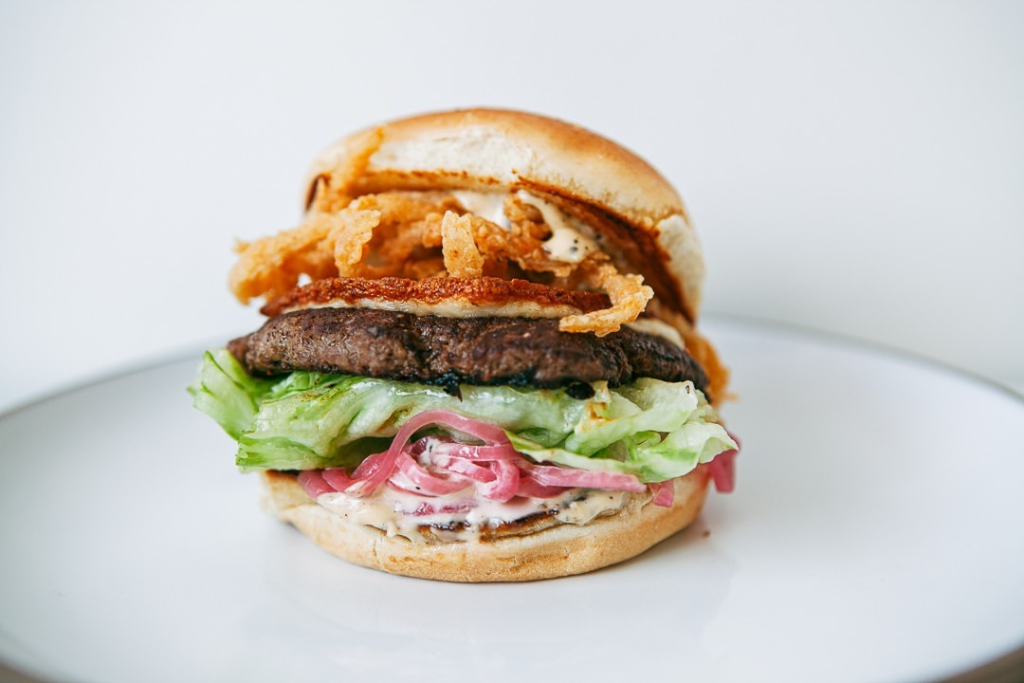 Founded by the Alo Food Group in 2021, Aloette Go was an attempt to make the iconic Aloette dishes more accessible. Aloette Go focuses on taking the great taste and the high-quality ingredients found in the original Aloette menu and optimizing them for takeout and delivery. Aloette Go offers a more casual dining experience than its sister location, with a focus on quick and easy takeout. The restaurant offers a variety of dishes inspired by classic diner fare, such as burgers, sandwiches, and salads.
Aloette Go offers takeaway versions of some of the signature dishes available at the original Aloette including the signature Aloette Burger that comes with a quarter pound beef patty, griddled Emmental cheese, dijonaise, shredded lettuce, and pickled onions. A new item that is unique to Aloette Go that has quickly become a fan favourite is the Go Burger, which contains the delicious Go sauce and is cooked to perfection every time. Aloette Go's menu also contains a variety of salads and dessert options including mouth watering s'mores cookies and lemon meringue pie.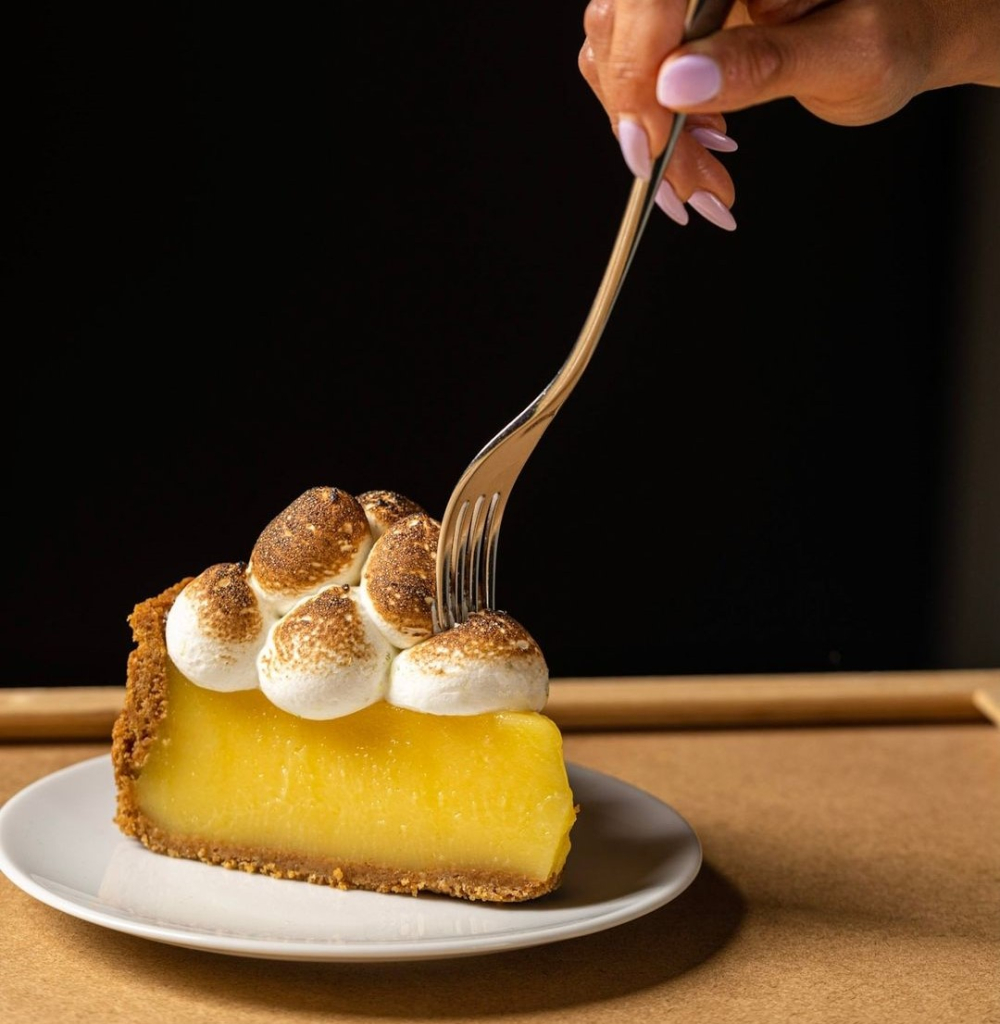 In addition to its food offerings, Aloette Go also has a selection of beer, wine, and cocktails available for takeout or delivery. Overall, Aloette Go is a great addition to the Liberty Village dining scene. Its commitment to using fresh, locally-sourced ingredients and its focus on quick and easy takeout or delivery options make it a popular choice for those looking for a quick and tasty meal. Whether you're in the mood for classic diner fare or something a little more unique, Aloette Go has something for everyone.
Chiang Mai Liberty
171 E Liberty St Unit 144, Toronto, ON M6K 3P6
(647) 342-8424
Hours: Monday to Sunday: 11 am- 11 pm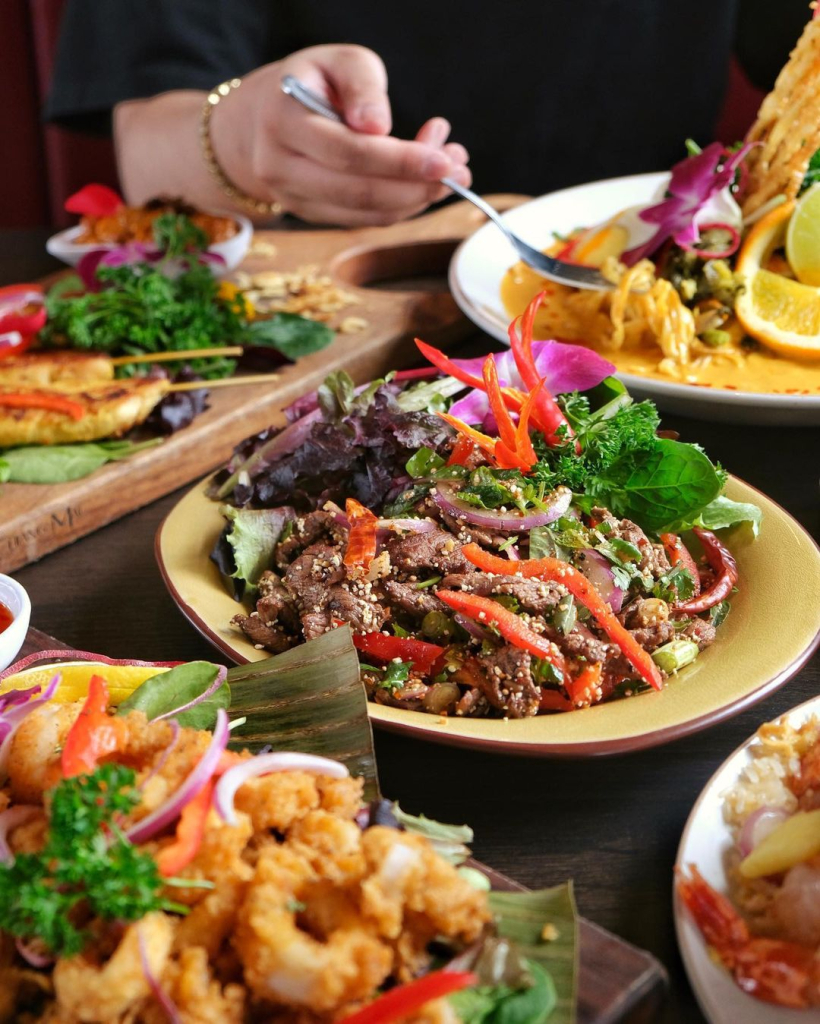 Chiang Mai is a stylish contemporary restaurant serving delicious Thai dishes in the heart of Liberty Village. The restaurant first opened its doors in September 2021 and quickly became one of the most popular dining spots amongst locals in the Liberty Village neighbourhood. Chiang Mai is one of the very few restaurants serving authentic Thai cuisine in the area and they are dedicated to bringing the best food that Thailand has to offer to the people of Toronto.
At Chiang Mai there is a focus on using only premium ingredients and seasonal items grown locally to ensure that the dishes are of the highest quality. The menu is comprised of classic Thai dishes that each have the traditional tastes that you would come to expect from Thai cuisine but with a modern twist. Some of the standout dishes are the famous Pad Thai, the pineapple fried rice, which is served in a half pineapple, the Khao Soi made with fresh rice noodles, and the soft shell tacos that they serve during happy hour.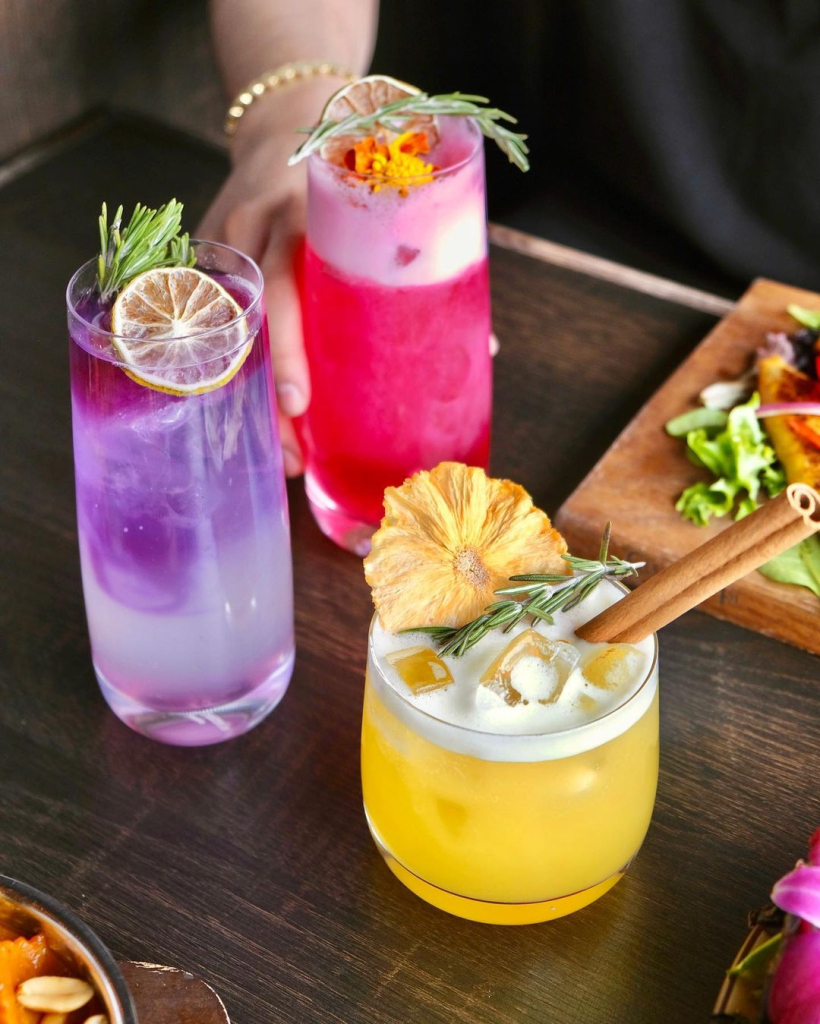 Recently Chiang Mai has completely revamped their cocktail menu to include a wide variety of exciting new beverages such as the raspberry fizz, the mango martini, and the one of a kind dragonfruit mojito. Chiang Mai has also come out with their very own sour Thai tamarind beer that they developed in collaboration with Something in the Water Brewing company, also located in the Liberty Village. Aside from their amazing food and wonderful drinks, Chaing Mai also provides an amazing dining atmosphere with their elaborately decorated interior, which draws inspiration from Thai royalty.
The Craft Brasserie & Grille
107 Atlantic Ave, Toronto, ON M6K 1Y2
(416) 535-2337
Hours: Sunday to Thursday: 11 am- 12 am | Friday and Saturday: 11 am- 1 am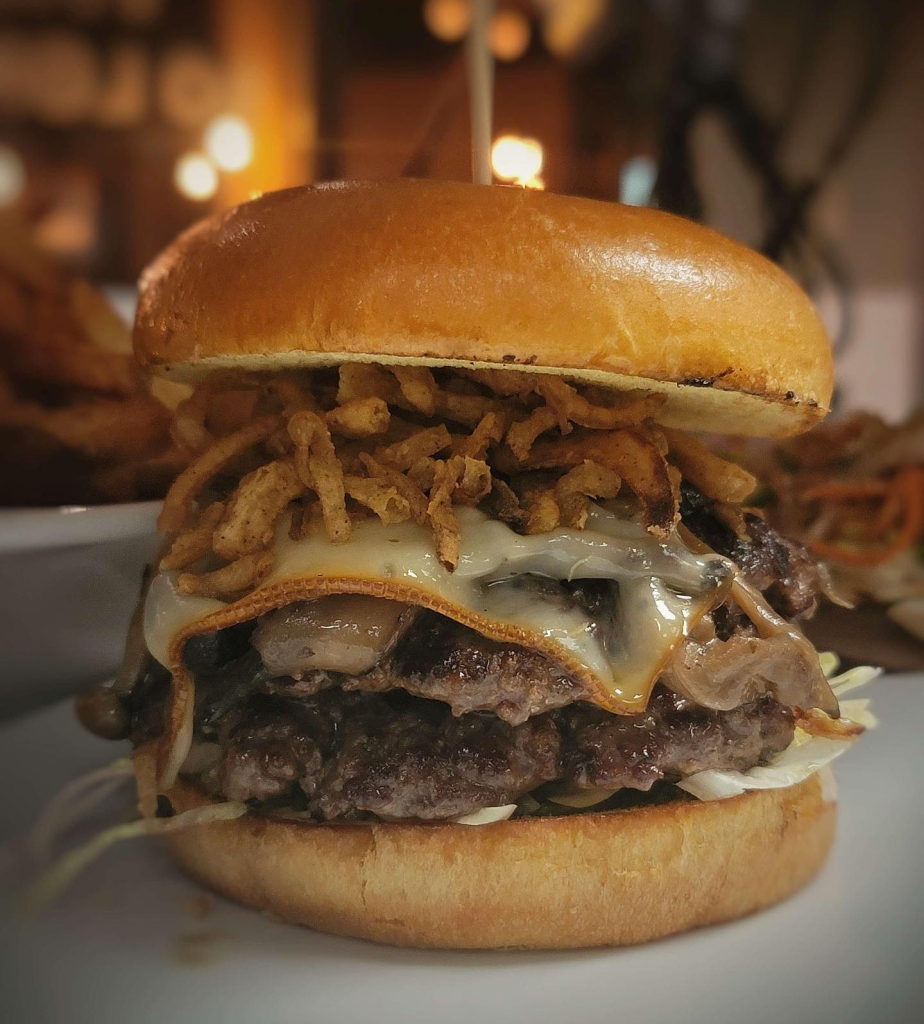 The Craft Brasserie & Grille has one of the largest selections of craft beer on draught in Toronto. Located in the center of Liberty Village on the corner of Atlantic Avenue and Snooker Street, this sprawling pub offers a comfortable and casual dining experience with an industrial-style interior featuring high ceilings, exposed brick, and ample seating options. The Craft Brasserie & Grille is walking distance to BMO Field, Lamport Stadium, and many other venues in the area making it a perfect spot to come and enjoy a cold drink and great meal after watching a sporting event or concert.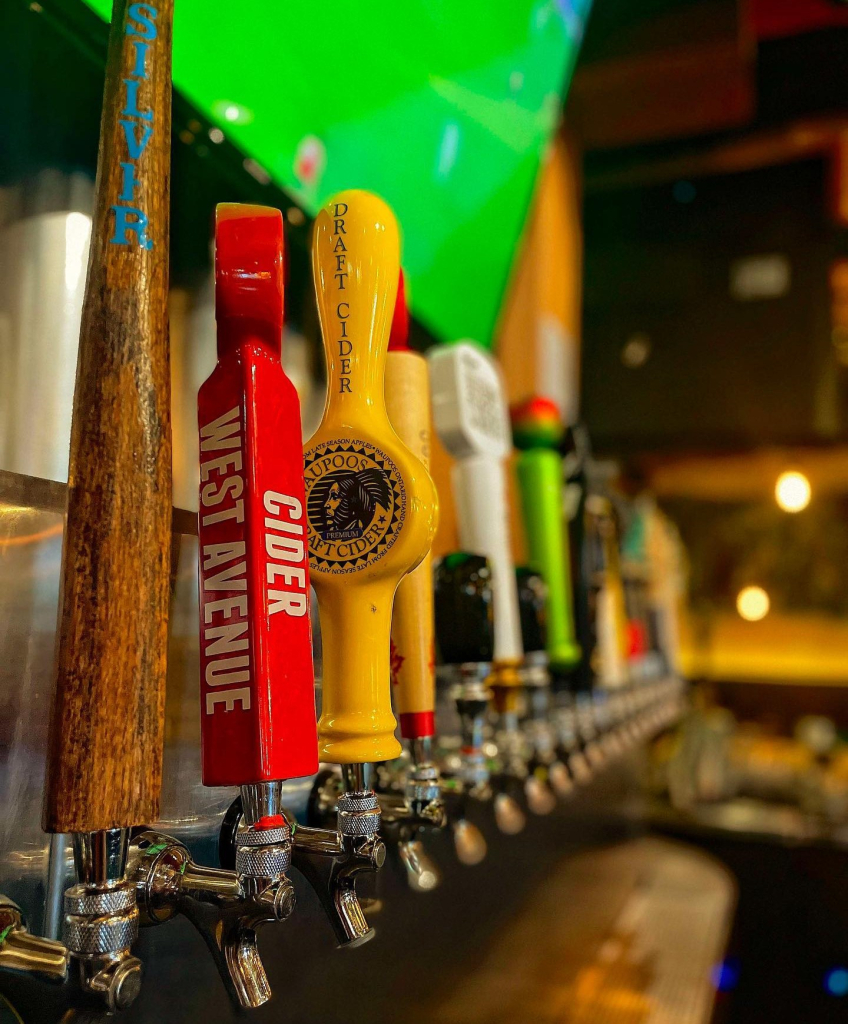 The Craft Brasserie & Grille has an impressive collection of 120 craft beers on tap. From local Ontario brews to Belgian ales, there's something to satisfy every beer lover's taste. The knowledgeable and friendly staff is happy to offer recommendations and help guide guests through the extensive beer list. With an indoor seating capacity of over 280, including private dining space for 160 people, and patio seating for 55 people, the Craft Brasserie & Grille can accommodate events of all sizes.
While the extensive beer list is definitely a highlight, the Craft Brasserie & Grille is much more than just a beer bar. The menu features a wide selection of elevated pub fare, including burgers, sandwiches, and shareable plates. The emphasis is on fresh, locally-sourced ingredients, and dishes are made from scratch in-house. Standouts include the fried chicken sandwich, beer-battered fish tacos, and the smoked brisket poutine. The Craft Brasserie & Grille has also just unveiled a brand new summer brunch menu, which is available weekends and holidays from 11am to 2pm. The brunch menu features amazing options such as Hong Kong style French toast, steak and eggs, fried chicken and waffles, and smoked brisket eggs benedict. In addition to its food and drink offerings, the Craft Brasserie & Grille also hosts regular events including beer tastings and trivia nights.
Impact Kitchen
99 Atlantic Ave, Toronto, ON M6K 3J8
(416) 306-1986
Hours: Monday to Sunday: 8 am- 9 pm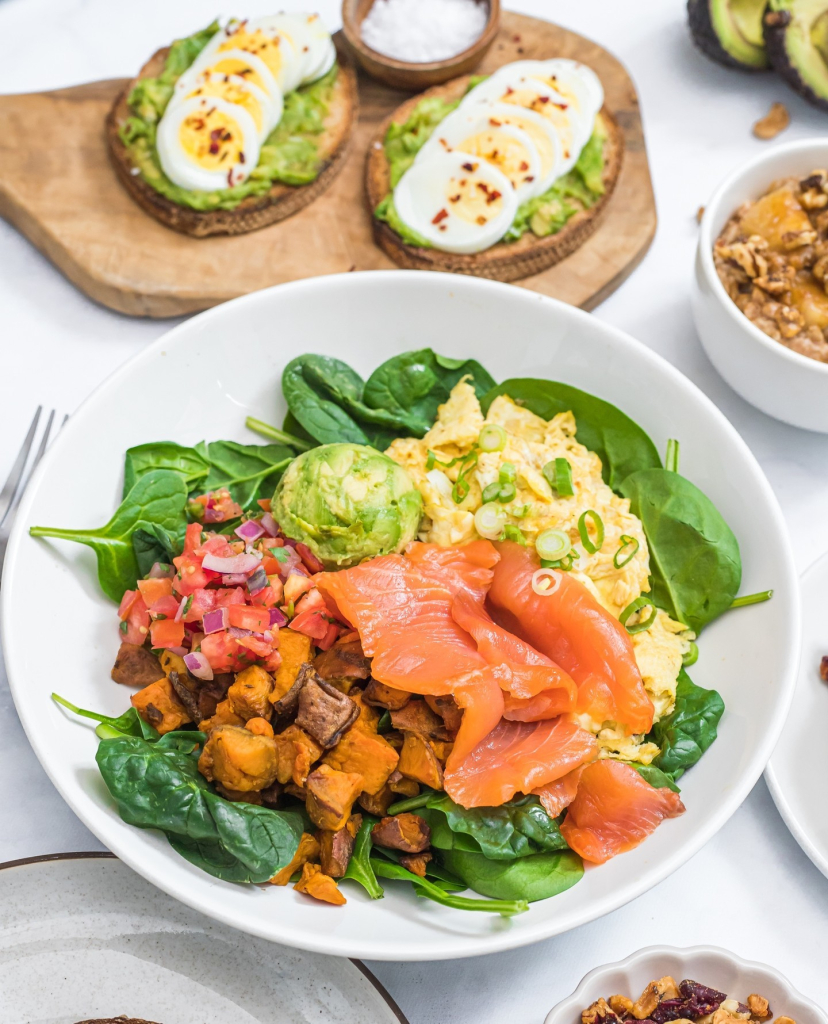 Founded in 2015, Impact Kitchen was the passion project of former personal trainer and nutrition expert Josh Broun and Frank Toskan, the co-founder of MAC Cosmetics. Impact Kitchen was founded with a very simple belief that food made with wholesome ingredients prepared simply and with integrity, can provide people with all of the energy that they need to take on the day. Impact kitchen works closely with farmers and suppliers to ensure that all of their fresh, local, and organic ingredients are of the highest quality. Each menu item is chosen by a team of chefs, nutritionists, and wellness experts to make sure that each item has nutritional value while also tasting amazing.
Since it opened nearly a decade ago, Impact Kitchen has been one of the go-to health-focused restaurants in the Liberty Village. Impact Kitchen's menu is full of wonderful dishes that use ingredients that are unmodified, unrefined, and unprocessed. ‍Impact Kitchen only sweeten their food and beverages with natural, minimally-processed sweeteners such as coconut sugar, maple syrup, and honey. The meat used in Impact Kitchen dishes like the grass fed burger or spicy chicken sandwich is sustainably and ethically sourced from local, Canadian farmers – without the use of hormones and antibiotics.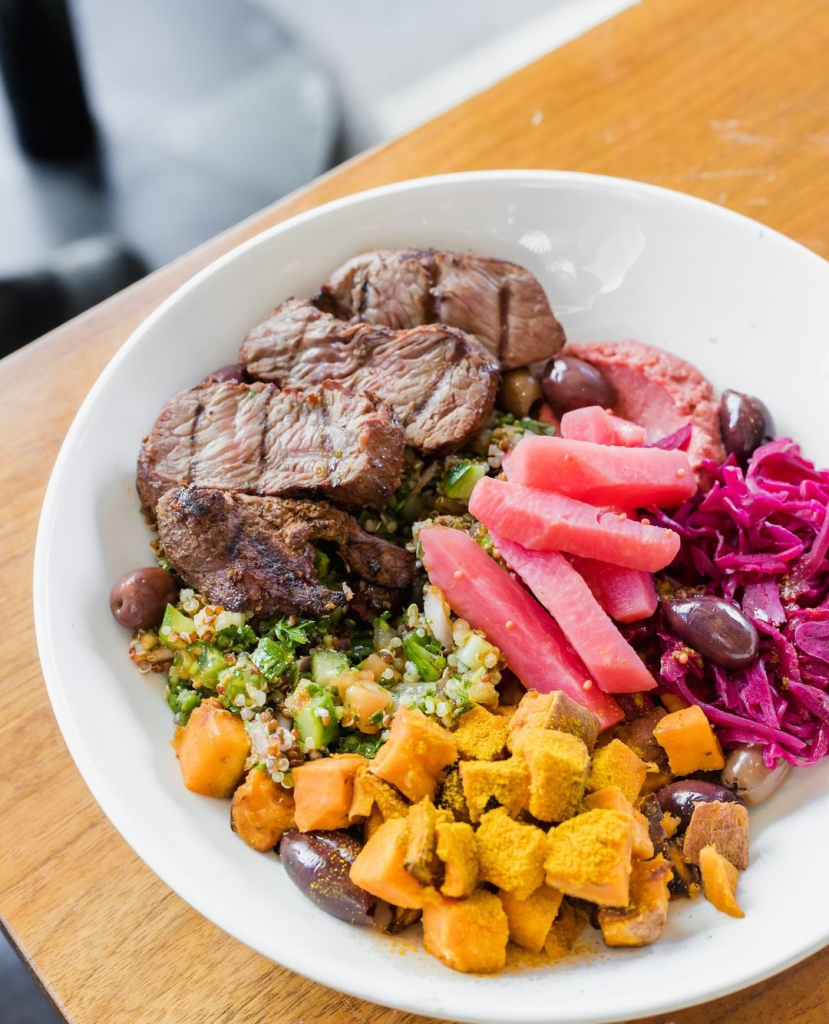 The menu at Impact Kitchen features a range of healthy and flavourful dishes; including salads, sandwiches, wraps, and bowls, with vegan, Paleo, and gluten-free options available. The restaurant also offers a selection of cold-pressed juices, smoothies, and coffee drinks. One of the signature dishes at Impact Kitchen is the "Power Bowl," which consists of a base of grains or greens, topped with a variety of fresh vegetables, protein, and a dressing. Customers can choose from options like marinated tuna, black bean mole, grass fed steak, or sustainably farmed salmon as their protein; and the dressings range from spicy to sweet and tangy.
ImPerfect Fresh Eats
153 E Liberty St, Toronto, ON M6K 3K4
(647) 333-2873
Hours: Monday to Sunday: 10:30 am- 9 pm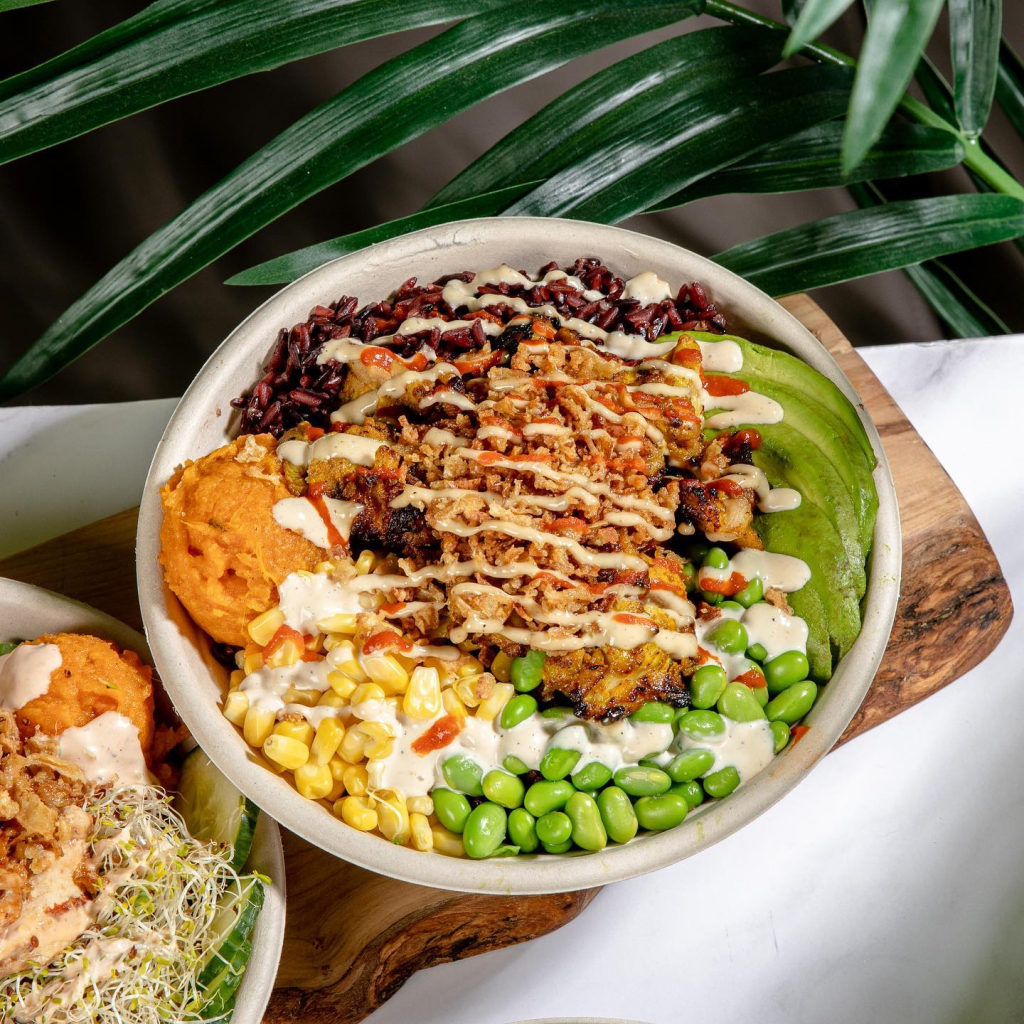 ImPerfect Fresh Eats is one of the most unique restaurants in the Liberty Village. Located on East Liberty Street, ImPerfect Fresh Eats has designed a menu that incorporates imperfect produce to lower overall costs for customers without sacrificing nutrition or taste. The concept behind the restaurant is to reduce food waste by utilizing fruits and vegetables that are perfectly good to eat but may not meet the cosmetic standards required by supermarkets and grocery stores. This solution helps save perfectly good food from going to waste and supports local farmers and producers.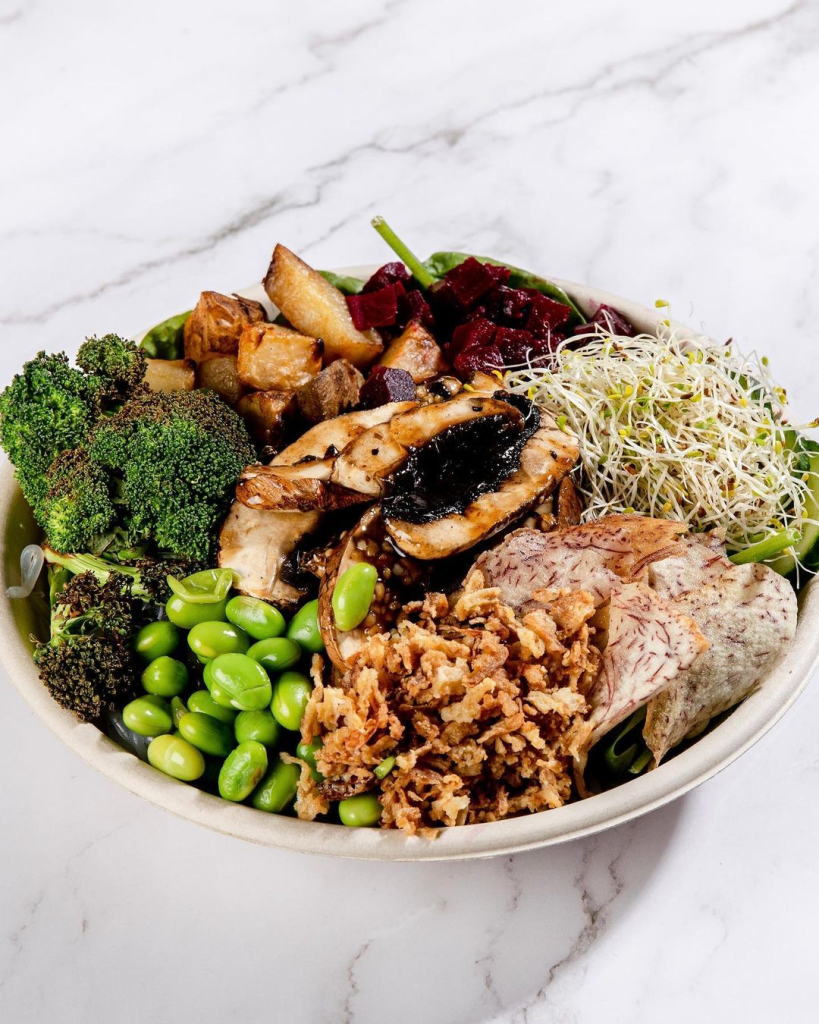 The restaurant's menu features a variety of dishes, including wraps, salads, and bowls, with both vegetarian and non-vegetarian options available. Some of notable standouts include the Mexican chipotle chicken wrap, the açai bowl, the tropical pitaya bowl with dragon fruit, apple, banana, mangoes, and, coconut milk, and the delicious sweet potato pie smoothie. ImPerfect Fresh Eats has dine in, take out, catering, and delivery options on most major delivery apps, making it very convenient to get amazing and healthy food wherever you may live.
The Islands Caribbean Cookshop
171 E Liberty St #131, Toronto, ON M6K 3P6
(416) 588-9933
Hours: Monday to Friday: 11 am- 9 pm | Saturday and Sunday: 11 am- 8 pm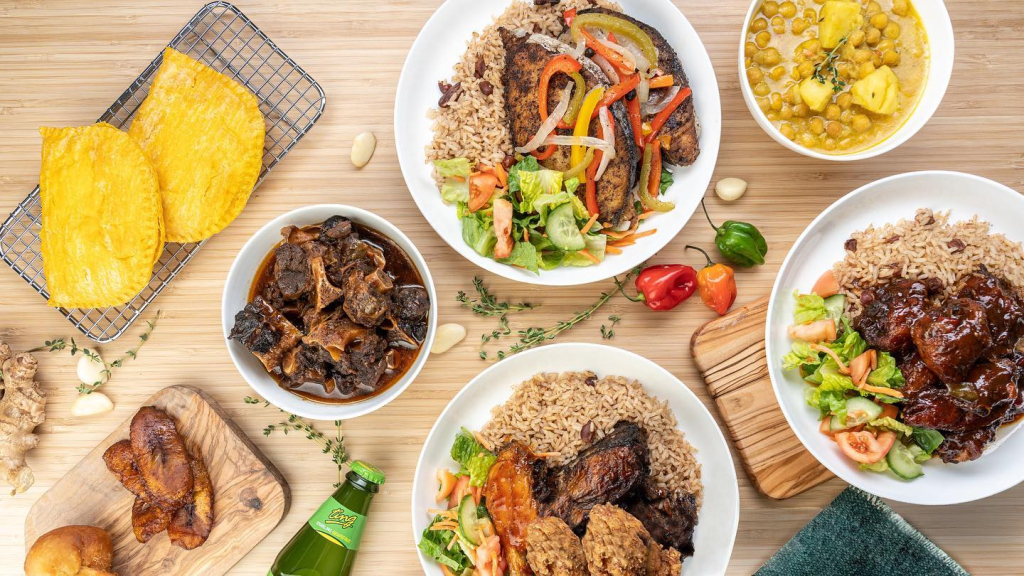 "Cookshop" is the term for a traditional road-side restaurant found throughout the Caribbean. These cookshops are especially popular in Jamaica where they are the focal point of the community where people come together to socialize and enjoy delicious meals. Since it opened in 2012, the Island Caribbean Cookshop's goal has been to elevate and modernize Caribbean quick service food without compromising the authenticity of the dishes. The Cookshop has become a staple of the Liberty Village neighbourhood and is one of the very best Caribbean restaurants in the either city.
The Islands Caribbean Cookshop provides a casual dining experience that lets the quality of the food speak for itself. The Cookshop offers a diverse range of authentic Caribbean cuisine, drawing on the rich culinary traditions of the region. The menu features a variety of Caribbean dishes including curry goat, oxtail, ackee and saltfish, and plantains. The Cookhouse's signature dish has to be their famous jerk chicken. This dish features tender chicken marinated in a spicy blend of herbs and spices, then grilled to perfection over an open flame. The result is a succulent, flavourful chicken that is both juicy and spicy.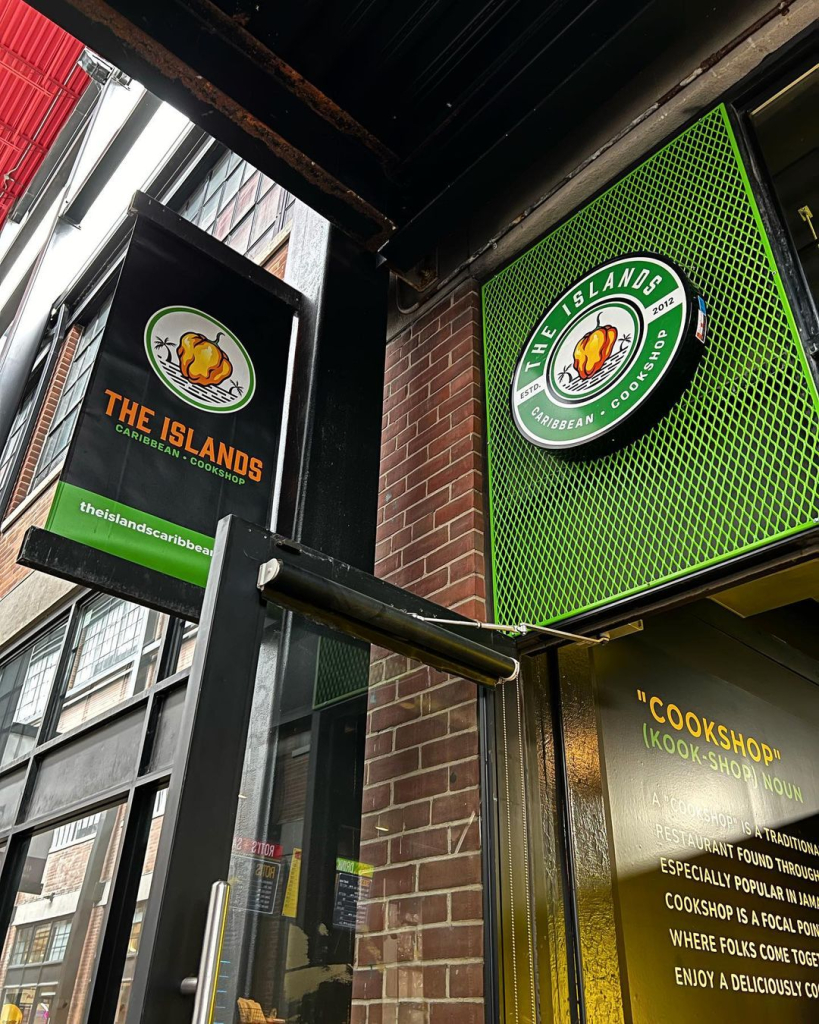 In addition to the food, The Islands Caribbean Cookshop also offers a selection of refreshing drinks including ginger beer, Malta, and the Jamaican classic Ting, which is a refreshing grapefruit-infused soda. The Islands Caribbean Cookshop is a must-visit destination for anyone looking to experience the flavours and culture of the Caribbean in Toronto. With its friendly atmosphere, delicious food, and refreshing drinks, it is the perfect spot to relax, unwind, and enjoy a taste of the islands.
Merci Mon Ami
171 E Liberty St, Toronto, ON M6K 3P6
(647) 436-3832
Hours: Monday to Friday: 9:30 am- 3 pm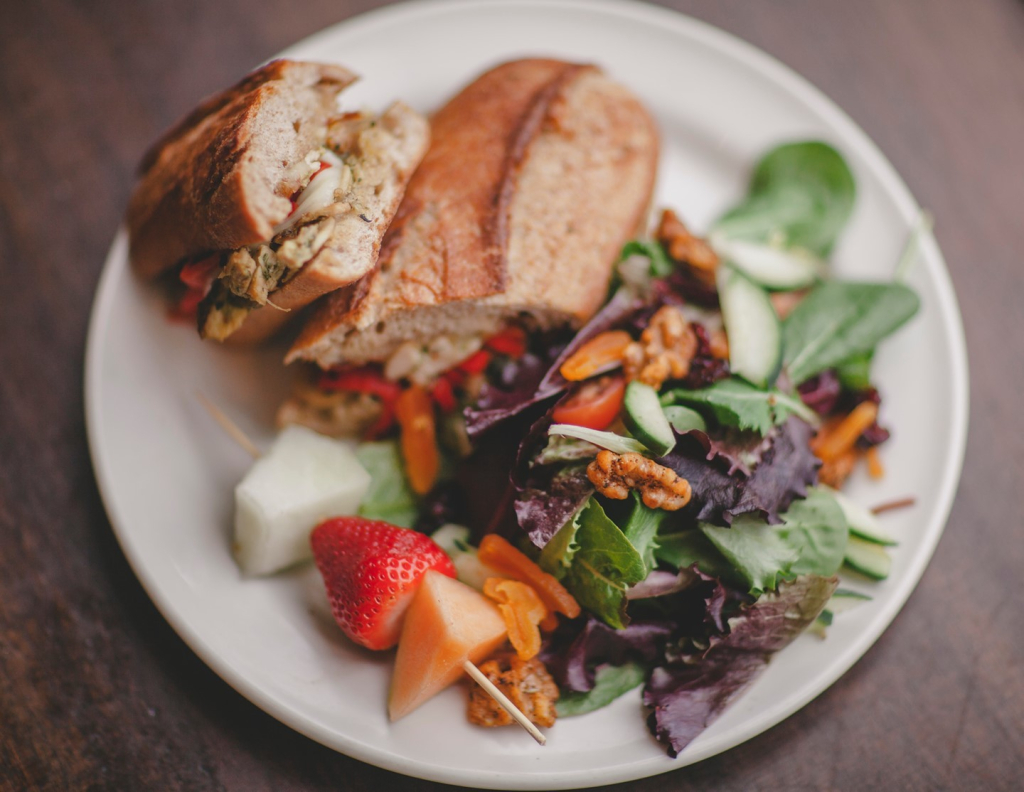 Merci Mon Ami opened its doors in January 2008 in the heart of Liberty Village. The elegant bistro offers indoor seating for 22 people with an additional 24 seats on the beautiful west facing pet friendly patio. Everything on the Merci Mon Ami menu is made in-house from scratch with locally sourced ingredients providing the flexibility to cater to vegan, vegetarian, gluten free, and keto friendly lunch options. Merci Mon Ami continually improves its operations to reduce their carbon footprint by using take out packaging, recycling the used cooking oil, using eco friendly lighting, and sourcing ingredients locally.

The French-inspired bistro has a warm and inviting atmosphere paired with an eclectic menu of wonderful dishes ranging from sandwiches and salads to light and flaky French pastries and baked goods. Some amazing menu items include the chicken souvlaki, the quinoa salad, and their signature sandwich the croque monsieur, which is served on a freshly baked baguette. If you have a sweet tooth, you must try one of their croissants. These buttery, flaky pastries are made using traditional French techniques, resulting in a light and airy texture that melts in your mouth. In addition to the food, Merci Mon Ami also offers a selection of coffee and tea beverages, including espresso drinks and loose-leaf teas.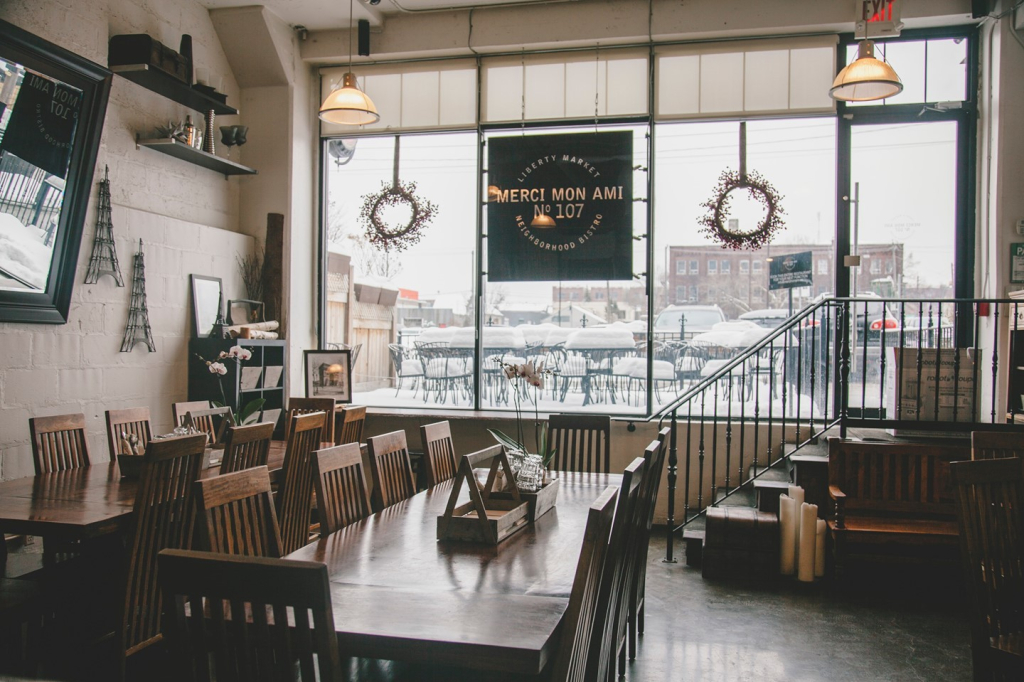 The owners of Merci Mon Ami, Cindy MacDougall and her husband Kevin also run We Cater to You, which has been providing catering services to the Greater Toronto Area since 2002. We Cater To You utilizes the Toronto Food Terminal and often deals directly with farmers to purchase most of their produce. Since Merci Mon Ami opened in 2008, Cindy and Kevin have been operating both businesses concurrently offering amazing food options that are ethically sourced, healthy, and delicious to Liberty Village and the entire GTA.
Mildred's Temple Kitchen
85 Hanna Ave #104, Toronto, ON M6K 3S3
(416) 588-5695
Hours: Wednesday to Monday: 9 am- 3 pm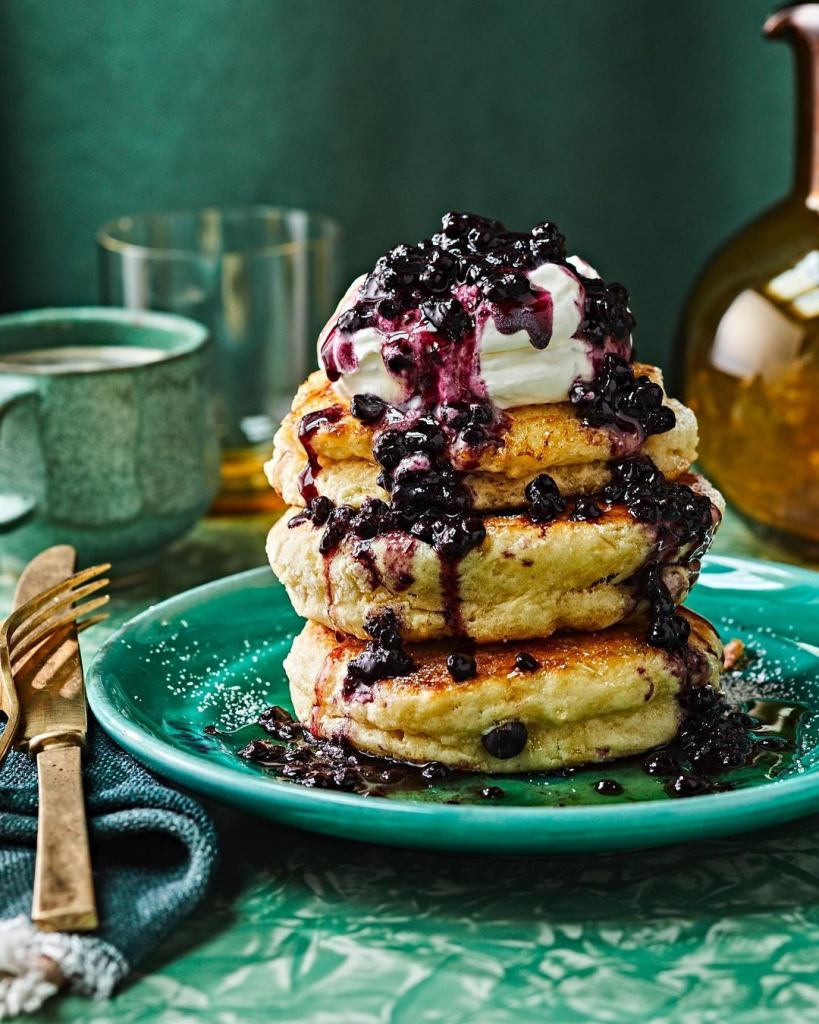 Mildred's Temple Kitchen has been the go-to brunch spot in the Liberty Village since it opened over 30 years ago. Tucked away on the north side of Liberty Village on Hannah Avenue, Mildred's has become a neighbourhood staple. Mildred's offers a chic and stylish interior that stills feels cozy and comforting, creating a great dining environment. The menu reflects the restaurant's commitment to providing locally sourced, seasonal ingredients, which are simply and sumptuously prepared.
Mildred's Temple Kitchen is extremely passionate about brunch, serving it all day on weekends. During the weekdays they offer their B'lunch menu, which is a combination of all of the best things about lunch and brunch. The highlight of the menu has to be Mrs. Biederhof's Wild Blueberry Buttermilk Pancakes; house-made buttermilk pancakes stacked high with wild blueberry compote, Lanark County organic maple syrup, and whipped cream. Other great brunch and lunch options include the Huevos Monty, the Mildred's burger and the All Kale Caesar, which is a hearty kale salad tossed in a creamy anchovy garlic dressing with shaved grana padano, pan roasted panko, and grilled lemon on the side.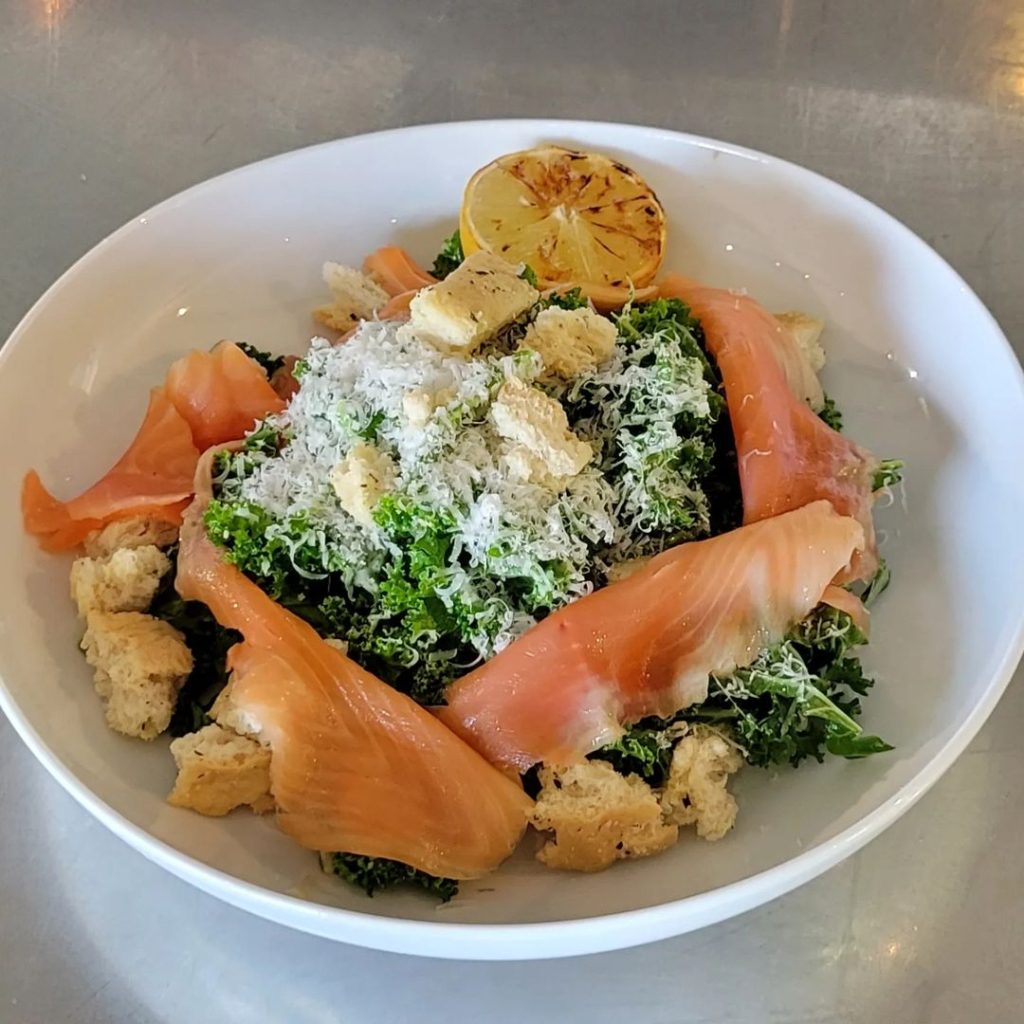 If you are looking for a place for brunch in the Liberty Village neighbourhood, you must visit Mildred's Temple Kitchen. However, you should plan ahead and come early because Mildred's does not take reservations for weekend brunch and there is often a large crowd waiting to eat at this iconic Liberty Village restaurant.
NODO Liberty
120 Lynn Williams St, Toronto, ON M6K 3N6
(647) 368-8110
Hours: Mon. to Thurs.: 12- 10 pm | Friday: 12- 11 pm | Saturday: 10 am- 11 pm | Sunday: 10 am- 10 pm
NODO Liberty opened in the summer of 2022 and is the 4th (and largest) NODO location in the city. NODO is a spacious restaurant with an elegant open-concept layout that can accommodate over 400 guests. This space is wonderful for all kinds of special events including full restaurant buyouts for weddings. The menu offers a wide range of classic, regional Italian dishes prepared with creative interpretations that provide a fresh take on traditional standards.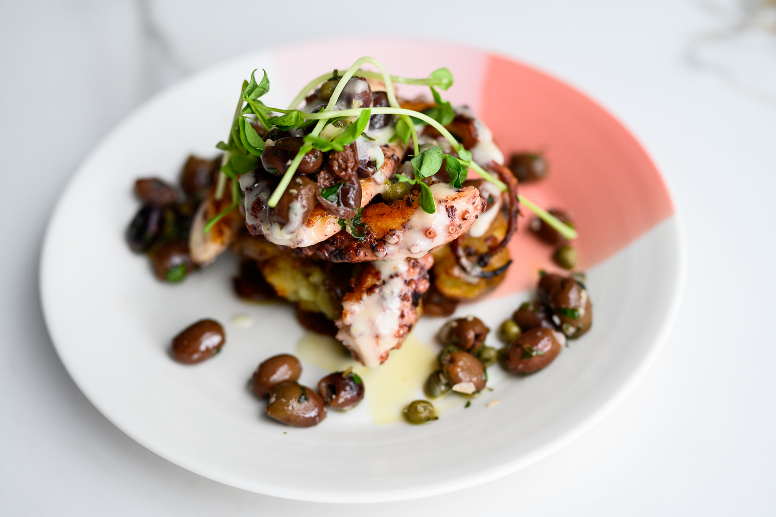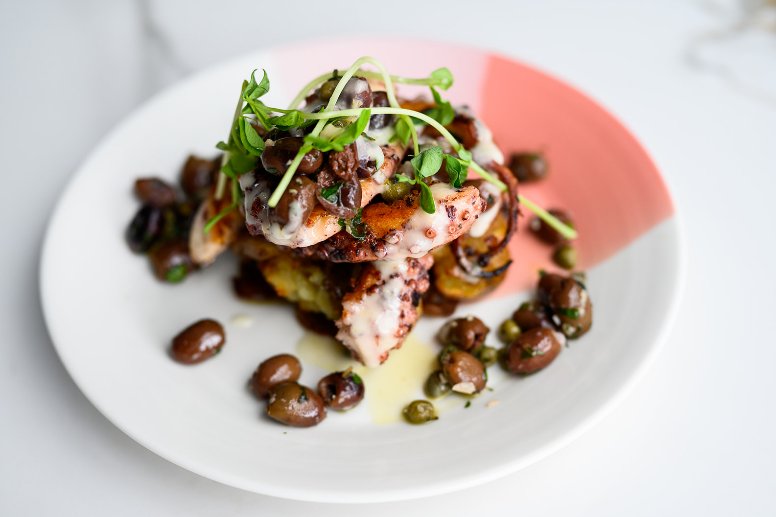 While NODO boasts a robust menu with a wide variety of different kinds of dishes, the heart of the menu is centered on pizza and pasta complimented by delectable appetizers, time-honoured entrees, and savory desserts. If you are a pizza lover, you have to try some of NODO's exciting pizza offerings such as the Barrua, which has gorgonzola, pear, walnut, honey, and light mozzarella. Other notable menu items include the potato gnocchi with wild mushrooms, corn, and truffle-garlic crema, the calamari fritto, and the pappardelle ragù d'antara, which contains slow-roast, seven-spice Lac Brome duck ragù, parmigiano, and crispy sage.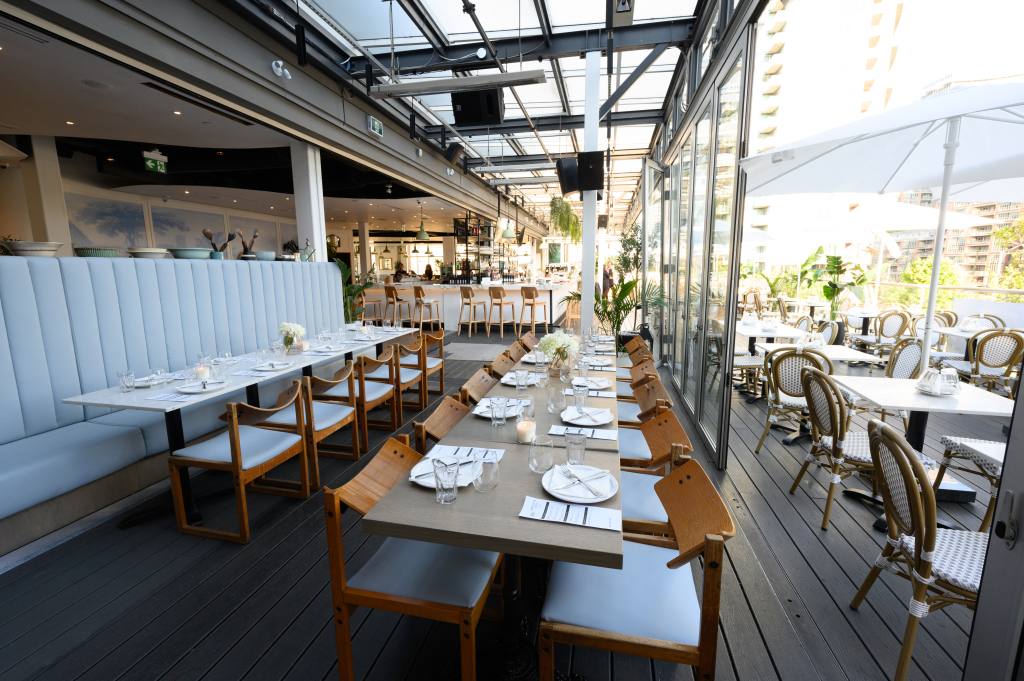 NODO also has an impressive beverage menu with an all-Italian wine and beer program, distinctive hand-crafted cocktails, and the finest in grappa and amaro. No meal at NODO is complete without trying some of their classic Italian tiramisu made with fresh mascarpone. Whether you are going out on a date, hanging out with friends, or spending some time with the family, NODO provides a comfortable atmosphere that is perfect for any occasion.
OEB Breakfast Co.
125 E Liberty St, Toronto, ON M6K 3K4
(416) 238-1152
Hours: Monday to Friday: 7 am- 3 pm | Saturday and Sunday: 8 am- 4 pm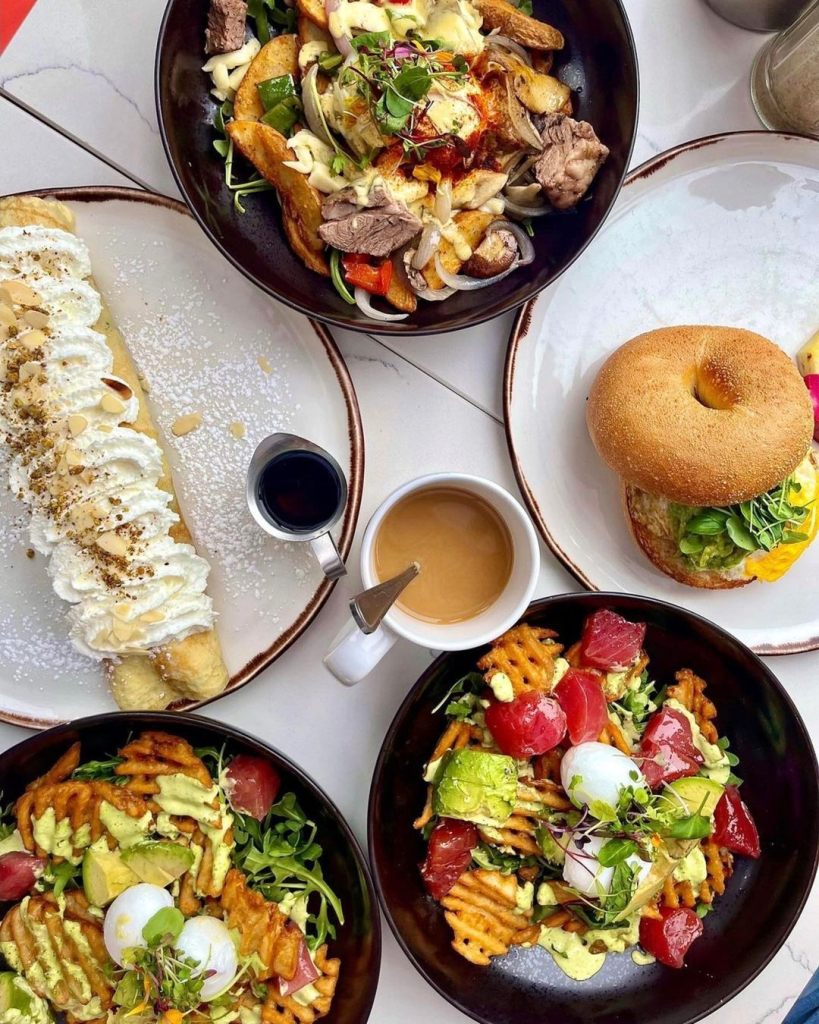 Mauro Martina built a strong culinary background in Europe before moving to Canada in 1992. Mauro quickly climbed the ranks in the culinary world in both Toronto and Calgary and in 2009 he established the very first OEB restaurant in Calgary. OEB Breakfast Co. quickly spread throughout the country with one location opening in the heart of the Liberty Village on East Liberty Street. The 2,720-square-foot Liberty Village location features a bright 92-seat indoor dining room with egg-inspired décor, a stunning bar for brunch time cocktails, and a spacious outdoor patio.
OEB Breakfast Co. was founded with the goal to bring a farm-to-table experience to the most important meal of the day – breakfast. The OEB menu is purposefully constructed and filled with hearty dishes balanced by lighter fare and vegan options. OEB Breakfast Co. has an exciting collection of breakfast dishes including Eggs Benedict, Korean bulgogi, lobster and shrimp crepes, lobster scramble, Ahi tuna burgers, and Belgian waffles.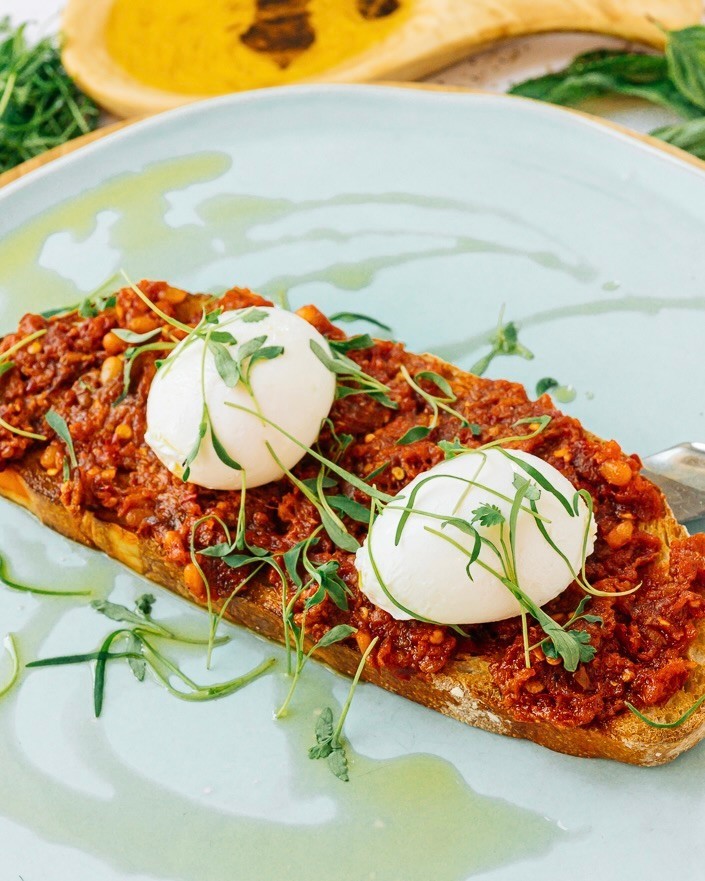 With plans for even more locations in the near future, OEB Breakfast Co. continues to push the culinary boundaries of breakfast food to bring customers high-quality food made with only the best ingredients. The name OEB comes from the three tenets that the restaurant was built on. The first is the outstanding people – from talented suppliers, to staff, and loyal customers. The second is evolution and continued growth, which applies to new dishes and new locations. The third and final tenet is bold food integrity with a farm-to-table mentality.
Roses Cocina
111 Princes' Blvd 2nd floor, Toronto, ON M6K 3C3
(647) 259-6825
Hours: Monday to Sunday: 7 am- 10 pm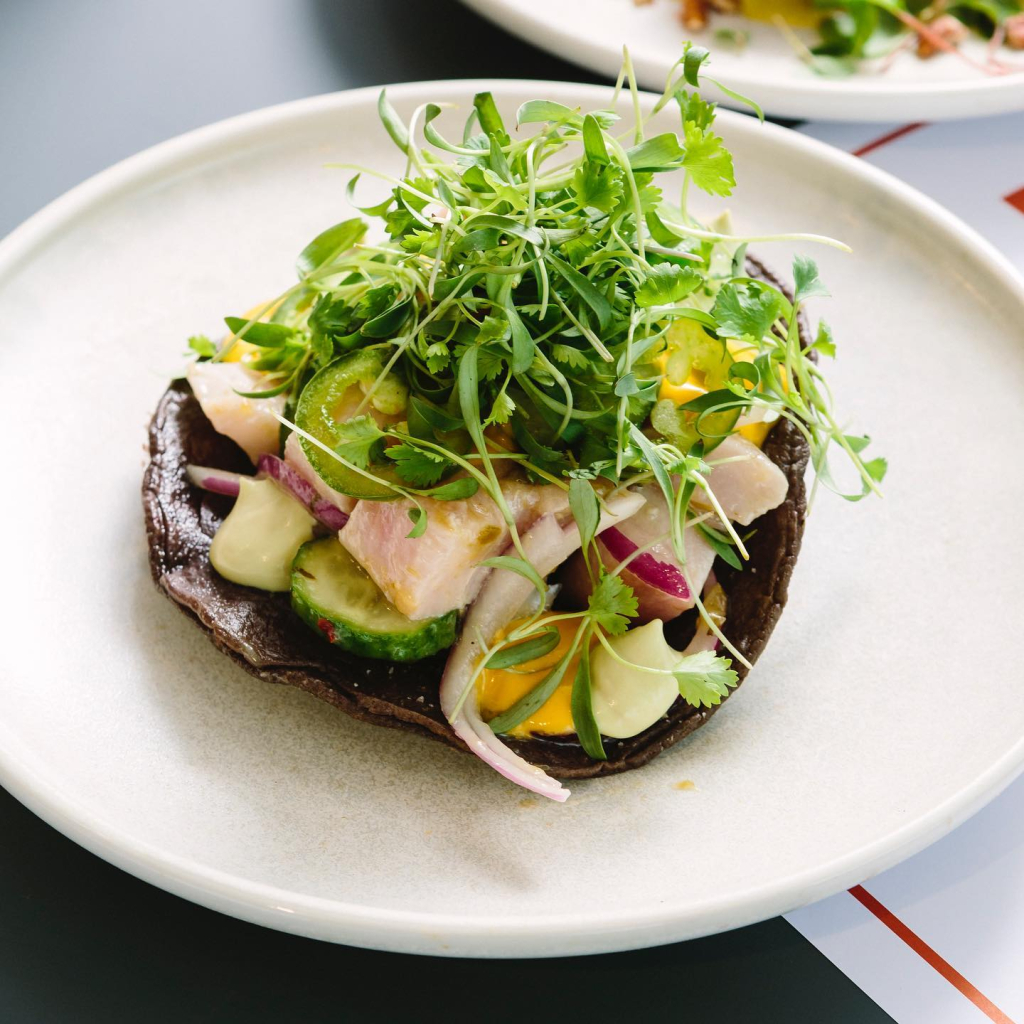 Located inside Toronto's Hotel X, Roses Cocina is providing a fresh and exciting experience to the city with a Tex-Mex inspired menu. The idea behind Roses Cocina came from the minds of Chef de Cuisine Sean Usher and Chef Adrian Niman. Niman was also the chef and founder of high-end Toronto caterer Food Dudes and has also helped launch several other successful downtown restaurants including SARA, MIMI Chinese, and Pantry. Roses Cocina has a warm and approachable vibe that is reinforced by its roses theme, which carries throughout the entire restaurant all the way down to the rose-stamped house bread and rose-shaped ice in its signature drink.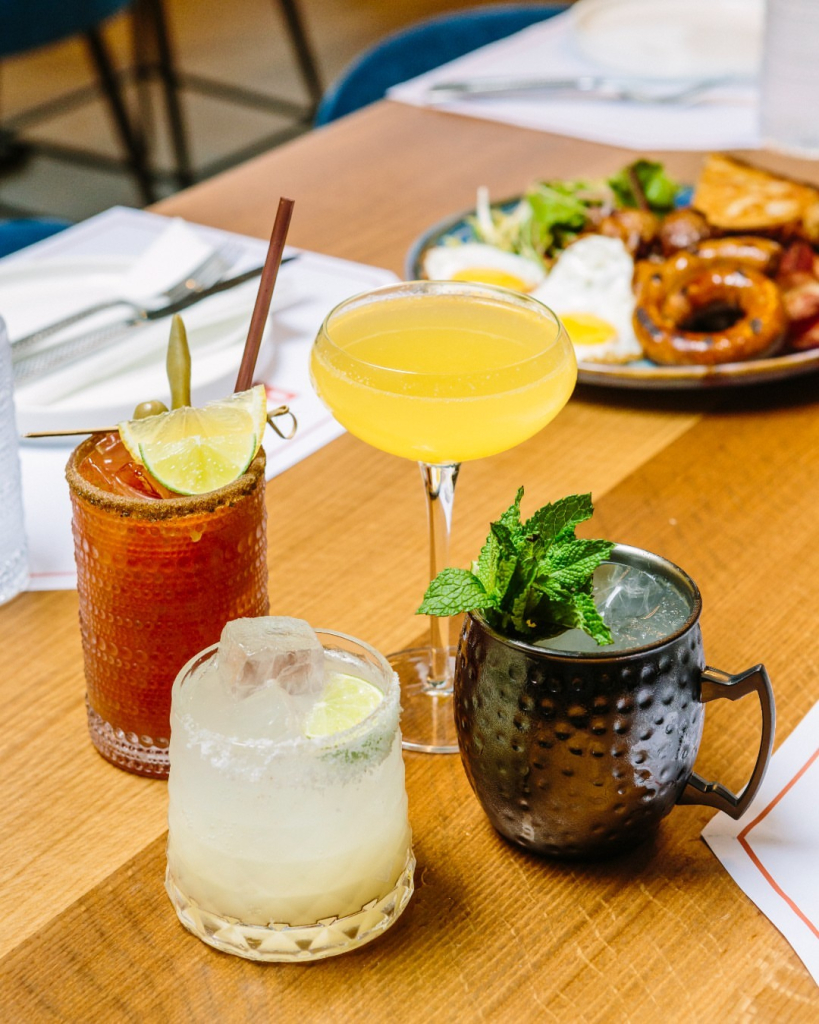 The Roses Cocina menu is quite varied looking to appeal to a wide range of customers from vacationers staying at the hotel to groups out for dinner on the town and solo diners travelling for work looking for a meal to provide some home-cooked comfort. The menu is comprised of an eclectic mix of dishes with notable Mexican flavours like jalapeños, chorizo, and chayote. Some of the best items on the menu include the chopped salad with avocado cotija crema, chipotle ranch, Monterey Jack cheese, and crunchy tortilla crumbles, the blackened beets and Brussels sprouts, the lobster club sandwich with lobster flown in daily from Nova Scotia, and the traditional Texan fajitas, which are upgraded with wagyu picanha steak.
Roses Cocina also has an extensive beverage menu, which is carefully curated by beverage manager Ben Kingston. The restaurant's signature drink is a take on the classic margarita that combines yogurt-infused Casamigos Blanco, crème de cassis, salted vanilla agave, and lime juice with a rim made of black cumin, Persian lime and cornflower. Roses Cocina is one of the most exciting new restaurants in the Liberty Village neighbourhood, providing a truly unique experience that you won't get anywhere else in the city.
Valerie Toronto
111 Princes' Blvd 28th floor, Toronto, ON M6K 3C3
(647) 475-9286
Hours: Friday to Sunday: 3 pm- 2 am | Wednesday: 5- 11 pm | Thursday: 5 pm- 12 am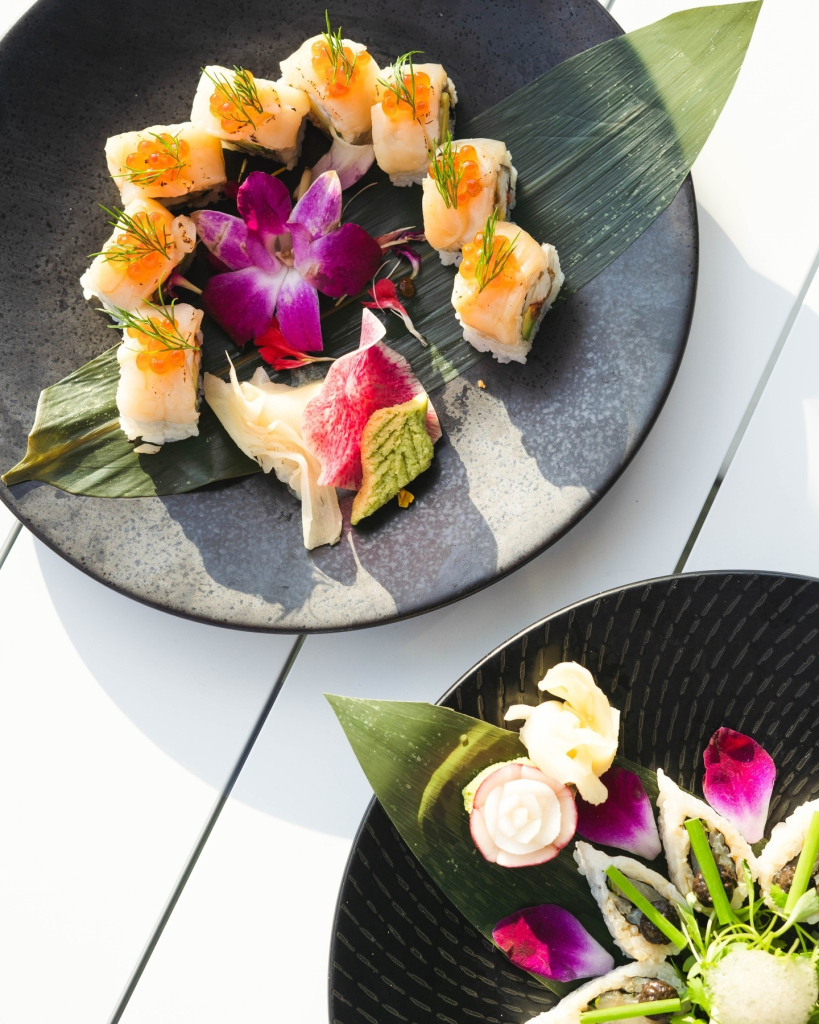 Valerie is Toronto's newest and most exciting rooftop dining experiences. Opened in summer of 2022, this upscale restaurant is located at the top of Hotel X. The restaurant takes up two floors along with a rooftop patio and is inspired by the nostalgia and the energy of the roaring 1920s. Valerie provides an amazing dining experience paired with unobstructed, sweeping views of the Toronto skyline and waterfront.
The menu features Japanese-inspired plates and light bites including steamed shrimp gyoza, wagyu skirt steak, salmon tataki, and a variety of nigiri and sashimi. The 27th floor is a dedicated lounge featuring curated cocktails, hot and cold snacks, and the chef's selection of maki. The 28th floor is the sushi bar, operating as a full service dinner destination and can accommodate reservations up to 4 guests. Valerie also has an extensive drinks menu with a variety of interesting cocktails. Luck Number 13 is a must-try cocktail, which contains lemongrass tanqueray, orange ketel one, cucumber sake, lychee jasmine cordial, and yuzu shrub.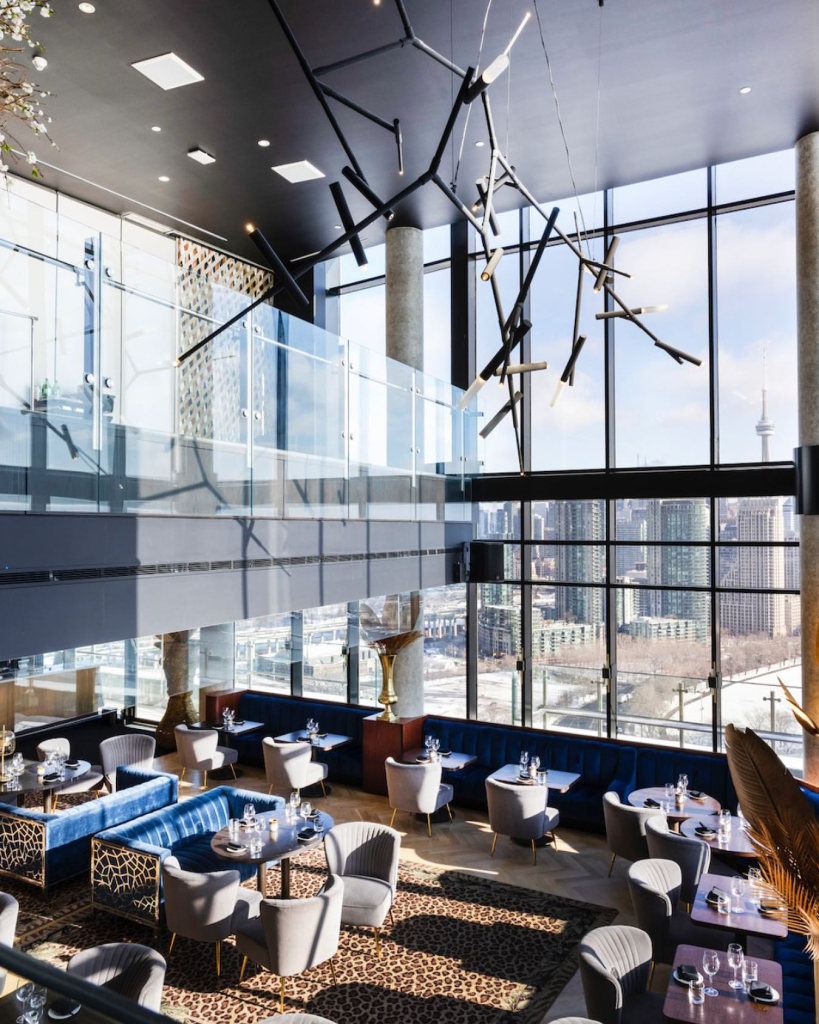 Valerie Toronto aims to provide its guests with a one-of-a-kind experience. There are plans to have live music on the 27th floor in the near future. There will be live music, entertainment, performers, and DJs who will fill each room at the Valerie day to night making each visit to the Valerie incredibly memorable and completely unique.
Three Locations in The Greater Toronto Area
Three Locations in The Greater Toronto Area
For more details, select the location nearest to you in Toronto:
For more details, select the location nearest to you in Toronto: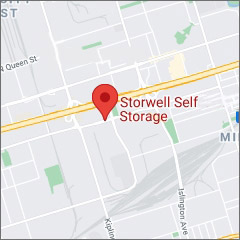 300 Evans Ave.
(416) 259-5555
Get a Quote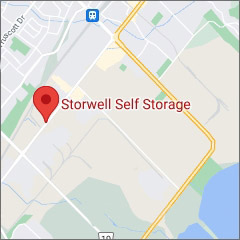 2525 Royal Windsor Dr.
(905) 823-5555
Get a Quote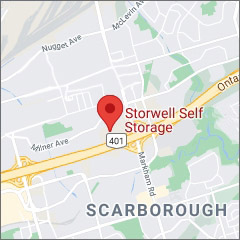 85 Executive Ct.
(416) 534-5555
Get a Quote