A place for everything, and everything in its place.
A Totally-Not-Boring Blog About Storage
How to Store Furniture in a Self-Storage Unit the Right Way
Your grandmother's heirloom mahogany desk has been sitting in your spare bedroom for years, along with a number of other pieces of furniture that you adore, but just can't find a good place for. These pieces don't necessarily fit with the aesthetics of your home but letting them collect dust and take up valuable storage room is not helping anyone. If you live in the city, renting out a storage unit in Etobicoke to help out with your furniture storage is the perfect solution.
People use self-storage to store furniture for a variety of reasons, including before or after moving, as a way of adding space to a home, when clearing out an office, or when putting an heirloom into storage for safekeeping. Here are some things to keep in mind when putting your furniture into a self-storage unit to make sure that the furniture storing process is easy, efficient, and effective in keeping your furniture in pristine condition.
Decide what kind of storage solution is best for you
Putting furniture in storage can be a costly decision. Do you keep it for the long term or do you sell the furniture and buy new when the time comes? The average cost of a storage unit varies, but in many cases, opting to store furniture makes sense if you're in the middle of a move or going through a transitional time.
When storing furniture, protection from the elements is of the upmost importance. Consider all of your options before choosing a storage space. If you're serious about maintaining this furniture in storage over the long haul, you might want a climate controlled storage unit.
Climate control will ensure your valuable furniture pieces stay safe from moisture and changing temperatures. Items like wooden furniture, instruments, antiques, and sofas with delicate fabrics will do best in a climate controlled self-storage unit. Furniture is best stored in a climate-controlled environment, so that it is protected from high humidity, drying out, and extreme cold. So, if you're storing furniture in a storage unit, it would be wise to opt for a climate-controlled one. If you're storing some pieces in your home, make sure that the space you choose is well-insulated, well-ventilated, and doesn't get too hot or too cold. Even if climate-control isn't an option, make sure all your items are clean, dry, and well protected before putting them into storage.
Make an inventory list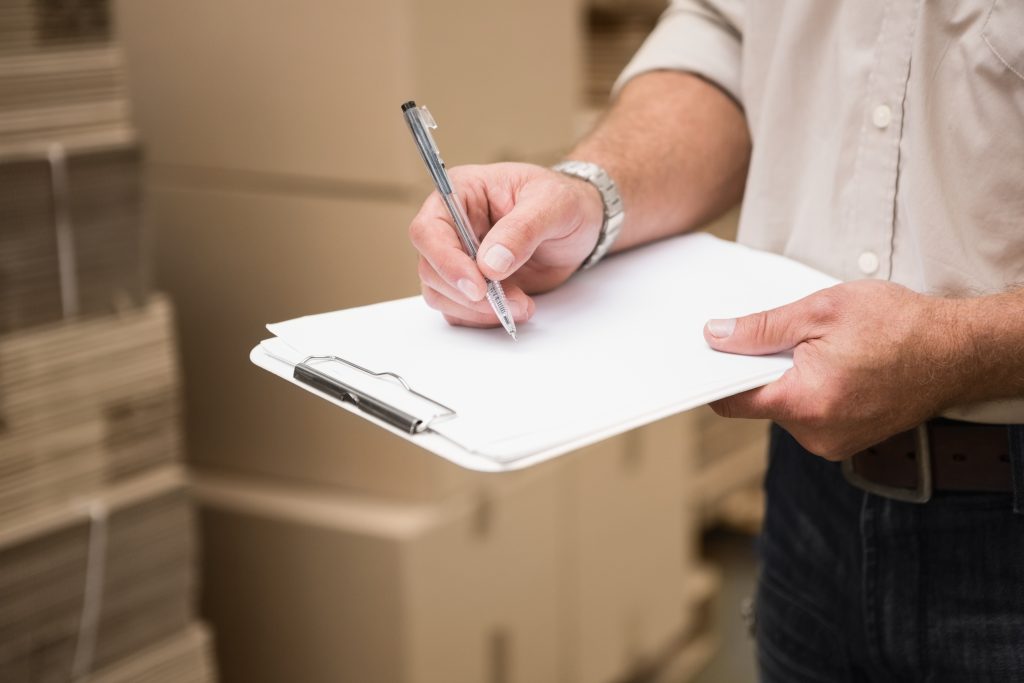 Even though you're taking precautions, there's still a chance that something could be damaged while moving or storing your furniture. Protect your investment by creating an inventory list of all stored furniture for insurance purposes. Your inventory list should include every item's name, ideally along with a photo for easier identification and proof of ownership. Inventory lists are also very useful to make sure no pieces of furniture are lost or misplaced during a move.
Clean everything thoroughly
Cleaning your furniture thoroughly before placing it in storage will significantly cut down on the chance of mold and the amount of dust in your storage space. This is especially important if you plan on storing your items in storage for a longer period of time, as this will be the last chance to clean these pieces of furniture for possibly months or years.
Some tips for cleaning furniture for storage:
With wooden or plastic furniture, use a mild soap and water. For wooden pieces specifically, and especially antiques, use a wood cleaner to protect the existing finish on the wood.
Be sure to clean fabric items like couches or seat cushions with fabric or upholstery cleaner. Check that everything is completely dry before you start packing it up.
Polish any metal sections with a polishing cloth and metal cleaner. This step will help remove any existing oxidation and delay the build-up of tarnish.
Polish metal furnishings made from brass, silver or nickel to prevent oxidation in a non-climate-controlled storage unit. Wrap the items in plastic sheeting or shrink wrap to protect them from dust, and heat. Make sure to store silverware in its original box if possible.
For leather furniture, use a mixture of half vinegar and water to clean it. Wipe the leather down with the mixture and then allow the furniture to completely dry. Then apply a leather conditioner.
Allow your furniture to completely dry from the cleaning process before moving it into storage.
Take everything apart
Before moving furniture from its original location, disassemble anything you can.  Take drawers out of dressers, remove legs from sofas and tables, remove mattresses and box springs from beds, take headboards and footboards off of bed frames, and unscrew shelves from bookcases. This extra step will make your truck, and later your self-storage unit, much easier to pack. The dismantled pieces are more compact, take up less room, and can be strategically arranged inside the storage unit to save space. It will also reduce the likelihood of breaking or scratching anything. Smaller pieces are less likely to be dropped and broken or bumped against a wall or door frame and scratched or dented. Put all screws, bolts, and other small items in a labeled baggie, which will be stored alongside the furniture piece to which it belongs. An alternative solution is to use a tackle storage tray to keep all of your furniture's hardware in one place. Make sure to consult with the instruction manuals to make sure that you are disassembling your furniture correctly.
Wrap furniture for long-term storage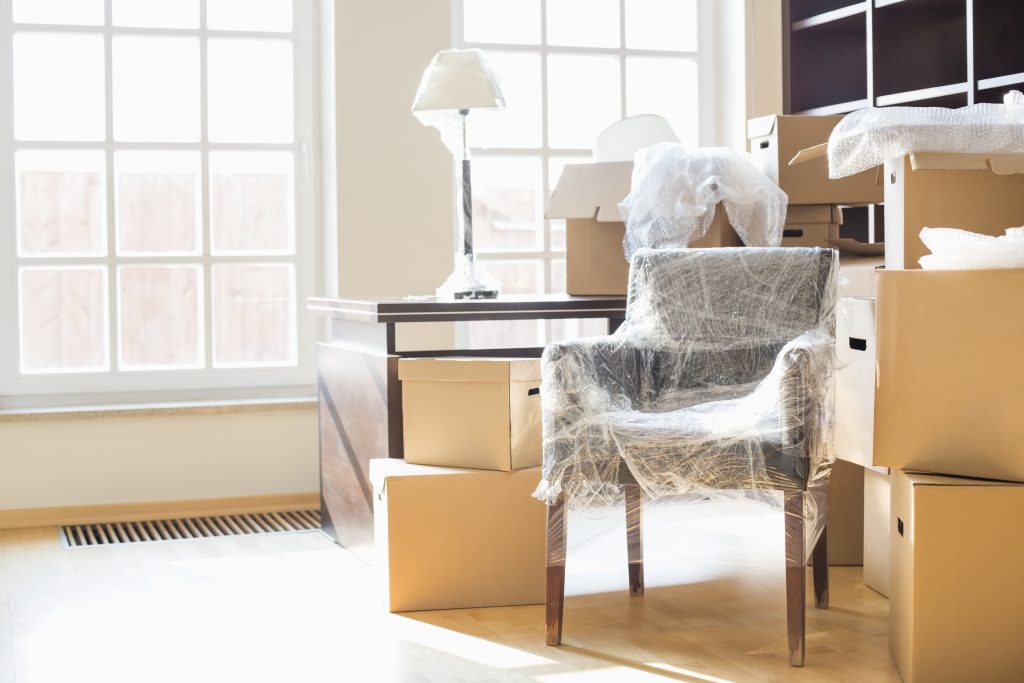 Make sure everything is completely covered, which includes the floor. Before putting anything inside your storage space, lay down thick plastic sheeting on the floor to prevent moisture from the floor from seeping into your furniture. This step is especially important if you are not in a climate-controlled space.
Never put furniture into your self-storage unit uncovered. Use old sheets, blankets, drop cloths or plastic wrap to cover the pieces and protect them from dust and moisture. Take care not to wrap furniture with thick plastic covers that will seal in moisture because that can create condensation, and the furniture would eventually swell. Wrap furniture so that it can breathe by loosely draping the material over the furniture.
Mattresses and box springs need to be cleaned before and after storage. Each piece needs its own separate cover while in storage. Mattresses and box springs were designed to lay flat and standing up for an extended period could damage their durability. Be sure you select the right self-storage unit size to accommodate your decision and the mattress size. Avoid stacking items on top of it, no matter how well wrapped.
Never place bubble wrap directly over delicate wood or leather surfaces. Doing so may lead to condensation, which will enable the growth of mold and mildew. Use plastic wrap (bubble wrap or shrink wrap) as a second line of protection over fabric or paper materials. Since particle board furniture does not "breathe" the same way that solid wood and leather do, those chipboard furniture pieces can actually be packed in plastic wrap as the first line of defense.
Raise furniture off the ground
Whenever you're storing furniture without climate control, avoid putting furniture pieces or anything that could be ruined directly on the floor. By using pallets or cinder blocks to raise the floor, you add an extra layer of protection against flooding. Even a layer of cardboard or a drop cloth is better than nothing.
Even in a climate controlled storage unit, the floor can hold in moisture and water can potentially leak under the door of the storage unit. Condensation on the floor can warp the legs of your furniture and lead to mold. The best way to prevent the legs of your furniture from getting damaged is to elevate your furniture and not place it directly on the ground. Covering the floor of your storage unit with wooden pallets, and setting a tarp on top of the pallets will stop any moisture from getting to your furniture. Reach out to nearby warehouses; they usually have older wooden pallets that are no longer used for shipping that they are willing to give out for a small fee or even for free.
Protect glass items
Obviously, glass tables and mirrors require some extra precautions. First wrap the item with wrapping paper. Do not tape the paper directly on the glass, as it will leave a dirty residue to remove the paper later. Then either cover the glass in the bubble wrap or put the whole thing in a box for some extra security.
Any item that is breakable needs to be protected using towels or sheets and labeled "fragile" on the outside of the box where everyone can see. Clearly labeling all of your boxes is one of the best pieces of advice for using a self-storage unit. The boxes with breakables inside should be marked as fragile to help keep people from throwing it or treating it in a rough manner.
Position your furniture correctly
It may be tempting to place couches or other long furniture items on their ends to save some space, but you should refrain from doing so. Furniture is best stored in the position that it was designed to be used in, the same way as it would normally sit in the home. Sofas and couches are meant to sit horizontally, so they should be stored that way. Placing them in another position will create extra stress on the joints and may cause them to break.
To get the most out of your self-storage unit, you have to stack items and use up the available vertical space. However, you have to be very careful when stacking pieces of furniture on top of one another. Be sure to stack larger and heavier items on the bottom and lighter and smaller things on the top. Do not make the stacks too high as that can result in objects falling and getting damaged. Avoid placing heavy or sharp items on top of upholstered furniture and delicate wood furniture.
Before you start moving items into your self-storage unit, make a plan of how to arrange the items to optimize the space you have. Organize the space in a meaningful, systematic way and be sure to allow for easy access. If there are certain items that you know you will need access to frequently, place them towards the front of your unit. Place the larger pieces that are in for long-term storage towards the back and near the walls of the storage unit. Leave aisles between the items, so you have access to the back and sides of the storage unit. Be careful about where you place the furniture in relation to other items, for example storing wood furniture near a shelf of heavy-duty cleaning supplies might not be the best idea.
Be careful not to overstuff the storage unit, you may easily damage your furniture pieces if you bunch them too closely together. As you try to cram more and more items inside the storage unit, you risk knocking things over, bending pieces, and causing other damage. If your unit is too tightly packed air won't be able to flow freely around the furniture and help regulate the temperature and humidity levels in the storage unit.
Remove any food or perishable items
Any amount of food left in or on your furniture will attract bugs and cause a huge headache for you later on. Most storage facilities are sprayed for bug prevention regularly, but you need to do your part in keeping food out for your protection and for the unit's protection as well. Double check your desk drawers or couch cushions to make sure there isn't any food that got trapped inside. Avoid leaving any perishable items in your storage space that may lure in ants, termites, mice, and other pests. When packing your furniture, never reuse cardboards previously used for packing grocery items. Storage facilities normally have strict pest control measures in place, but it still pays to be extra careful.
Storing furniture in your self-storage unit
If you are looking for a long-term or short-term furniture storage solution, renting out a self-storage unit is the best way to go. As long as you prepare your furniture for storage properly, it will be in great shape whenever you decide to take it out. However, it's also important to choose the right self-storage facility for your needs and one that will give you the peace of mind that your items are being well taken care of. Storwell Self Storage is a great choice for furniture storage; our individually alarmed units are power ventilated controlling for moisture and temperature damage. Storwell's facilities have 24-hour video surveillance and on-site management that ensures whatever you store in your unit is safe and secure at all times.
Three Locations in The Greater Toronto Area
Three Locations in The Greater Toronto Area
For more details, select the location nearest to you in Toronto:
For more details, select the location nearest to you in Toronto: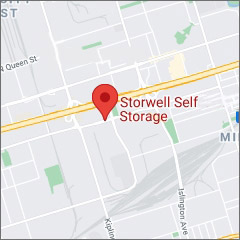 300 Evans Ave.
(416) 259-5555
Get a Quote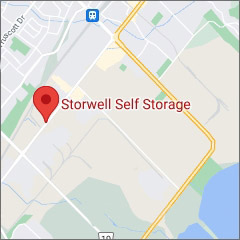 2525 Royal Windsor Dr.
(905) 823-5555
Get a Quote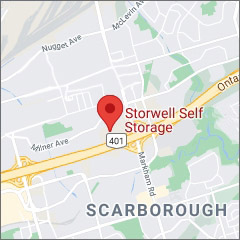 85 Executive Ct.
(416) 534-5555
Get a Quote