A place for everything, and everything in its place.
A Totally-Not-Boring Blog About Storage
The Best Restaurants and Entertainment in Mimico-Queensway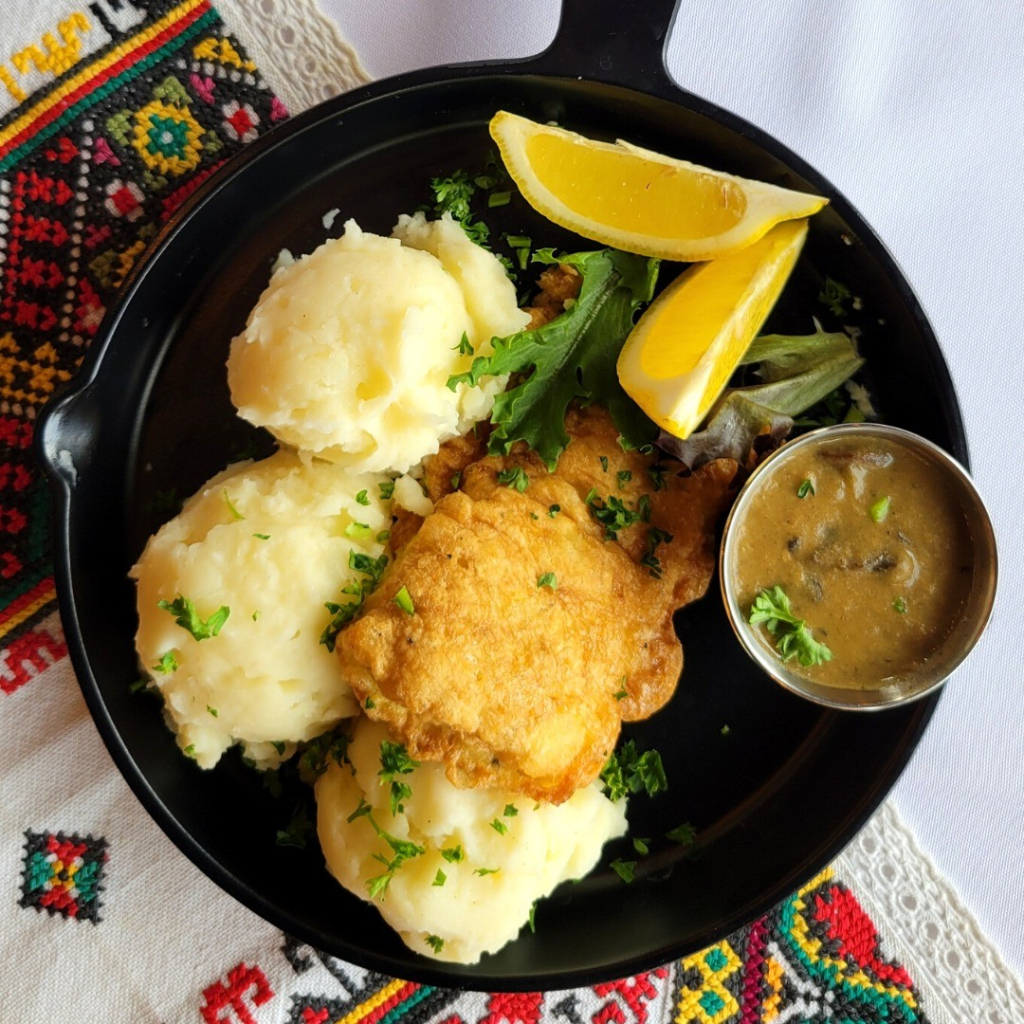 Mimico-Queensway is a wonderful waterfront community in southeast Etobicoke. With plenty of new condos being developed and beautiful views of the lake, this area just keeps getting more popular. There are plenty of fun things to do in this up-and-coming neighbourhood as well as a food scene that is rich and varied, with new restaurants starting up all the time. With a mix of trendy cafes, international eateries, and upscale dining options, there's something for everyone in Mimico. If you are storing your belongings at our storage facility in Etobicoke near Mimico and you are looking for a great place to get something to eat, here are some of the best restaurants in the area.
IL Padre's Gourmet Pizza
196 Royal York Rd, Etobicoke, ON M8V 2V6
(416) 251-4444
Hours: Monday to Sunday: 10 am- 10 pm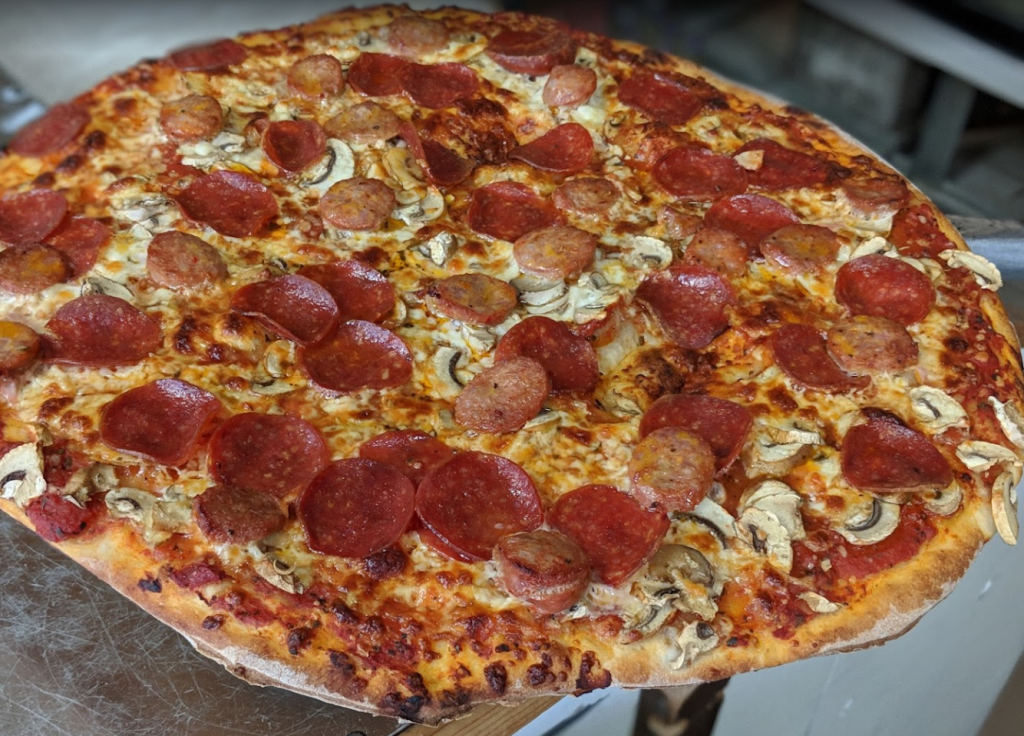 This unassuming shop at the corner of Royal York Road and Vanevery Street has been serving up some of the best pizza in the Mimico-Queensway neighbourhood for years. Aside from amazing pizza, Il Padre also serves exquisite Italian dishes such as lasagna, fettuccini, and gnocchi.
IL Padre's Gourmet Pizza is best known for its pizza made with high-quality ingredients and unique flavour combinations. The pizzas are made with fresh dough, tomato sauce imported from Italy, and premium toppings. The menu features a wide variety of pizzas, from classics like Margherita and Pepperoni to gourmet options like artichoke hearts and pesto. Vegetarian options are also available.
In addition to its delicious food, IL Padre's Gourmet Pizza is known for its warm and welcoming atmosphere. The restaurant has a cozy interior with a rustic decor, and the staff is very friendly and attentive. Whether you're dining in or ordering takeout, you can expect a great experience at IL Padre's Gourmet Pizza.
New Flower Drum Restaurant
2428 Lake Shore Blvd W, Etobicoke, ON M8V 1B7
(416) 255-7717
Hours: Monday to Saturday: 4- 11 pm | Sunday: 4- 10 pm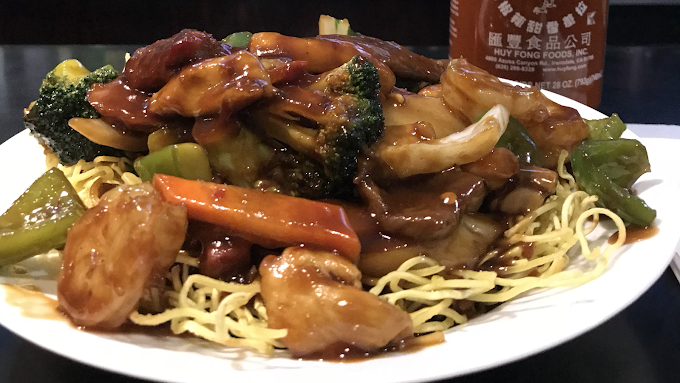 If you are looking for the best Chinese food in Etobicoke, look no further than the New Flower Drum Restaurant that has been serving the Mimico-Queensway neighbourhood for over 60 years. Opening originally in 1963, the New Flower Drum Restaurant has been serving the best Chinese food to generations living in Mimico, South Etobicoke, High Park, and all the neighbourhoods along Lakeshore Blvd. West.
New Flower Drum offers the most delicious Chinese Cantonese, Hong Kong, Szechuan, Mandarin, and Chop Suey House specialties. The wonderful food is available for takeout or dine in accompanied with a cold beverage from their fully licensed bar with a large selection of spirits. Some menu highlights are the beef Lo Mein, the Pad Thai with rice noodles, and the chicken Chop Suey.
Pristine Fine Foods
339 Evans Ave. Suite 201, Toronto, ON M8Z 1K2
(416) 259-3737
Hours: Monday to Friday: 9 am- 7 pm | Saturday: 9 am- 6 pm | Sunday: 10 am- 6 pm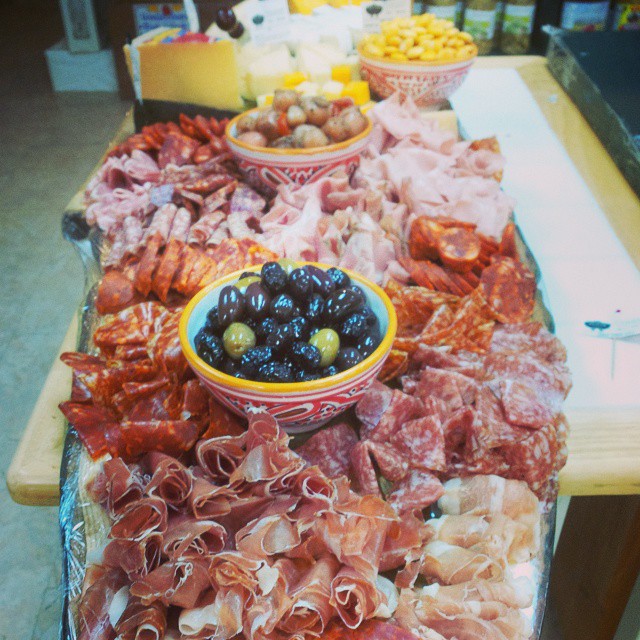 Pristine Fine Foods specializes in Turkish and Italian gourmet food at very competitive prices. Pristine is located on Evans Avenue just east of Kipling and has been a staple of the Mimico-Queensway neighbourhood for decades. When you enter the store you are overwhelmed by the tremendous variety of cured meats, cheeses, and sweet treats. Turkish coffee pots are piled high on the shelves along with a slew of other specialty items. Around every corner is something new to discover. Pristine Fine Foods has been importing from Turkey and Italy, and distributing over 4000 varieties of specialty foods, in their retail store, and around Canada for over 45 years.
Revolver Pizza Co.
388 Royal York Rd, Etobicoke, ON M8Y 2R3
(416) 252-2323
Hours: Monday to Sunday: 11 am- 9 pm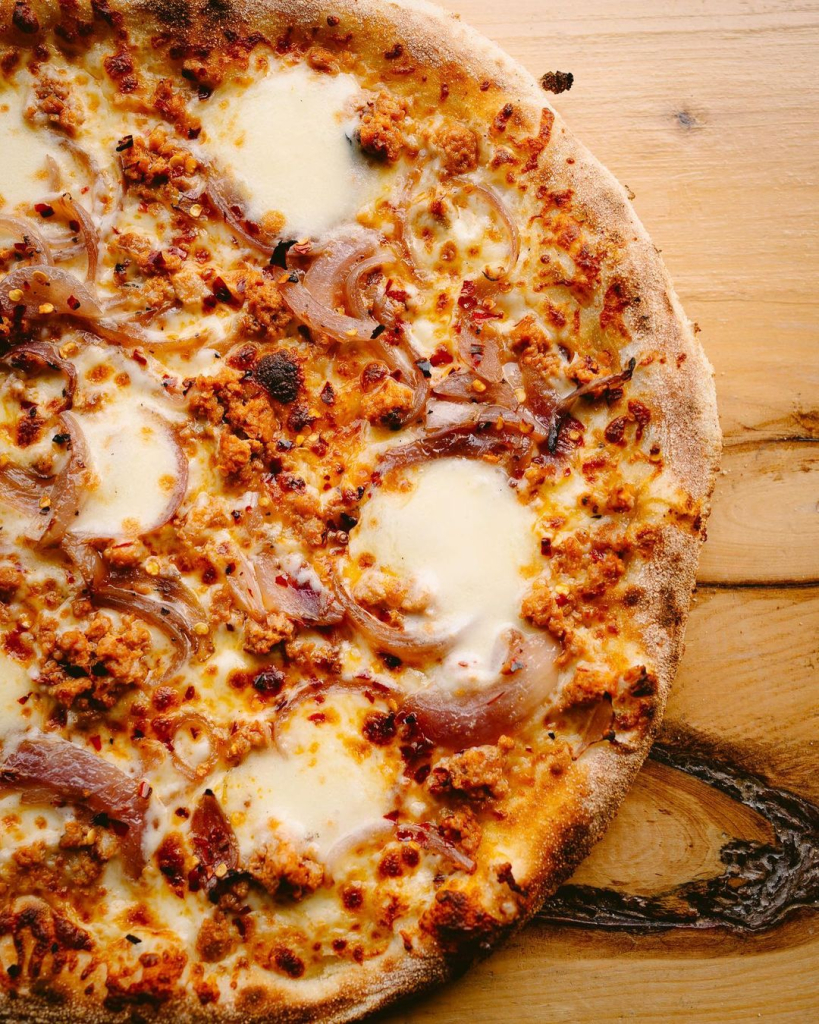 Revolver Pizza Co. is an open concept pizzeria that lives right in the heart of Mimico-Queensway on Royal York Road just off of Hay Avenue. Revolver serves delicious pizzas that are a hybrid between the classic New York-style slice and a Neapolitan pie. One special feature of Revolver Pizza Co. is their ash and maple wood burning oven, which gives the taste of their pizzas an added level of complexity. Revolver Pizza takes pride in using only homemade ingredients; in fact there isn't even a freezer in the restaurant. Prep is done daily with cold-proofed, oil-free vegan dough that has a high level of hydration.
Revolver Pizza Co. is not afraid to experiment with some unique flavor pairings. Some of the most notable pizza's available at Revolver include the pistachio pizza with white sauce, fresh mozzarella, fontina cheese, mortadella, and a hot honey that Revolver makes in-house. The 1UP pizza comes with wild mushrooms, capers, fior di latte, havarti, and an addictive truffle honey, which is also made in-house. The nduja special pizza has mozzarella, nduja spicy sausage, wild mushrooms, and a sesame seed crust.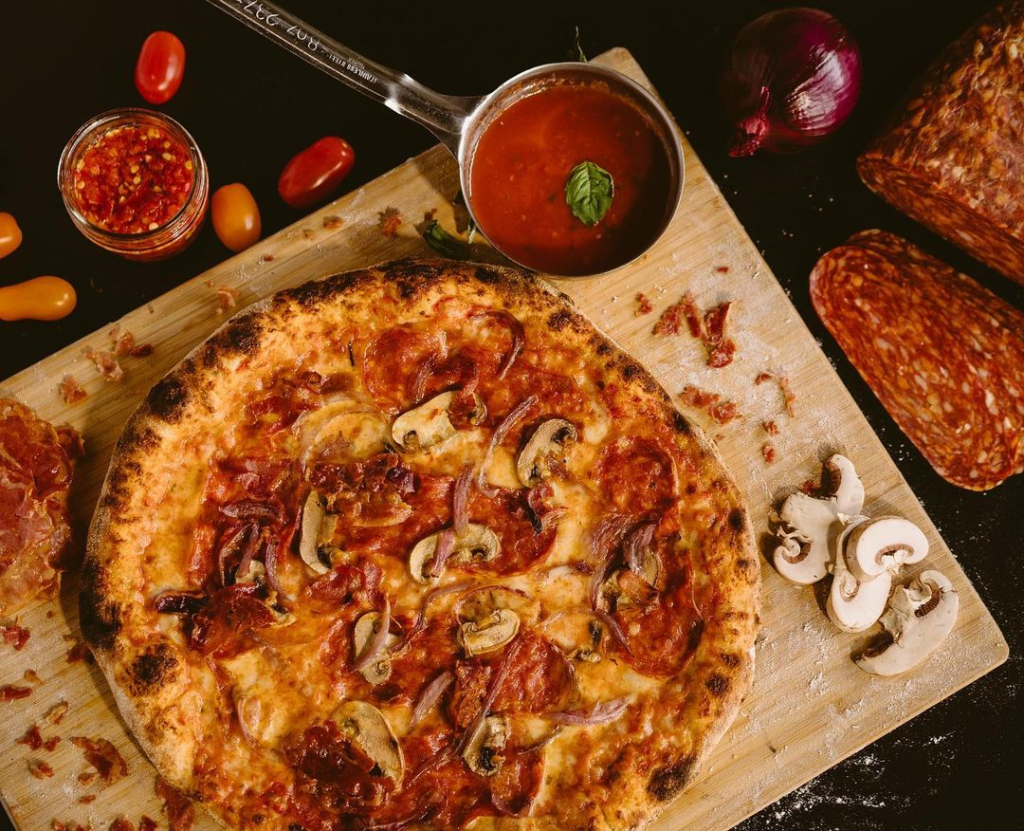 Revolver has the feel of an old-school neighbourhood pizza place. The restaurant's minimalist design provides a casual yet comfortable environment. If you are a pizza lover and are looking to grab a slice or even a whole pie in the Mimico-Queensway neighbourhood, you simply must visit Revolver Pizza Co.
Royal Bistro
384 Royal York Rd, Etobicoke, ON M8Y 2R3
(647) 351-7890
Hours: Monday to Sunday: 8 am- 10 pm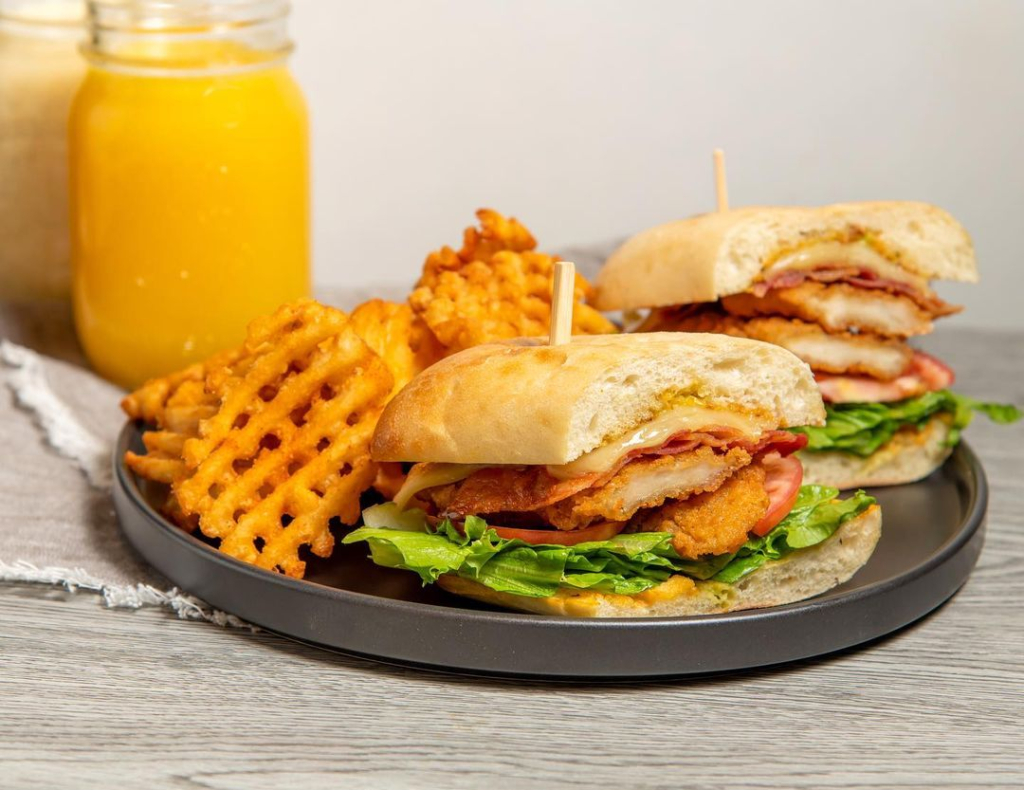 The Royal Bistro was established in 2021, during the midst of the pandemic. During this difficult time the Royal Bistro team made a tremendous effort to connect with their patrons with soul-reaching food and drinks that will meet them at their doorstep. Now finally, the Royal Bistro is able to welcome customers into their dining room so that they can experience the amazing food and high quality service that the Royal Bistro brings.
Located in the heart of Mimico-Queensway, on Royal York Rd, just east of the Humber Bay Park area; Royal Bistro is a perfect place to go sit with your family and friends. Whether it's to stop by for a family lunch after a brisk walk in the park, or for dinner with work friends to reflect on your day, the Royal Bistro creates the perfect blend of warmth and a friendly atmosphere for their guests no matter what time of day it might be.
Royal Bistro prides itself on providing a fine dining experience at an affordable price. They use only the highest quality ingredients without compromising the affordability of the menu. The quantity and quality of the dishes served compliments the price, so that everyone can enjoy their meal without worrying about their budget.
Sanremo Bakery
374 Royal York Rd, Etobicoke, ON M8Y 2R3
(416) 255-2808
Hours: Tuesday to Sunday: 8 am- 5 pm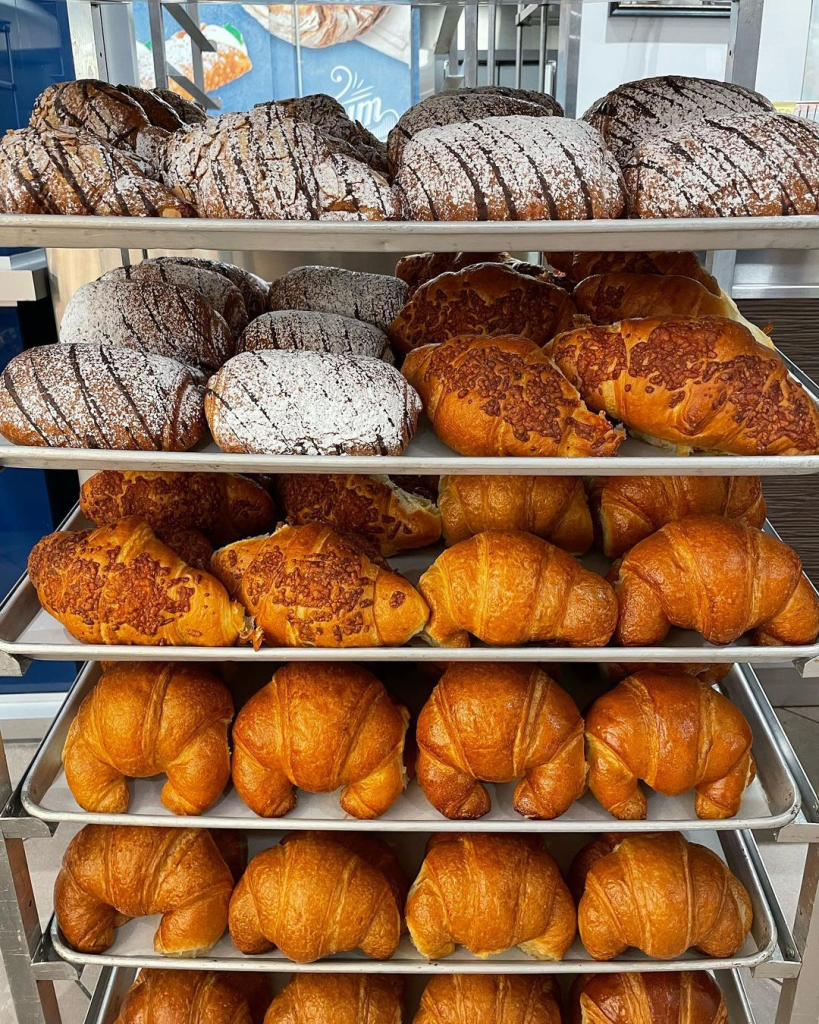 Natale Bozzo immigrated to Toronto from Consenza Italy when he was just 15 years old. Natale found work at bakeries around the city and a friend of his asked him to help out at a bakery located at 374 Royal York Road. Natale learned that the owner of this bakery wanted to sell the place, so Natale purchased it in 1969 along with his 3 brothers. In the late 90s, after over 25 years together, Natale bought out the business from his brothers. He has since passed it down to his three sons: Rob, Nick and Eddie Bozzo. The Bozzo children grew up working in the bakery, and learning different aspects of the business.
In the nearly 55 years since Natale first opened Sanremo, the bakery has become a staple of the Mimico-Queesway neighbourhood. It has been a go-to destination for locals and visitors alike seeking delicious Italian baked goods. The bakery offers a wide variety of traditional Italian bread, pastries, cakes, cookies, and more, all made fresh daily using time-honoured techniques and the highest-quality ingredients. Some of their most popular items include their crusty Italian bread, bagels, flaky sfogliatelle, creamy cannoli, and their famous tiramisu cake.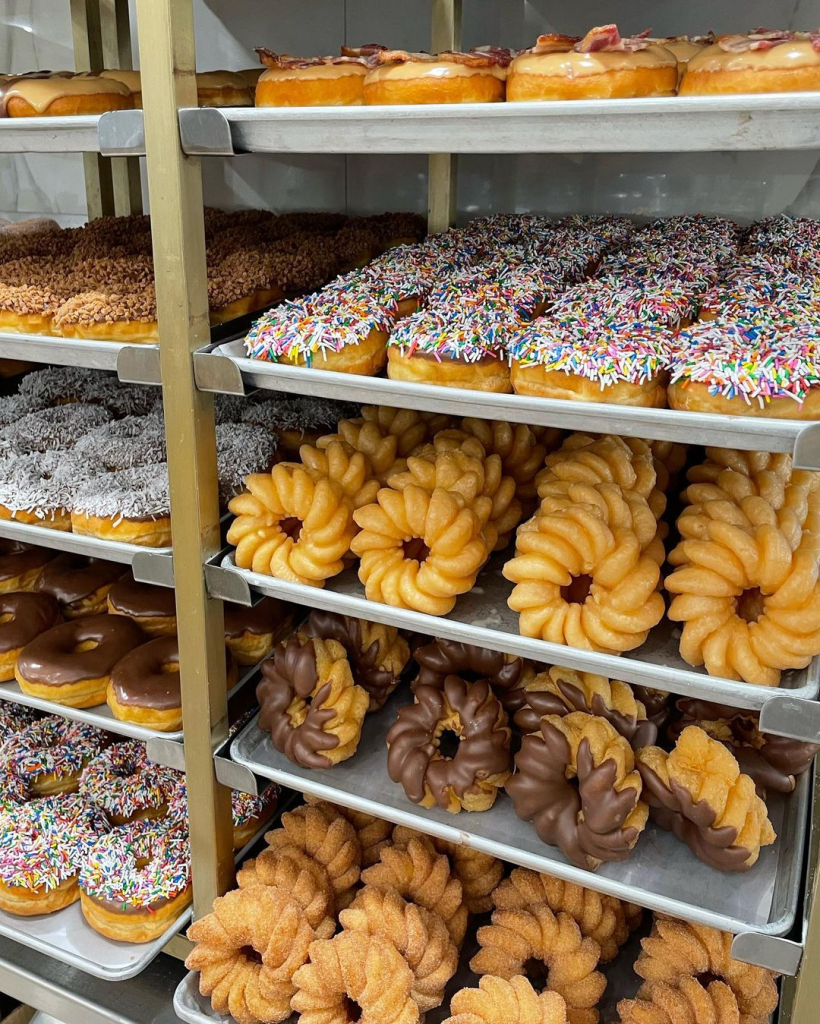 The bakery also offers catering services for events and special occasions, including custom cake designs and party platters. They also have a small cafe where customers can enjoy a coffee or cappuccino alongside their fresh baked goods. The atmosphere of Sanremo Bakery is warm and welcoming, with the aromas of fresh bread and pastries filling the air. The bakery is decorated with traditional Italian motifs and features a large display case showcasing their baked goods. Overall, Sanremo Bakery is a must-visit for anyone in the Mimico-Queensway area who loves traditional Italian baked goods and wants to experience the warmth and hospitality of a family-run business.
UNO Bistro
145 Evans Ave., Toronto, ON M8Z 5X8
(416) 253-6002
Hours: Monday: 11 am- 5 pm | Tuesday to Thursday: 11 am- 11 pm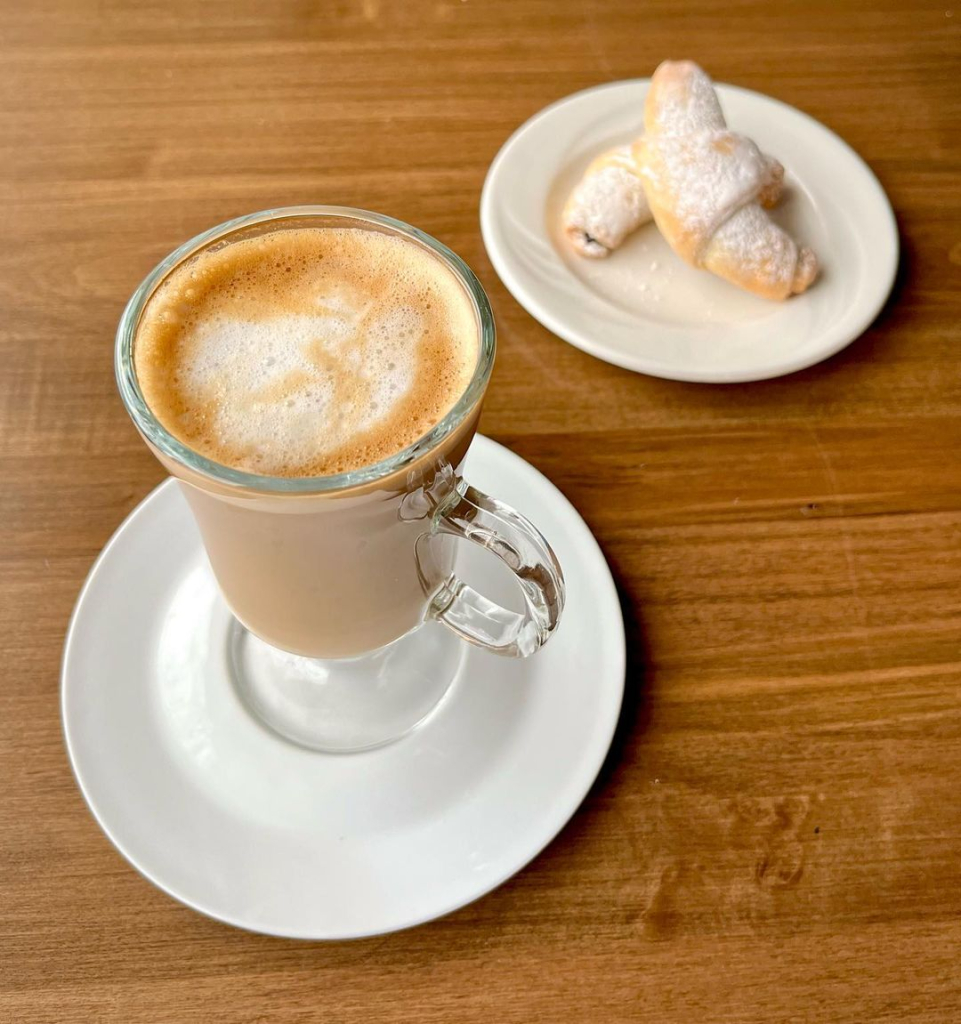 UNO Bistro is inspired by Ukrainian culture and the traditional coffee house designs and cuisine of Lviv. The goal at the heart of the UNO Bistro project is to bring the community together by combining the unique Ukrainian culture with traditional Ukrainian food – all within a casual and comfortable atmosphere.
The bistro is housed in the Ukrainian National Federation (UNF) building, in a room that was once a library that archived countless rare and nearly extinct pieces of literature from Ukrainian culture. UNO Bistro is owned and operated by the UNF. All proceeds from the Bistro go towards supporting community endeavours including Ukrainian projects outside the Canadian borders.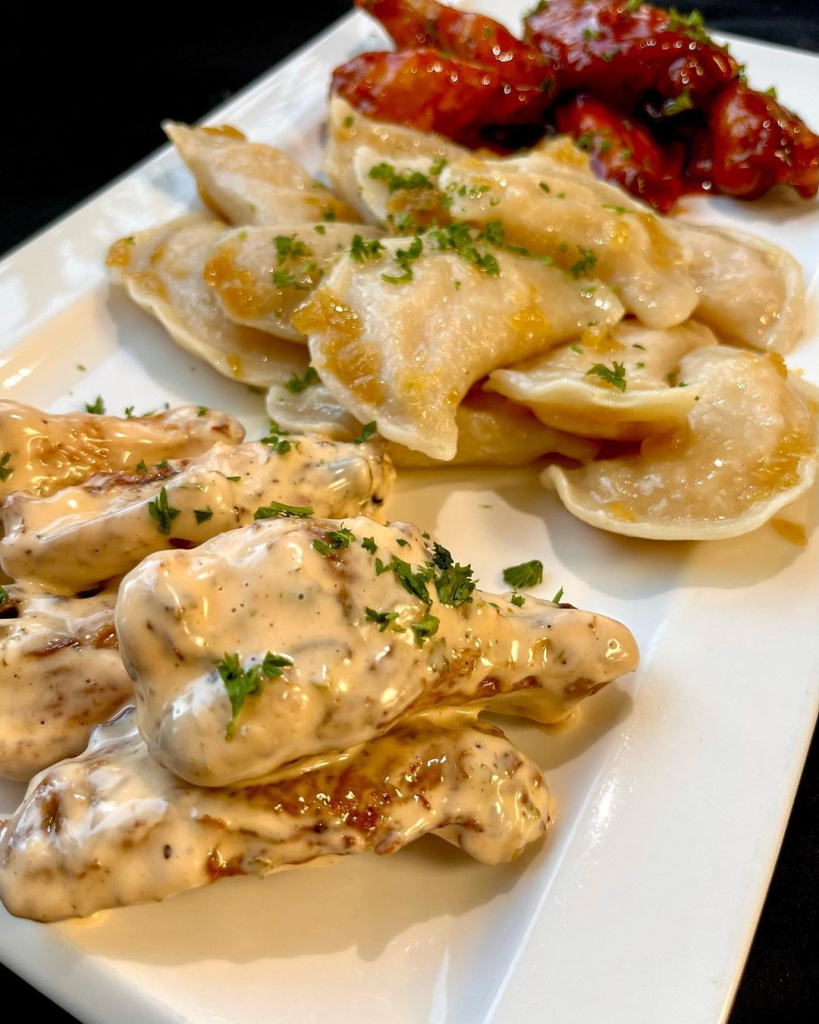 In the spring of 2022 construction started on the new café. The Bistro pays homage to the space's history with simple but powerful book art displayed throughout the space. Perhaps the most iconic Ukrainian symbol are the swords hung proudly on display – one signed by folk dancers travelling for a performance to Sydney Australia, the other an exact replica of the sword used during many of the battles to gain Ukraine's independence.
Initially, the Bistro was only open a few times a week but would stay open late until the very last customer left the café. The popularity of the Bistro grew over the course of several months, to the point where it became a major gathering place for members of the community. Now it has become a focal point of the Mimico-Queensway neighbourhood. Along with the cultural and historical significance of some of the pieces in the UNO Bistro, the café has a wonderful modern design aesthetic with exposed brick and hardwood floors. The intimate setting is accented by the stellar menu, which offers a wide array of familiar and beloved Ukrainian dishes like vareyky (perogies), borsch, and holubtsi (cabbage rolls).
The West-Way Dance Club
291 Evans Ave., Etobicoke, ON M8Z 1K2
(416) 255-6925
Hours: Mon.: 12- 10 pm | Tues.: 12- 9 pm | Wed.: 11:30 am- 4 pm | Thurs.: 6:30- 10 pm |
Fri. and Sat.: 12 pm-12 am | Sun.: 10 am- 11 pm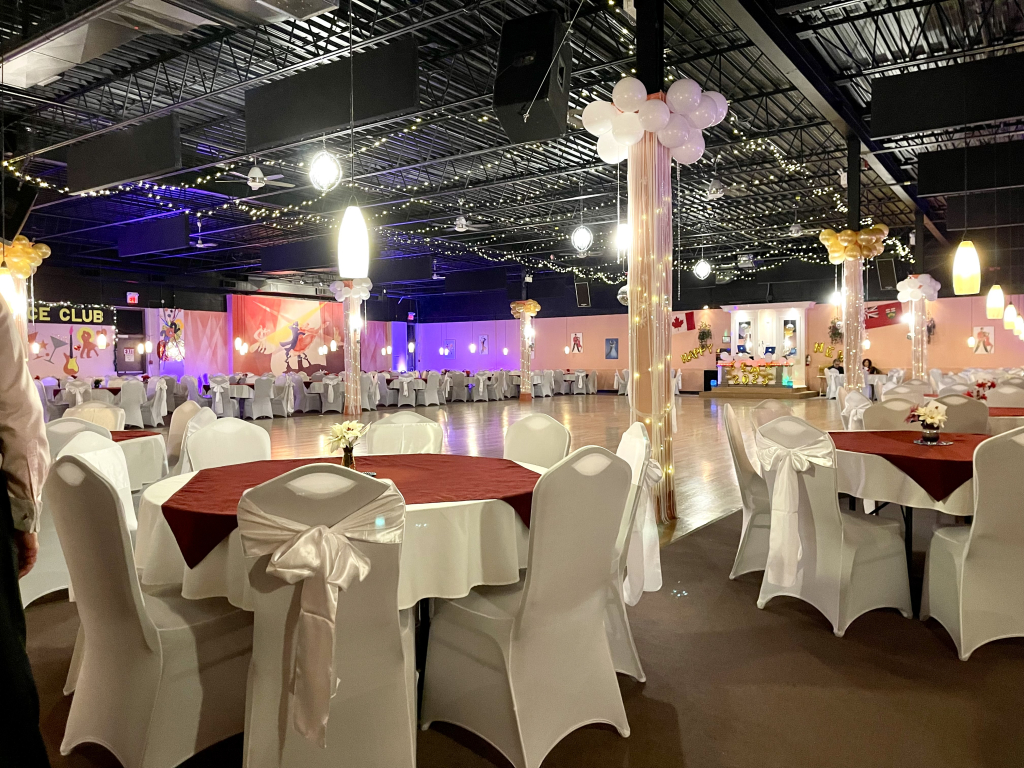 The West-Way Club first opened its doors in 1970 on Queen Street in Toronto. During the early years, the West-Way club found tremendous success and provided a great environment for single people to meet and dance to ballroom and Latin music. The club's popularity rose quickly and soon they required a larger space. In 1975, the club relocated to 1407 Dundas Street, just up the street from Trinity Bellwoods Park. The club continued to experience great success; however, over time it became difficult to operate two floors, so in 1984, the club signed a new lease and made the move west to the Mimico-Queensway neighbourhood.
The West-Way Club relocated once again in 1995, moving just south of the Gardiner Expressway to 351 Evans Avenue. Around the same time, the club started hosting "Tea Dances" on Wednesdays, which provided a great social dance time for dancers of all skill levels and continues to be one of their most popular activities. In 2004, the West-Way club made the move to its current location at 291 Evans Avenue, which has a capacity of 436 and has been fully renovated with a professional dance floor. The club hosts a series of events and classes including social ballroom and Latin dance lessons, international ballroom lessons, Argentine Tango lessons, and line dance classes. Anyone can attend events upon paying the admission price. The West-Way Club does have a membership program with over 500 members, which includes reduced admission prices for regular dances and special events.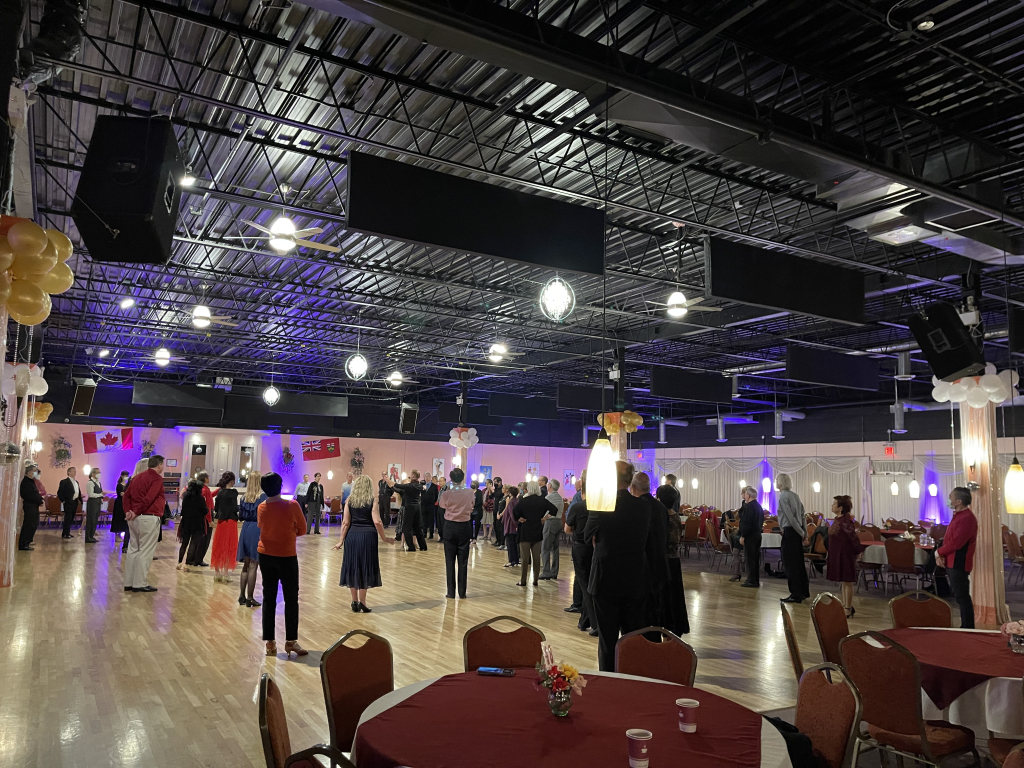 Throughout the year, The West Way Club offers live band performances, competitions, and various special events for St. Patrick's Day, Christmas, New Year's Eve, Halloween, and Valentine's Day. Since arriving to the Mimico-Queensway neighbourhood nearly 40 years ago, the West-Way Club has been the premier dancing destination for the community. Over 2500 people have visited the club over the last year. Dancing is an excellent way for people of all ages to get active and stay fit. West-Way Club has and continues to be a special place where people come to enjoy the benefits of dance, music, food, friendship, social experience in the community, and even a place where many have met their future life partners.
Three Locations in The Greater Toronto Area
Three Locations in The Greater Toronto Area
For more details, select the location nearest to you in Toronto:
For more details, select the location nearest to you in Toronto: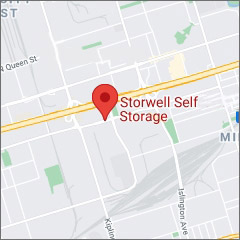 300 Evans Ave.
(416) 259-5555
Get a Quote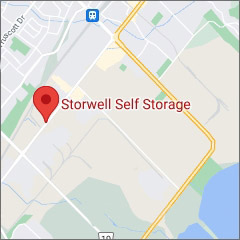 2525 Royal Windsor Dr.
(905) 823-5555
Get a Quote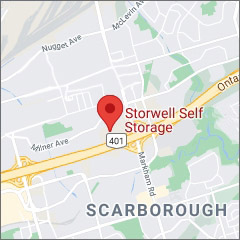 85 Executive Ct.
(416) 534-5555
Get a Quote