A place for everything, and everything in its place.
A Totally-Not-Boring Blog About Storage
Smart Storage Solutions for Small Apartments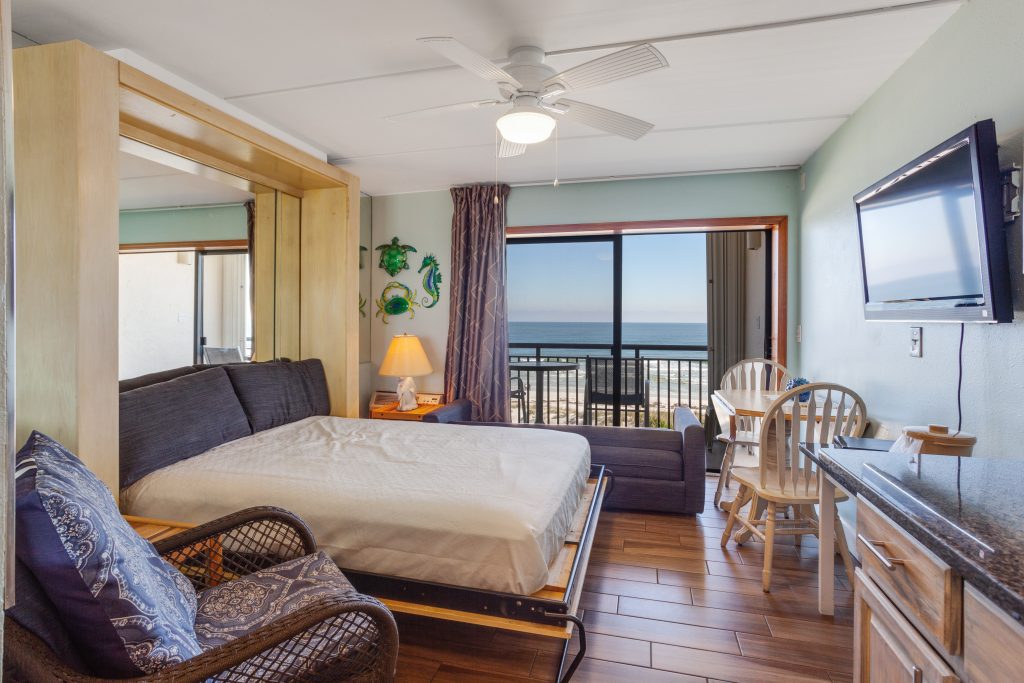 There's nothing worse than waking up in the morning refreshed and ready to face the day, only to trip over a pile of clothing by your bed or have to squeeze by your bike on the way to the bathroom. Fitting all your belongings in a small space is hard. But, just because you live in a small space doesn't mean you have to feel like you do. When you accumulate too much stuff, it's easy to think that you need a bigger space, but often the solution isn't more space, it's learning to better utilize the space you have.
Small apartments force you to keep only what's important. This allows you to live a simpler more essential life and also allows you to afford costly real estate. However, if you don't pay attention to your storage and organization, your apartment can start feeling more like a shoebox than a home.
Tiny apartments are very prevalent in Downtown Toronto, which is why so many people are renting self-storage units in Toronto. Many suburban areas have also started to adapt to this affordable and low-impact lifestyle. Having a small apartment means you have an opportunity to get creative with your storage solutions. Integrating your storage into your décor and styling it throughout your space can make for fun, easily accessible storage.
Here are some creative storage ideas for small spaces that will make your small apartment feel like a home.
Get rid of what you don't need
While it may seem obvious, the first, and perhaps most important, thing to do before finding any storage solutions for small spaces is to do an audit of the stuff you're storing. The less stuff you have to store, the fewer storage solutions you'll need to find.
Decluttering has become a hot topic in recent years. There's no shortage of discourse on the subject with Marie Kondo's hit Netflix show Tidying Up with Marie Kondo inspiring people to declutter their homes. The Marie Kondo method of organization is called the KonMari method. The KonMari method says that you should do all of your tidying up in one fell swoop instead of small increments because this will make it less likely that you fall into your old disorganized habits. Another recommendation is to organize your items by category rather than location; begin with clothes, then move on to books, papers, miscellaneous items, and, finally, sentimental items. The guiding principle of KonMari method is asking yourself if your environment "sparks joy," and doing whatever you can to make sure that it does.
Store your stuff based on need and usage
You don't need everything you own every day. In fact, there are probably many things in your home that you use only a few times per year. Holiday decorations are a perfect example. You should store those things in the hard to reach places in your apartment. You can place them above the fridge or in the closet. Something you do use every day; however, you should store somewhere that gives you easy access. That includes clothing, linens, pots and pans, and house cleaning supplies. You have to figure out which spots in your apartment are most accessible and use them accordingly.
Rent a storage unit
If you have a lot of stuff that you don't use regularly but you simply can't part with, renting a storage unit is a great solution. Storage units are convenient and affordable. They're also safe, clean, and secure since they offer 24/7 security and on-site managers. Storage units come in a wide variety of sizes that can fit your budget and unique storage needs. In many situations, renting a storage unit Is the best solution for creating storage space in a small apartment.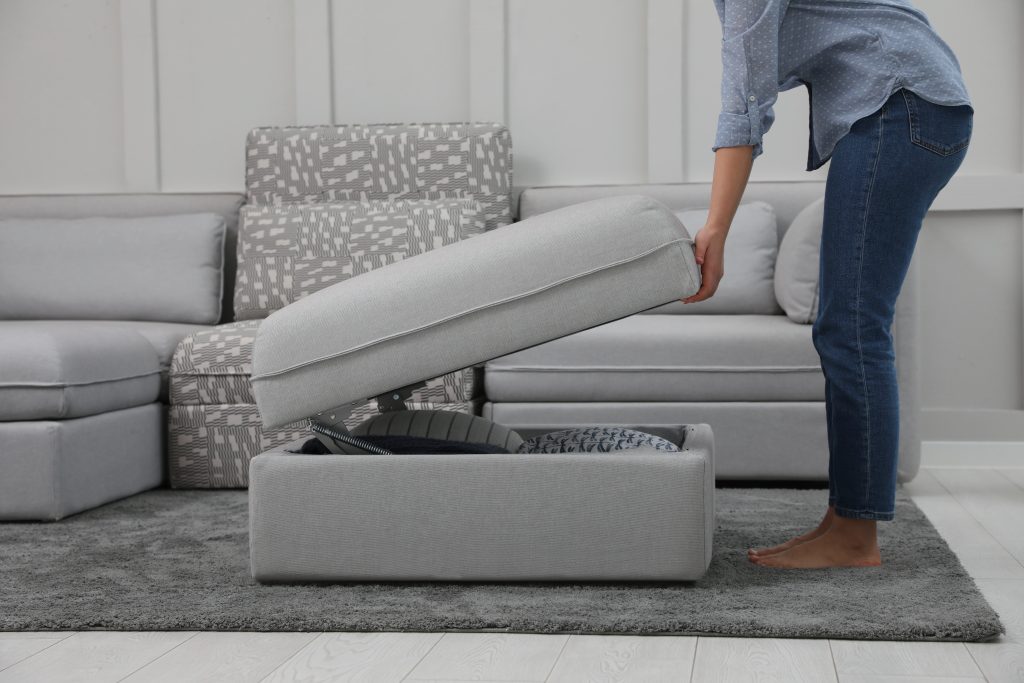 Keep storage out of sight
Sometimes even if an area of your home is perfectly organized, you still don't want it out in the open and visible at all times. When you want to hide some of your storage for a cleaner look, consider installing curtains. Use curtains to close off your closet or section off a wall of shelves. This is also a great idea for making a bedroom in a studio apartment because it provides some separation from the rest of your living space.
Use shelving units to divide a space
If you are living in a small studio apartment, you have to come up with creative ways to delineate the bedroom from the living room, without putting up drywall. Stacking up crates or using a floating shelving unit will provide you with extra storage space while dividing up your apartment and making it feel more structured and organized.
Make the most of your wall space
Looking for extra places to store books and display decorative accessories? Wall-mounted shelves can go pretty much anywhere, even above the TV. Just make sure they're installed securely to the wall. Not only does adding this kind of open shelving provide more storage, but it can also make your television look like less of an eyesore. Get creative about where you install floating shelves. You can add them above door frames, above your bed, above or below you kitchen table, they are great for adding a bit of extra storage in places that would otherwise go unused.
Invest in floating furniture
Floating furniture is an excellent choice for small apartments. These kinds of pieces help to open up a space visually; you can also store other things underneath them. A wall-mounted desk takes up far less space than a traditional one and can fit neatly into a tight corner, closet, the space under the stairs, or underneath a single bunk bed.
Use mirrors to make your space seem larger
If you have a blank stretch of wall space, use it to your advantage with a full-length mirror, even in spaces like your entry. The mirror will bounce natural light around, making your apartment seem bigger and brighter. Wall mount mirrors are excellent for adding depth to your small wall space. Try placing them across the window in your living room for a doubling effect. Reflections from the mirror will also double the light entering your apartment with limited space.
Install shelves along the perimeter of your bedroom walls
The least-used space in your apartment is prime real estate for implementing creative bedroom storage ideas. And no space is more unused than the 12 inches of wall below your ceiling. Put that space to work by installing shelves along the perimeter of your bedroom walls, which will add dozens of square feet of storage space.
Opt for a headboard with storage
Your bedroom is chock full of great storage opportunities. You can adapt your bed to store many things, starting at the top. Choose a headboard that gives you storage space for books, magazines, mementos, and electronics. This is the space that will be most accessible to you early in the morning, so use it for the necessities.
Buy a bed frame with drawers
Storage beds are one of the best storage solutions for small bedrooms. While every kind of space-saving bed will open up space in your bedroom, storage beds can give you as many drawers as a dresser. Whether you use those drawers for storing clothes, files, or your movie collection is entirely up to you.
Pick a bed with added storage
Another great bedroom storage option is to go with something like an ottoman bed. An ottoman bed allows you to lift up the mattress and use the space under the bed as a contained storage area. Your bed is likely the largest piece of furniture in your small apartment, so don't miss out on an opportunity for hidden storage. This is the perfect spot to hide extra bedding, blankets, towels, and other linens you don't have storage space for in a small apartment. Another great space saving bed option is to get a wall mounted Murphy bed that folds into the wall. Using a Murphy bed could double the amount of space you have in your bedroom when it is folded.
Use a footboard for a TV Stand
Save space in your small apartment's bedroom by choosing a bed frame that doubles as an entertainment center. Create a cozy sleeping nook by adding storage all the way around your bed. Using a footboard as a TV stand is not only convenient, but also works great as a nightstand.
Hang a cork wall for jewelry storage
Small items, like jewelry and makeup, can be difficult to store even in larger spaces. Because these items typically include a range of pieces in various sizes, an organizer with uniformly sized compartments may not be the best solution. To save valuable drawer and shelf space, look to walls for extra storage areas. Hang a cork board on an empty wall and use pins or hooks to hang necklaces and bracelets. This simple, sustainable material will keep all of your necklaces from tangling, without taking up more space than a picture frame.
Use your closet door for shoes storage
You can use a bathroom organizer and hang it on the back of your closet door to store your shoes. For a more visually pleasing option, you can opt for a DIY pegboard. Build a pegboard shoe rack, attach it to the back of your closet door, or to the wall right above the floor, and hang your shoes on the pegs.
Suspend your bicycle from the ceiling
Bikes take up a lot of space, which you already know if your apartment building isn't blessed with a basement bike room. You can use a bicycle ceiling rack or a bike hoist to suspend your two-wheeler right from the ceiling, making use of valuable unused space.
Use stagger shelves
Uniform, boxy shelving units can overpower a small room and make it feel smaller than it really is. Instead, look for ladder-style pieces with shelves that get narrower toward the top. This can help lighten a room's look and feel, as well as provide useful storage for items in various sizes.
Use vertical Space
Utilizing vertical space, like behind-the-door storage, is a smart solution for tight quarters. Whether it's in your closet or kitchen, remember to use your walls. Install shelving up above the room as a DIY storage solution, or invest in a tall bookshelf and arrange belongings by frequency of use. Just remember to keep the items you use most at eye level.
Get a rolling island for a versatile storage unit
A rolling island is a creative storage idea for small spaces throughout your home, whether in the kitchen, living room, or even the bathroom. This awesome small space idea allows you to get more storage in tight spaces and its portability means it can be used for multiple purposes throughout your apartment.
Utilize storage cubbies
Storage cubes are a flexible and affordable option for organizing small spaces. They work great as storage for small studio apartments because they create a home for bins and baskets, and they also keep your room from feeling clunky. These are also a very cost-effective storage solution. You can find tons of cheap cube organizers and build a six-cube bookshelf on your own.
Get creative with corners
It's easy to forget about corners as storage options for small spaces. But to optimize the storage in your small apartment you have to use ever corner, nook, and cranny. Corners are a prime location to put a small desk, create a makeshift closet, or add extra shelving for your book or record collection.
Embrace multifunctional furniture
Multifunctional furniture is the best way to make the most of a small living space. Things like storage ottomans and benches with built-in cubbies serve dual purposes. These items are used as furniture and hidden storage, allowing you store conveniently store away your extra pillows, pet supplies, or other miscellaneous items. This is a great place to stash away board games.
Pull-down desk
Most people need a desk or craft table of some sort in their home, but don't necessarily have the room for something that is only used a couple of times a week. Look into fold-down desks that can be tucked away after use. While these kinds of desks are very convenient, keep in mind that they are usually not as strong or sturdy as traditional four-legged desks.
Slide-out cabinet for kitchen storage
If you have any narrow spaces in your kitchen that aren't being used to their full potential, consider pull-out cabinet that will keep your kitchen essentials convenient without taking much space. You can purchase a narrow shelving unit with wheels and put it in the space between your refrigerator and cabinet for a ton of hidden storage, perfect for spices and other cooking supplies.
Behind the door storage
Use over-the-door hangers to store makeup and skincare products and save valuable counter space in your bathroom. These clever hangers have multiple pockets for you to store everything from your hairbrushes, makeup supplies, and accessories. You can use these hangers for other doors around your home as well.
Over the toilet storage
Apartment bathrooms may end up suffering the most when it comes to not having adequate storage. So it's important to utilize what space you do have and make the most of it. Purchasing an over-the-toilet shelf is a great way to utilize unused space. To keep things clean and decluttered, simply add some small baskets or plastic organizers on the shelving to keep things neat and tidy.
Storage solutions at Storwell
Storing your items at a self-storage unit can help you free up valuable storage space so you can reclaim your home. It's important to choose the right self-storage facility for your needs and one that will give you the peace of mind that your items are being well taken care of. Storwell Self Storage is a great choice for apartment storage; our individually alarmed units are power ventilated controlling for moisture and temperature damage. Storwell's facilities have 24-hour video surveillance and on-site management that ensures whatever you store in your unit is safe and secure at all times.
Three Locations in The Greater Toronto Area
Three Locations in The Greater Toronto Area
For more details, select the location nearest to you in Toronto:
For more details, select the location nearest to you in Toronto: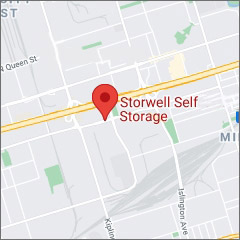 300 Evans Ave.
(416) 259-5555
Get a Quote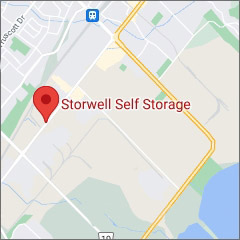 2525 Royal Windsor Dr.
(905) 823-5555
Get a Quote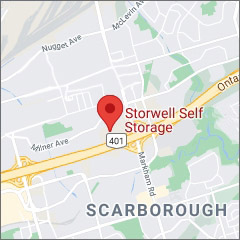 85 Executive Ct.
(416) 534-5555
Get a Quote